The Best Baby Activity Tables in 2022
Here's the thing: baby toys are simple for adults. But they're new and exciting for your little one. So even if you think that a toy isn't as challenging as it seems and not worth at all getting, think again. Most of the toys aimed at young babies can help in their development. Case in point, a baby activity table!
As your baby grows older, their curiosity will also increase. To keep their attention engaged so that you can do your own work, a baby activity table can be a good solution. It has tons of knick knacks that can help develop your baby's cognitive and motor skills.
That's why you shouldn't skip on it! Discover which baby activity table best fits your baby's needs by reading on.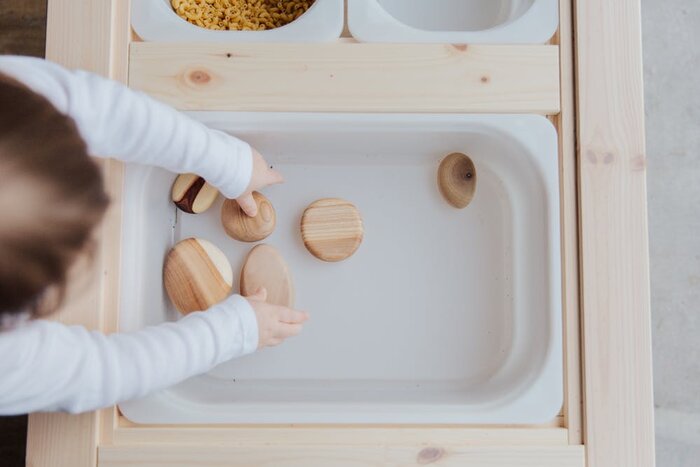 Our Top 10 Picks for Baby Activity Table
Baby Activity Table Buying Guide 2020
Benefits of A Baby Activity Table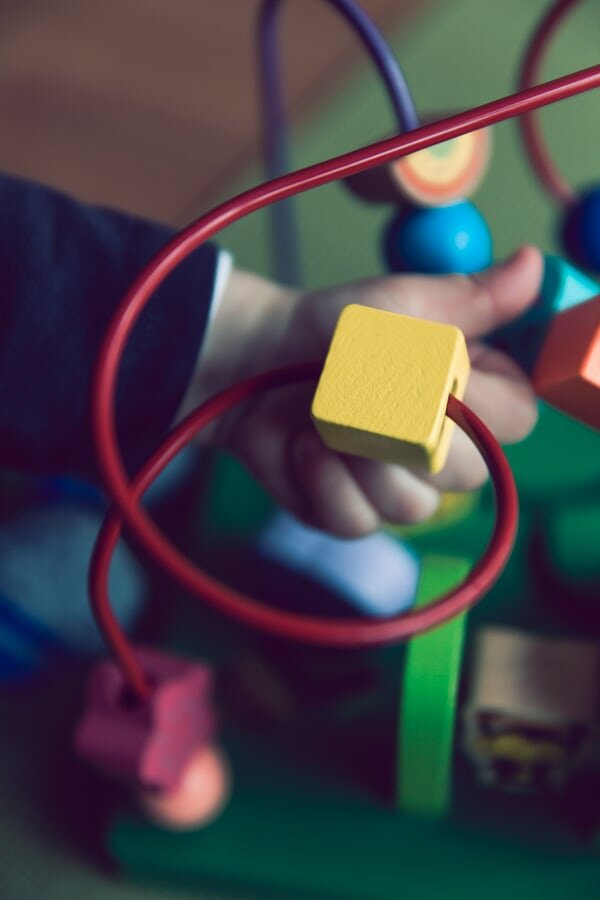 Aside from keeping your baby's attention engaged and giving them more opportunities to have fun, baby activity tables stimulate different kinds of development. From cognitive down to physical milestones, these fun contraptions can teach them all kinds of stuff!
Some types of toddler developments that can benefit from a baby activity table are:
Cognitive Skills. While it may simple to adults, a baby activity table offers a wealth of knew knowledge for little hands. They can keep honing different cognitive skills by simply interacting and observing the various ways a baby activity table moves, or the patterns or shades it features. Some of the things they'll learn are colors, shapes, and mini games. With each interaction, they can also improve their memory by retaining whatever they learned previously.
Motor Skills. Grabbing and holding are some of the things your child can do now. The next step to exercise their motor skills is to let them discover the various ways a simple machine can be moved. For example is turning the knobs on a baby activity table, pushing and pulling beads, pressing buttons. Their dexterity can be further improved as your baby discovers more ways to manipulate the activity table.
Cause and Effect Knowledge. As an inherent side effect of all the observing and manipulating your child will be doing on a baby activity table, they'll also understand a basic life lesson: everything action has a corresponding reaction. When they press a button, does a sound emit? Or will they see a hidden image if they turn the knob? This little things can cement the cause-and-effect knowledge in your baby.
Types of Baby Activity Table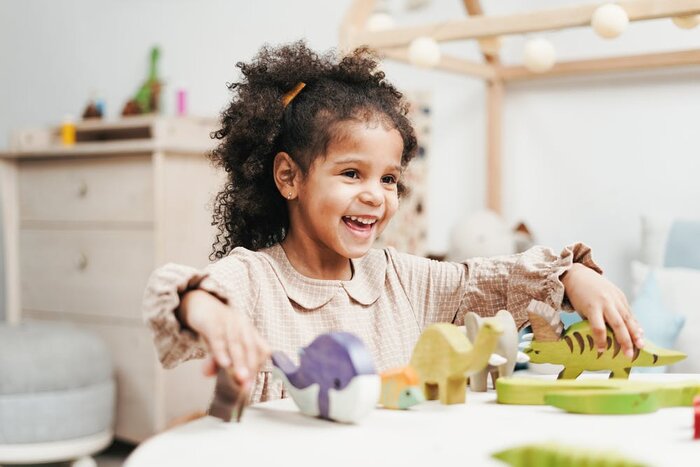 Like any other type of toy, there are also a variety of designs you can choose from when it comes to baby activity tables. One type has a few advantages from the others as well as disadvantages. So it's really up to you which one to prefer to buy.
Some of the most common types of baby activity tables are:
Wooden. Some of the most durable baby activity tables are made from solid wood or pressed wood. It is the sturdiest of all types and is eco-friendly. No harmful emissions are released in the making of these products. However, they can also be the most expensive.
Plastic. Most baby activity tables made from plastic are toxic-free. Just make sure to double check when buying. Plastic activity tables are long-lasting, affordable, and easily accessible. However, they are not the most eco-friendly type.
Legless vs. With Legs. Some activity tables look like traditional tables with legs while others are legless and look more like trays. The ones that sit on the floor are more ideal for younger babies who are just starting to crawl. Activity tables with legs are better for babies who can already run around.
Battery Operated. Battery-operated activity tables offer the same benefits as the ones without so this is really a choice of preference. A good example of what a battery-operated activity table can do is to play a song.
What to Consider When Buying A Baby Activity Table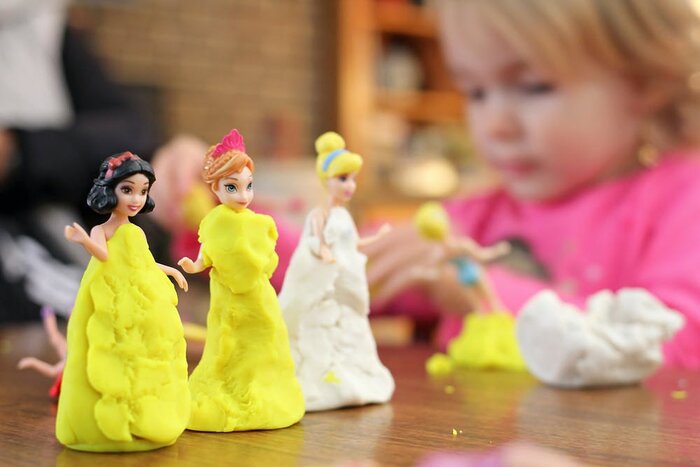 With the many options available to you to buy, it's not surprising if you feel overwhelmed and confused as to which to pick. That's why there are a few things you need to consider before buying a baby activity table. Some of those are:
Features. Check out the different activities that your little one can play with, be it how many knobs, buttons, or bells the activity table has. The more features it has, the more ways there is to develop your child's skills.
Size. Not all baby activity tables come in the shape and size. Make sure that the one you get is appropriate for your child's size. A table that's too high won't be of much use, after all.
Washable. Babies are inherently messy, and you just have to accept that. A baby activity table that can easily be wiped clean might be beneficial for you when it comes time to store it.
Quality. Price does not equate to quality, at all. Read reviews or check out the various product details of the baby activity table you're getting to ensure that you're getting the best value.
The Best Baby Activity Table
Melissa & Doug Jungle Wooden Activity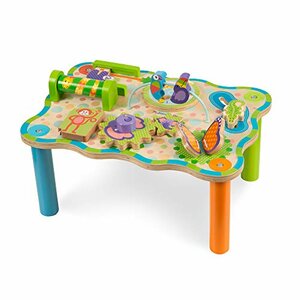 Our Rating: ★★★★
Review: Let your kid discover the secrets that await in the jungle with this wooden activity table from Melissa & Doug. It has 8 hands-on and fun activities that feature different animals like crocodiles, parrots, elephants, monkeys, and more.
Aside from being incredibly and vibrantly detailed, this activity table can teach your kids color names, and how to turn, spin, slide, flip, and so much more. The legs are well sized and your baby can play with the table while sitting down.
HOMOFY Baby Musical Learning Table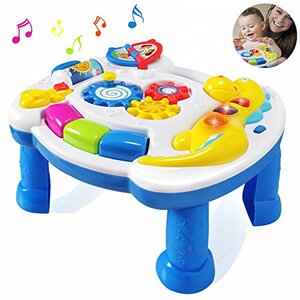 Our Rating: ★★★★
Review: Does your baby like music? Then, they'll definitely love this activity table from HOMOFY. It has 6 different activities that they can choose from that emits sounds and melodies so that your baby can begin his musical journey.
Your baby can also push the buttons that correspond to the first three basic notes, do, re, and mi so that he can learn to make his own music. Even the other activities are fun. There are rotating gears, flip pages, rolling images, and even flashing lights.
Step2 WaterWheel Activity Play Table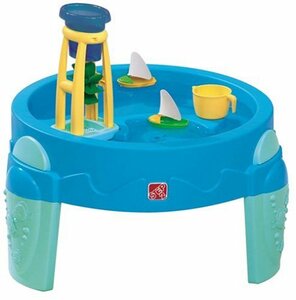 Our Rating: ★★★★★
Review: Activity tables can also be played outdoors. For hot summer days, you can always let your kids have a bit of water fun with this Step2 activity table. It can hold tons of water and acts like a pond where your children can sail boats.
It even has canals, moats, and harbors for maximum imaginary role playing. A water wheel can be found in one side which rotates when water is poured over it. You won't even have to worry about dirt because this activity table is well elevated.
VTech Magic Star Learning Table
Our Rating: ★★★★★
Review: Do you want your baby to learn more than a single language growing up? Then this baby activity table from VTech is the perfect learning tool. It has 6 amazing activities that your baby can play with that comes in both English and Spanish.
It features 6 fantastic activities that promote imagination and exploration in your child. They can learn to steer with the stirring wheel, push buttons, flip pages, twist gears, and more. It even has a pretend phone so numbers, letters, colors, and music can be taught with ease!
Play-Doh Play 'n Store Activity Table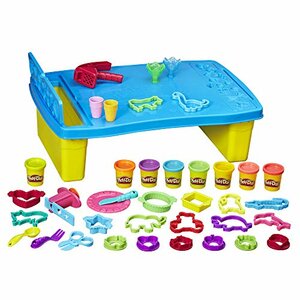 Our Rating: ★★★★★
Review: For babies that are slightly older, you may want to introduce molding clay as an activity. This activity table from Play-Doh will help with that immensely! It includes an easy-to-clean surface, 8 cans of non-toxic molding clay with different colors, over 25 creative tools that your child can use!
Built-in molds, cutters, dishes, and more will be useful art accessories that your child with obsess over. The activity table even has hinged doors that open up to a compartment where you can store the cans.
Mega Bloks First Builders Build 'n Learn Table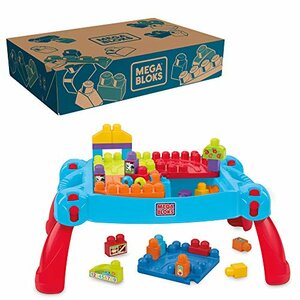 Our Rating: ★★★★★
Review: Another favorite past time that kids love is building blocks. So why not get your little one his own activity table for block building. It has its own snappy platform where the blocks can stay in place, so your child can keep building to their heart's content.
What's more, this activity table folds and can be carried around wherever you need to go. So block building fun doesn't need to stop when you're all travelling!
Bright Starts Having A Ball Get Rollin' Activity Table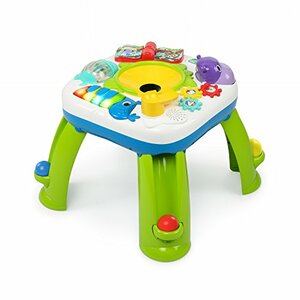 Our Rating: ★★★★★
Review: Another great jungle-themed activity table is this one from Bright Starts. It has tons of different animals that have their own fun, hands-on activities that your child can do. They can learn music, turn gears, flip pages, and more.
But what makes this activity table unique is the fun ball ramp smack in the middle. Your child can place colourful balls in the ramp and watch it twist around before disappearing in a hole and reappearing in one of the table's legs.
burgkidz 2-in1 Block Table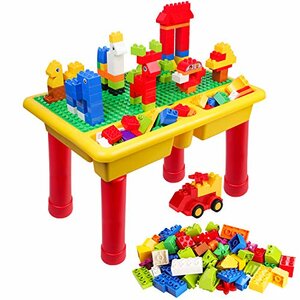 Our Rating: ★★★★
Review: Think your kid is ready for slightly smaller block pieces? Then maybe this activity table from burgkidz is more suitable for you. It comes with 68 pieces of blocks that your child can use to create any type of masterpiece they want.
The table itself has a convenient block mat that can keep the blocks from tumbling down. What's more, it has 2 convenient cubby holes that can house the pieces that are not being used.
Humble Crew 2-in-1 Plastic Building Blocks Activity Table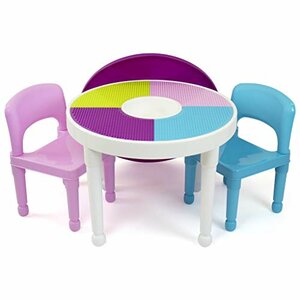 Our Rating: ★★★★
Review: If you have more than one child, you don't need to buy separate activity tables for them. They can the wide space in this activity table from Humble Crew. This activity table can be used either as a block building table with its convenient block mats, or as a regular table when the cover is place above.
It comes with two toddler chairs, but don't worry! If your children kneel or stand beside it, the table can easily house up to 4 kids all at the same time.
Janod Baby Forest Wooden Activity Table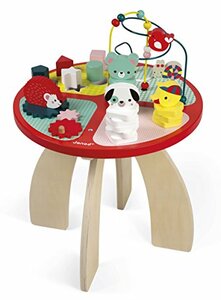 Our Rating: ★★★★
Review: Do you love the aesthetically pleasing look of wooden toys? Then this activity table from Janod would be perfect. It is made from 100% durable bois so you know you're getting your money's worth.
Your child will love playing with the 4 fun activities that this table features. They can learn how to stack blocks to create animals, turn knobs to let the hedgehog move, push around beads and the bird in the maze, and even match the right shapes together.
Frequently Asked Questions
Are Activity Tables Good For Babies?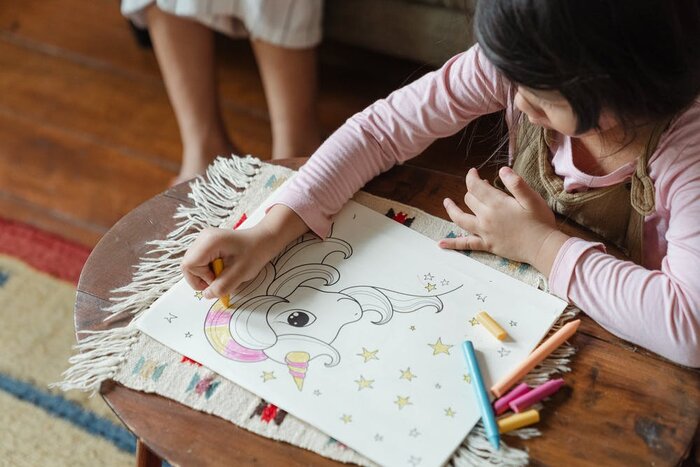 Yes.
A baby activity table is a great way to keep your baby's attention engaged while they learn new things and play to their heart's content. It's also a great thing for mommy and daddy because you can work or tend to chores while your baby is playing with the table.
What Age Do Babies Start Using Activity Tables?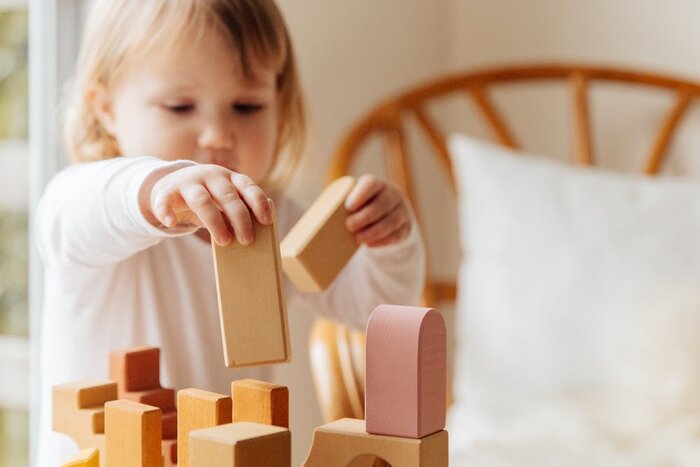 Your child's attention span and curiosity will peak by the age of 6 months. During this time, a baby activity table will be a novel thing for them to play with. They'll discover a lot more skills during this period, and can even play with these toys until they're three years old.
Some baby activity tables have seats that can support even younger babies. These tables can be used by children as young as four months of age.
Can I Put A Baby Activity Table in the Crib or Pen?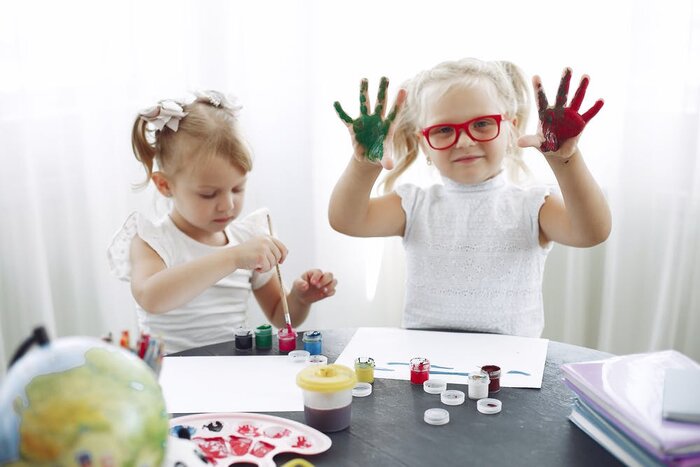 As a general safety rule, it isn't wise to leave a toy inside a crib or a pen when your baby is left unattended. You just never know what might happen when you're not looking, and that's not a risk you'd want to take.
As a compromise, putting a baby activity table inside a crib or a pen when you're there to supervise is fine. Your baby can play with it, no problems. And when a situation arises, you'll be there to assist immediately.
Conclusion
Baby activity tables are not just toys that can help keep your child engaged and having fun. They are also fantastic tools that can help develop numerous skills and milestones, like cognitive recognition and motor skills.
That is why you shouldn't skip on one for your baby's nursery. Aside from keeping them busy while you work, baby activity tables will also teach them new things. What are you waiting for? Get your little one their very own baby activity table today!