The Best Baby Bath Products to Try in 2020
The time for baby's first bath is coming near! Mommies and daddies, are you ready and equipped for this exciting milestone? If not, it might be a good idea to stock up on baby bath essentials like shampoo and baby wash. You shouldn't also forget about fun accessories like a hooded towel or a bath insert.
Babies are more sensitive than the typical adult, especially when it comes to their skin. This isn't surprising since babies are adjusting to a new environment outside their mothers' wombs. To help with their adjustment, it's crucial that you use products that are specially formulated to be gentle on a baby's skin.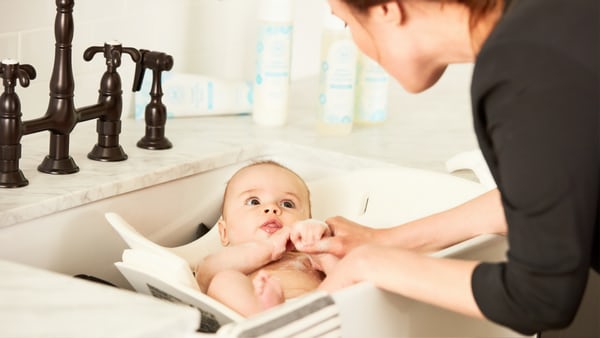 Read on below to see the top gentle choices for baby bath products this year!
Our Top 7 picks for Baby Bath Products
Baby Bath Products Buying Guide
Before you learn about each product above and what they can offer you, it's best to understand a few more things about giving a bath to your little one. Below are a few common questions answered to help you out.
Why Should You Use Gentle Shampoos and Baby Washes on Baby?
Don't you just love cuddling with your baby, and feeling their soft, smooth skin? It's hard to get enough of their sweet, newborn scent. But don't be fooled by their adorableness. A baby's skin is much more susceptible to damage than you think.
Your baby's skin is thin, and its skin barrier properties are just developing. That is why your baby's skin is more at risk of absorbing external irritants.
Babies are also more vulnerable to drying. Although a baby's skin can retain more moisture than an adult (thus, the softer and smoother feel), its thinness also contributes to how fast a baby's skin loses moisture as well.
See the problem? Using skincare products that are too harsh on a baby can aggravate skin problems due to irritants or extremely dry skin. Using bath products made specifically for baby use provides you extra guarantee that the formula is gentle enough for your baby's sensitive skin.
How Often Should Baby Take a Bath?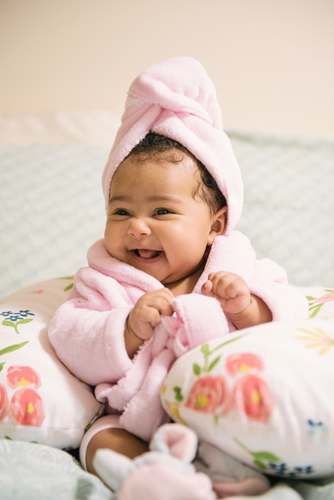 You might think that babies need the same amount of bath time as you, or probably more. That thought isn't surprising if you think about the amount of times milk (or god forbid, vomit) can spill on your little one.
But that's not what doctors are recommending.
Newborn babies should only be wiped with a gentle washcloth and gentle cleanser a few times every day for their first month. After that, you can introduce the newest member of your family to bathing in a tub, basin, or sink. But even then, you shouldn't do it every day. At most, three times a week would do.
Common Skin Conditions Babies Get
Don't be alarmed if your baby develops a skin condition. With how sensitive their skin is, it happens quite commonly. Here are 3 conditions to look out for:
Eczema is when your baby has severely dry, red patches of skin anywhere in their body. It is usually itchy and uncomfortable. Sometimes, it's genetic. Other times it happens because of an irritant (something in a product, in their food, and even in Mommy's diet).
Cradle cap is when your baby has thick and scaly yellow patches on their scalp. They are neither painful nor itchy.
Baby acne looks like tiny red bumps on your baby's face. They are neither painful nor dangerous.
The Best Baby Bath Products
Mustela Baby Shampoo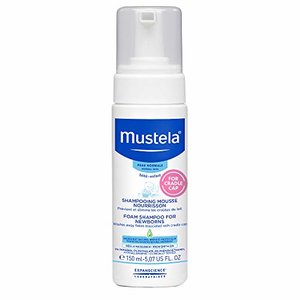 Our Rating: ★★★★★
Review: If your baby has developed cradle cap, then this little product can help with that. The Mustela Foam shampoo is made up of 99% natural ingredients (including Avocado Perseose) and is soap-free.
It can help reduce and even prevent further flaking in your baby's scalp and hair. Plus, it comes in an easy-to-use pump dispenser. This is really handy for first-time mommies and daddies.
Aveeno Baby Wash And Shampoo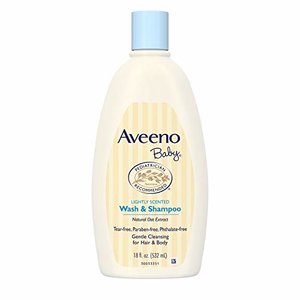 Our Rating: ★★★★★
Review: Aveeno has been a favorite brand of many for quite a long time, and with good reason. This brand has helped thousands of babies (and adults) who have sensitive skin. And their shampoo/body wash is no exception!
The Aveeno Baby Wash and Shampoo is hypoallergenic, soap-free, and made with natural colloidal oatmeal. Just create a gentle lather on the skin, and it gently cleanses without leaving your baby's skin dry. Plus, it has a soft, fresh scent to it!
Dr. Bronner's Baby Castile Soap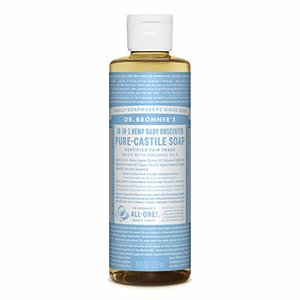 Our Rating: ★★★★★
Review: For mommies and daddies who want to hit two birds with one stone, this castile soap from Dr. Bronner's not only cleanses your baby's skin. It is also made with 90% organic ingredients (most of which are certified fair trade).
You won't have to worry about this product being too harsh on your baby since it has no synthetic preservatives, detergents, nor foaming agents. Plus, it's also good the environment (they use 100% post-consumer recycled plastic bottles)!
ArtCreativity Rubber Ducks
Our Rating: ★★★★
Review: When your baby is a bit older, it can get hard to ask them to stay put. A simple solution is to catch their attention with toys. And who can say no the classic of classics when it comes to bath toys, a rubber duck.
Unlike the traditional bright yellow duckling, this set comes in many different colors and patterns that will definitely catch your wriggly baby's attention. With so many interesting ducks around him, he'll be busy choosing a favorite. And before you know it, bath time is over without a hitch!
Kyapoo Baby Wash Cloths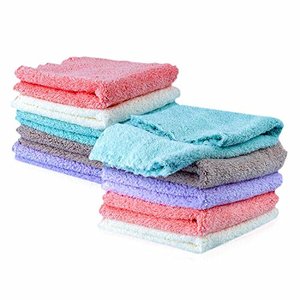 Our Rating: ★★★★★
Review: Aside from the typical skincare products, you should also stock up on bath essentials like towels. Since your baby's skin is still sensitive, make sure to get a towel made from soft fabric like this set from Kyapoo.
Their wash cloths are made from ultra-soft coral fleece which is fluffy and highly absorbent. It's also quite easy to dry. What's more, they are machine washable so caring for these cloths are easy.
Summer Infant Baby Bath Insert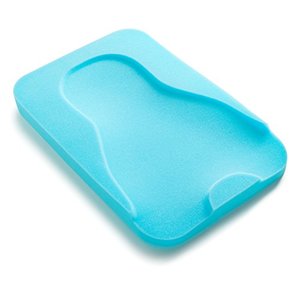 Our Rating: ★★★★
Review: Remember that your babies might be too small for the sink or the bathtub. So it's best to be equipped with a bath insert like this bath sponge from Summer Infant. It's a foam that you can put inside your sink or bath tubs so that your baby doesn't accidentally slip.
This foam has a contoured shape and is made from slip-resistant material to keep your baby safe. Plus, it is designed with a slight incline to help support your baby's head, neck, and back.
Bamboo Hooded Baby Towel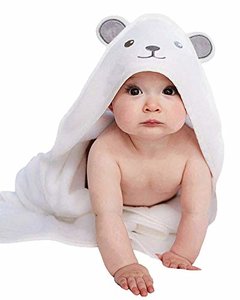 Our Rating: ★★★★★
Review: After baths, it's important to dry your baby and keep them warm. A hooded towel is the perfect solution. This towel from HIPHOP PANDA is made from 100% rayon, is thick, and super absorbent.
Plus, its hood looks like an adorable bear! With this towel, not only will your baby be warm and safe. They'll also look fashionably cool.
Frequently Asked Questions
What Temperature Should a Baby Bath Be?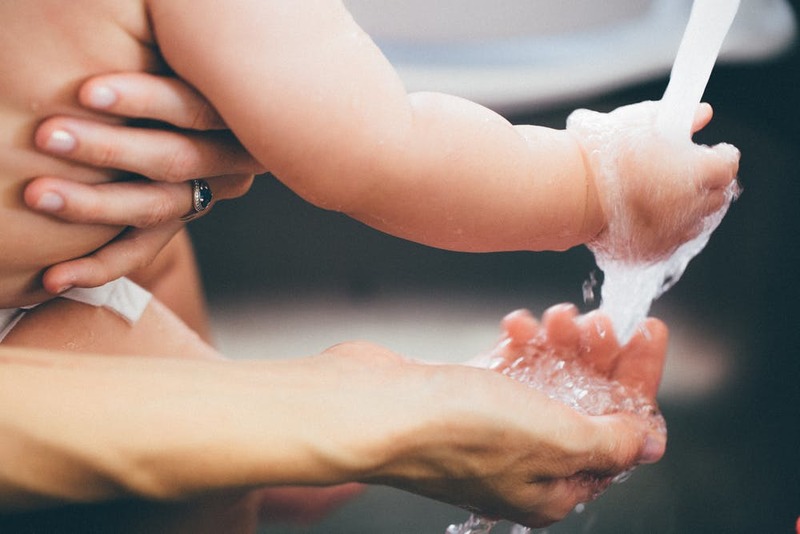 Remember that your baby is just getting used to life outside the womb. That means they might get easily chilled.
When it comes to baby baths, you should aim for warm water. Too hot and your baby might be scalded. Too cold and your baby might get cold.
Aim for about 38 C, which is normal body temperature. You can usually check this with your hand or your elbow. It should feel warm, not hot.
How to Give Baby A Bath?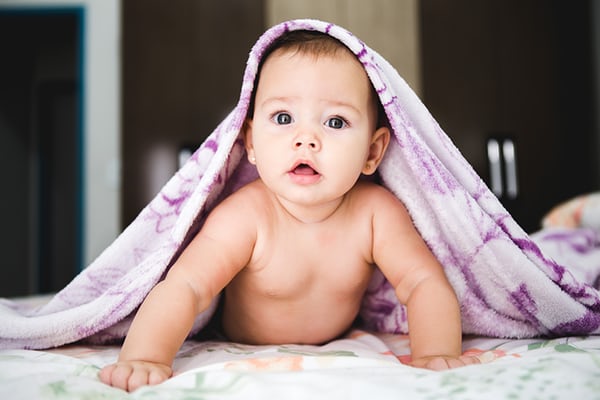 Giving your baby a bath for the first time is nerve-wracking. But don't worry, you'll get the hang of it soon. The first thing you need to remember is to choose a warm place. Even with the right temperature, your baby might feel cold if the room is chilly.
When you have the essential supplies around you (towels, wash cloths, and bath products), it's time to take care of the water. About 5 centimeters of warm water is enough so that there's no risk of your baby drowning. But since they won't be submerged during the bath, remember to periodically pour warm water all over their body.
Lastly, keep a secure hold on your baby and make sure that they feel comfortable and safe. With your nondominant hand, support your baby's head and neck. Then, guide your baby's body into the water with your other hand.
Wash your baby's face first and move down. If your baby has hair, you can also gently massage a small drop of shampoo on it (if you think it needs washing). Remember to keep suds out of your baby's eyes.
Conclusion
Babies have more sensitive skin than adults, so it's important to provide them with only the gentlest products in the market. These products can help reduce the risk (or even prevent) of skin conditions caused by external irritants.
What's more, a lot of baby skincare products are mostly made from natural ingredients. Aside from being better for your baby's health, these can also help lessen the environmental impact we are facing today.
Now remember, while choosing your baby shampoo and bath wash is important, that's not all you need for your baby's bath time. Make sure to stay vigilant with all other bath essentials you're getting like wash cloths, towels, and even their toys.
But more importantly, enjoy the experience while you can. You won't be giving a bath to your adorable little baby forever, you know!