Top Baby Bath Toys to Play With in 2022
Bath time can be a stressful activity for you and your little one if they're fussy. Let's be honest. Some babies just don't like taking baths. That's why having the best baby bath toys can be a life saver! They can definitely make the experience more enjoyable for your little one… and even for you.
With baby bath toys in the bathroom, gone are the days of wriggly babies screaming on the top of their lungs once they touch the water. That's because they're attention is otherwise engaged in the new and fun toys that they have with them. Let them have all the fun they want so you can bathe your baby with ease.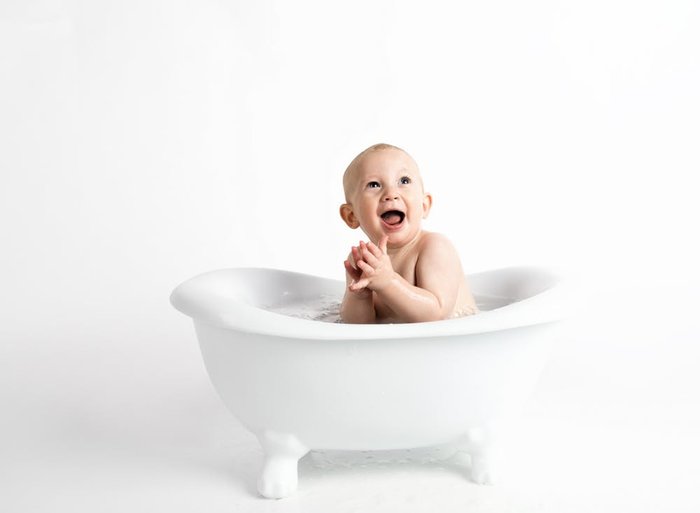 Discover which bath toys are the best by the well-curated list below.
Our Top 10 Picks for Baby Bath Toys
Baby Bath Toys Buying Guide
How To Store Baby Bath Toys?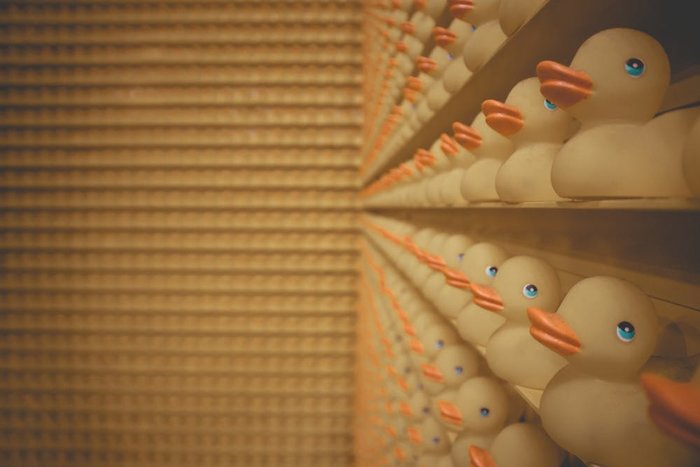 How you store your child's bath toys is crucial. Remember that they'll be submerged in the water for quite a time. If they're not properly dried, some of these toys might get moldy. This is not something you want to happen as molds can damage the toys. At the very worst, your child might put a moldy toy in their mouth.
That is why your bath toys need to dry completely. It's a good idea to put them in a basket that has holes that can easily circulate air. You can also use a mesh net and hang it so that air can also flow through.
How To Sanitize Baby Bath Toys?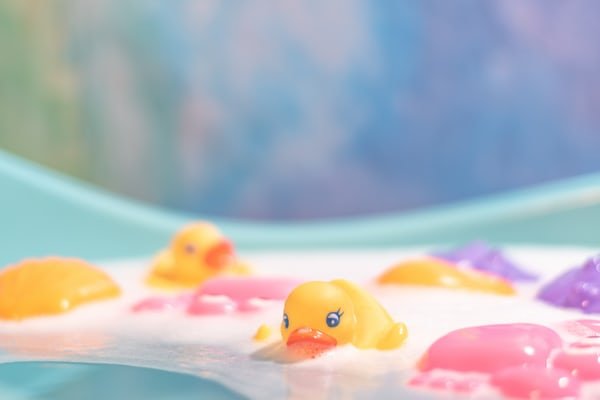 As what was mentioned above, some babies (especially the younger ones) will love to put their toys in their mouths. This is why sanitizing your little one's toys is important. Dirty toys can carry bacteria on them that might not be good for your baby's health.
Luckily, there's an easy way to clean them. Just add half a cup of white vinegar in a gallon of water. Soak your bath toys there for approximately 10 minutes, then rub them with a soft sponge.
The inside of squeeze toys should also be cleaned. Just suck up some of the vinegar-water solution, shake the toy around, and squeeze the solution out again.
Once clean, you should let your bath toys air-dry completely.
What Age Do Babies Play With Bath Toys?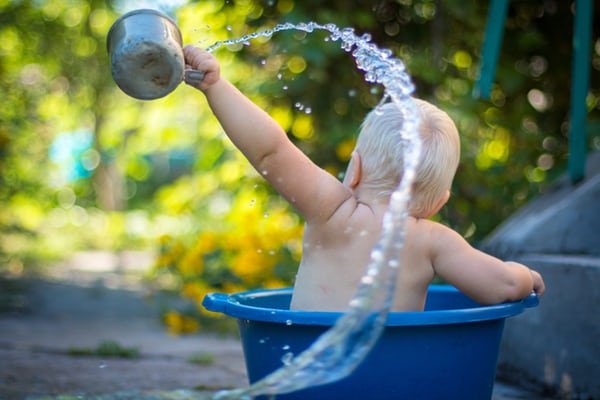 New born babies don't require bath toys as the water can be stimulating enough to get their attention. But when they can sit up on their own and begin exploring, getting them to sit still can be a task. This usually happens at around the 6 to 8th month stage and older. At this time, it might be best to introduce bath toys to keep them having fun and still enough for you to bathe them.
The Best Baby Bath Toys
Growsland Baby Bath Waterproof Books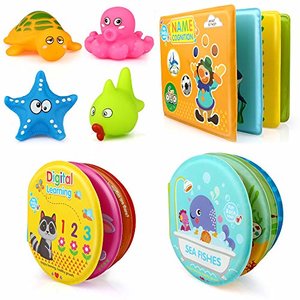 Our Rating: ★★★★
Review: If your baby has shown interest in books and reading, then they'll definitely like these waterproof books. Your little one can continue looking at pictures and telling stories with these soft books that they can take into the tub!
They can even learn different names, numbers, animals, and shapes! Plus, the books are made from eco-friendly and non-toxic plastic fiber, making them waterproof, durable, lightweight, and soft: perfect for your tiny child to handle on their own!
Splashin'kids Rotating Octopus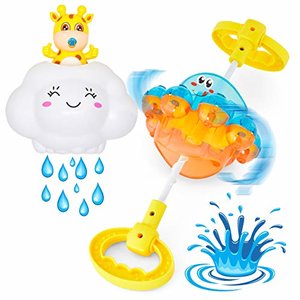 Our Rating: ★★★★
Review: Does your kid already love the water but you still want them to have a toy to keep them busy? Well, this Rotating Octopus will definitely make bath time more enjoyable! Water flows out of the holes in its tentacles making pretty swirls while the octopus twirls!
And if you think it's just all fun and games, playing with this toy can actually exercise your kid's hand eye coordination and fine motor skills.
Munchkin Float and Play Bubbles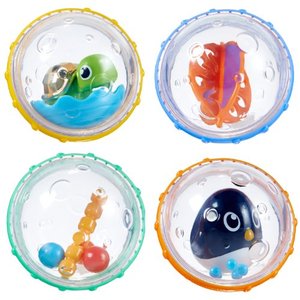 Our Rating: ★★★★★
Review: Stimulate your baby's visual and tactile skills with these awesome bubbles from Munchkin. They're the perfect toys for younger children. Each bubble features either a fun character or engaging whirly toys that make sounds and pretty water shapes as they tumble around the bath tub.
Your child will definitely enjoy rolling these bubbles around while you get them cleaned!
The First Years Finding Nemo Squirt Toys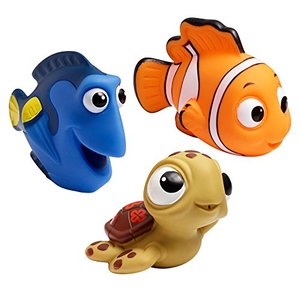 Our Rating: ★★★★★
Review: If your little one loves watching Finding Nemo, then they'd absolutely feel like every bath time is an underwater adventure with these squirt toys. Your little one can enjoy swimming with his friends like Nemo, Dory, and Squirt while taking a bath.
Sure, these might be typical squirt toys (and any character would be enjoyed by kids) but your little Disney fans will cherish these ones in a special place in their hearts, for sure!
Munchkin Little Boat Train, 6 Pieces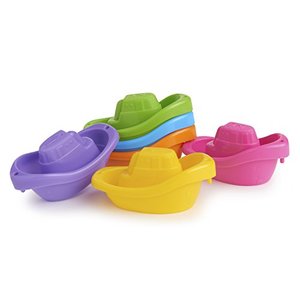 Our Rating: ★★★★★
Review: Boats during bath time are in themselves already fun. But why stop there? These boat trains from Munchkin incorporates educational into your fun bath time routine. Each boat has their own funny face and are numbered to help your little one learn their numbers.
They can also practice their hand-eye coordination and fine motor skills as the little boats can be used to scoop or strain water. Talk about multipurpose, right?
The First Years Stack Up Cups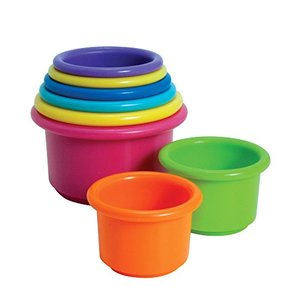 Our Rating: ★★★★★
Review: The classic baby toy of all! Stack Up Cups aren't necessarily just a bath toy, but you can absolutely use them during bath time. After all, they can be used to scoop up water! What's more, stack up cups even have different holes in the bottom so that the water can make unique shapes as it flows down.
Like most cup toys, these brightly colored ones are also numbered on the bottom so that you can teach your little ones how to count even while bathing!
Munchkin Fishin' Bath Toy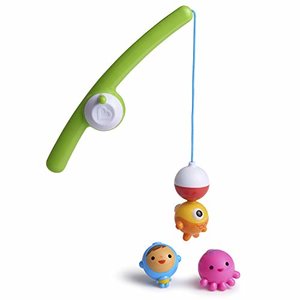 Our Rating: ★★★★★
Review: For slightly older kids, this fishing set will keep them well occupied all throughout bath time. Fussy kids will sit still while you clean them up because they'll be so busy trying to catch their floating friends.
Using a magnetic fish pole, you can release three adorable bath toys and have your child try to wrangle them by casting the line and reeling them in. It helps that all the pieces look so cute!
Little Tikes Bath Letters and Numbers
Our Rating: ★★★★★
Review: If you want to teach your little one in a more straightforward manner, these foam letters and numbers will definitely be the perfect toys.
Soft and large enough to be handled by little kids, you can make bath time all the more fun by learning the alphabet or spelling words, and even simple math operations like addition! They can even stick to the wall of the tub, like a makeshift blackboard.
Boon Building Bath Pipes, 5 Pieces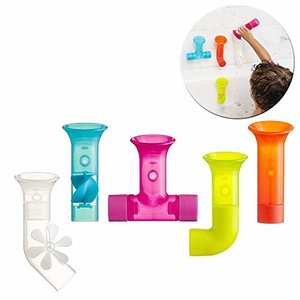 Our Rating: ★★★★
Review: Want to exercise your child's creativity during bath time? Well, these awesome bath pipes will do the job spectacularly! Your little one can change up how each pipe is suctioned to the wall to create different paths for the water to go to every time!
Each pipe features a different shape and wriggly part that'll turn as water passes through them. Aside from being creative, these pipes can also enhance your child's problem solving skills as they'll need to find a path where the water won't spill in before reaching the end of the pipes!
GOODLOGO Fill, Spin, and Flow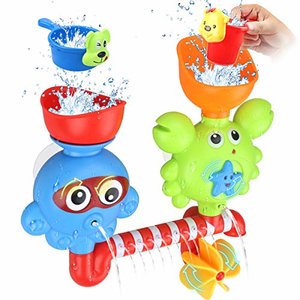 Our Rating: ★★★★
Review: Just like the bath pipes, this awesome toy set allows your little one to play with water and effectively learn some useful skills like problem solving, cause and effect, and creativity. All they have to do is pour water at the top and see the funny animals swirl and twirl!
It can even exercise their hand-eye coordination since they'll need to use physical means for the toy to work!
Frequently Asked Questions
What Temperature For A Baby Bath?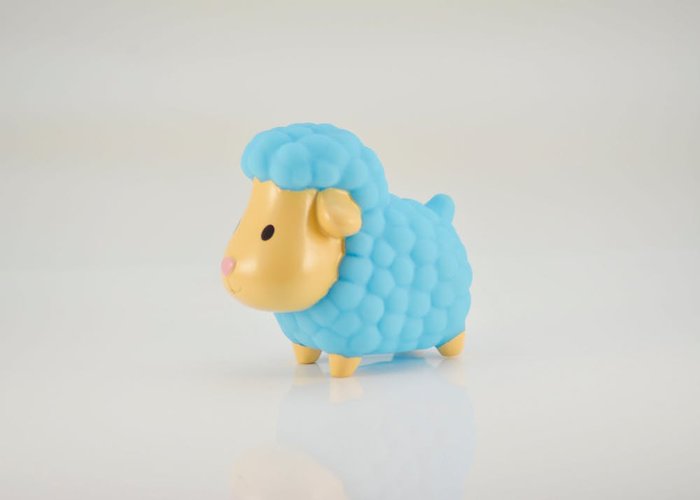 Bathing your little one requires you to be more careful than when you shower yourself. Remember that they're skin is still very sensitive and you'll have to keep them comfortable throughout the bath.
One thing you need to keep in mind is the temperature of the water. In general, you should keep it between 37° Celsius to 38° Celsius (regular body temperature). Too hot or too cold might not be the most comfortable for your child.
If you don't have a thermometer on hand, you can also use your elbow to check the temperature. If it doesn't feel hot nor cold to your elbow, then the temperature is fine.
When To Give Baby First Bath?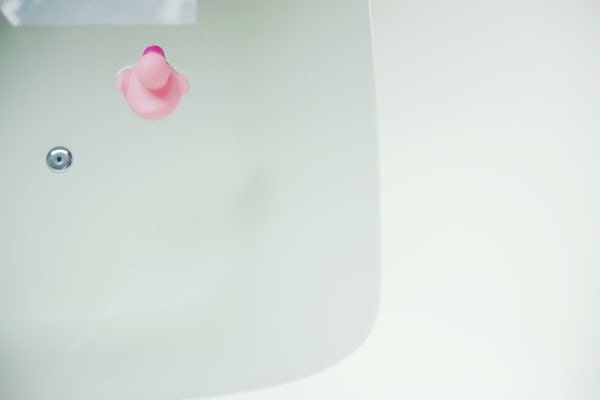 Newborn babies don't need to bathe daily. In fact, experts suggest that you wait 2 days or more before giving your baby their first real bath. For the first few days, you can gently pat them down with a soft towel.
Even after the first bath, your little one will only need to give them a sponge bath two to three times a week. When your child can sit up on his own, you can let them enjoy a tub bath. Of course, this is only a standard. If your baby loves getting into messy situations, a bath a day might be warranted.
How To Give A Baby A Bath?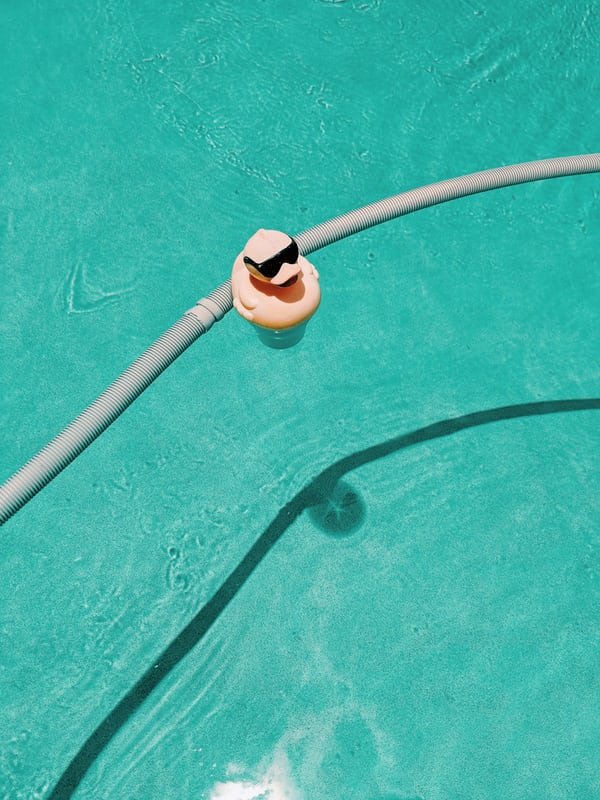 Baby's first tub bath can be a stressful but enjoyable experience. The first thing you need to do after gauging the temperature of the water is to undress your child and wrap them in a towel. Use a baby sponge or wash cloth to clean one area of your baby at a time. Start with creases (behind the ears, then the neck, elbows, knees, and the in between of fingers and toes).
Wash your baby's hair towards the end of the bath to lessen the coldness they might feel. Washing with water is enough. Lastly, wash your baby's belly, bottom, and genitals.
Once everything is cleaned, gently pat your baby dry with a soft towel.
Conclusion
Baby bath toys aren't just for decoration. They are there to keep your baby's attention and allow them to have fun while in the water. In doing so, you can help them be more comfortable and less scared of bath time.
It also helps that baby bath toys allows fussy babies to remain calmer while you bathe them. Don't discount the enormous advantage baby bath toys can provide you as a parent. Get your little one bath toys today and see how they can change the entire bath time experience!