Best Baby Crib Toys to Get in 2021
Babies, especially newborns, spend a lot of their time in their cribs and bassinets. But that doesn't mean that they'll always be sleeping, and you can't be with them every waking moment. You still have your own chores to finish! So what do you do to keep them entertained?
Installing toys in your baby's cribs is one way to keep them busy and feeling happy. Most toys can even help them develop various baby milestones by stimulating their senses like sight and motor skills.
Aside from the classic baby mobile, there are still tons of different crib toys you can look into. Check out the recommendations below for inspiration!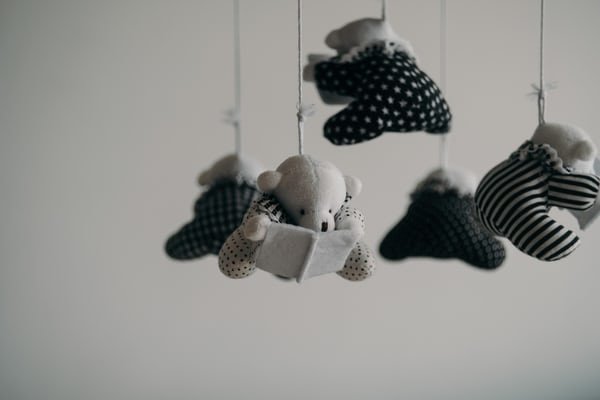 Our Top 10 Picks for Crib Toys
Crib Toys Buying Guide 2020
Make Sure to Practice Safety Precautions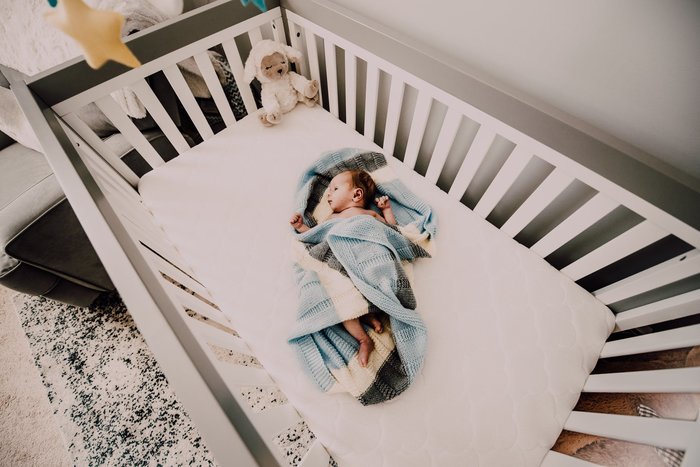 It's perfectly understandable for you to be on the fence about crib toys. After all, a lot of experts prefer not to have any kinds of toys or blankets in the crib with your baby. They do pose a risk of suffocation.
That's why you can go a different route when it comes to purchasing toys for your kid. Some crib toys are secured to the actual rails of the crib so that offers better protection. As for dangling toys, there's no problem as long they are less than 6 inches long so there's no threat of strangulation. One other precaution you have to practice is to make sure that the toy you get does not have any sharp edges.
What Are the Benefits of Crib Toys?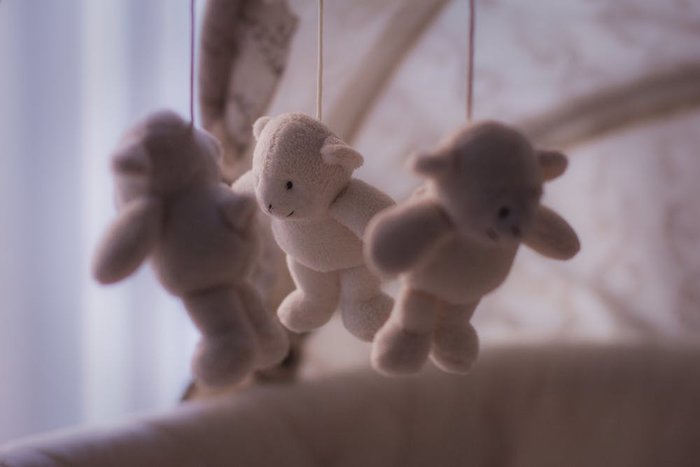 Aside from being entertaining, baby toys in the crib can also aid in the development of your baby. Crib toys can help your baby's motor skills by making them kick out or reach and pull. Visual development is assisted with toys that have bright and fun designs.
Some other toys can even begin your baby's education. Toys can introduce colors, shapes, sounds, and other basic lessons. The crib toys can also act as soothers since they can distract your baby and help them fall asleep on their own.
Can Crib Toys Ruin Your Baby's Sleep?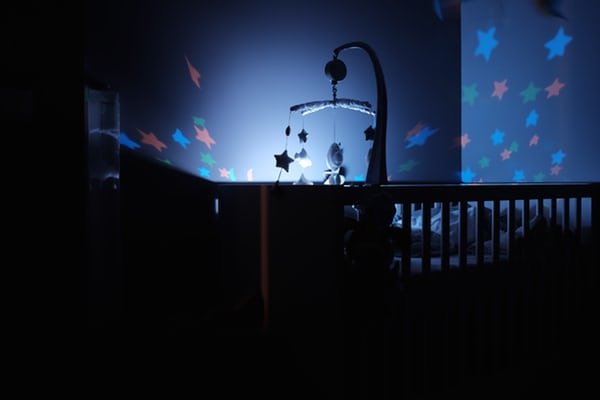 Baby crib toys can actually aid your baby into sleeping better. If some people prefer watching TV before going to sleep, babies can also use crib toys to wind themselves down enough to get sleepy. Aside from that, it provides psychological benefits as well. Crib toys can keep your baby happy and less scared in their crib.
The Best Crib Toys
Infantino Spiral Activity Toy, Blue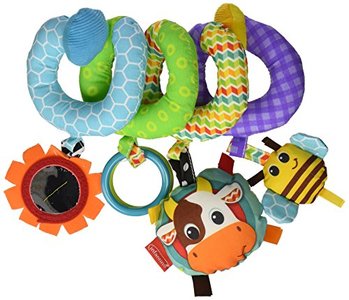 Our Rating: ★★★★
Review: If you have a low ceiling or don't prefer anything hanging above your baby, then good thing spiral toys have been invented! Spiral toys are a great substitute to traditional mobiles, like this one from Infantino.
The Infantino spiral toys comes in a variety of bright shades and fun patterns that will definitely get your baby's attention. More so, they hanging toys that are within reach an offer different visual stimuli as well as tactile. Plus, it's super easy to install. Just wrap it around the crib's railings!
TUMAMA Baby Toys Teether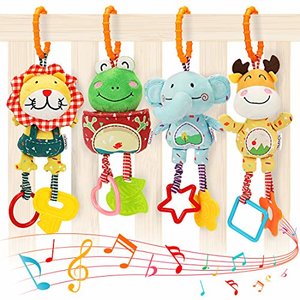 Our Rating: ★★★★★
Review: There comes a time when your baby's curiosity knows no bounds. This is when simple looking and reaching is not enough. It's perfectly normal for baby's to want to put everything they touch inside their mouths. So why not give them teether toys from TUMAMA?
Unlike usual teethers that are either connected to your baby's clothes or just loose, these teether toys are hanged in your baby's railings. It's much safer since you're lessening the chances of suffocation while you're back is turned. What's more the vibrant patterns of the animal toys will keep your baby well entertained!
GrowthPic Musical Mobile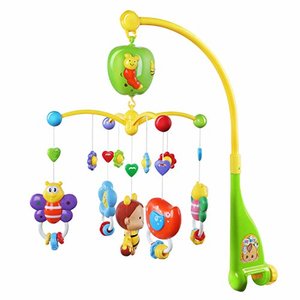 Our Rating: ★★★★
Review: Baby mobiles are the most classic crib toy you can get, and they're still going strong today. Check out this musical mobile from GrowthPic. It features adorable nature-inspired toys like caterpillars, butterflies, flowers, and bees. Plus the bright shades are sure to get your baby's attention.
But that's not all! This baby mobile can help soothe your baby through the 20 tunes it can play. For about 20 minutes, this mobile can play soft music that allows your baby to sleep better.
VX-Star Baby Travel Play Arch
Our Rating: ★★★★
Review: Think baby mobiles are too old-school? Why not invest in a play arch instead? This one from VX-Star features adorable animals and animal-inspired patterns that can safely go over your baby in a crib.
What's more, this arch is easily portable because it's detachable! So you can also install it in your baby's bouncer, car seat, or stroller! Cool, right?
Fisher-Price Smart Stages Kick & Play Piano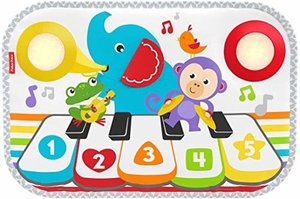 Our Rating: ★★★★★
Review: Like any other baby toy, this Piano from Fisher-Price takes advantage of your baby's boundless curiosity to keep them entertained and learning. This soft mat piano features bright colors and fun animal drawings that can keep the attention of your baby.
But that's not all! It can play up to 5 different songs, and even a variety of sounds and lights. Songs can teach your baby all about numbers, colors, shapes, and animals. Plus, your baby's motor skills are also exercised because they need to kick the mat to activate the songs!
Genius Baby Toys Baby Crib Mirror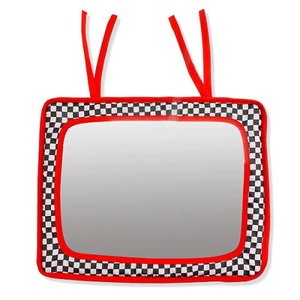 Our Rating: ★★★★
Review: One of the simplest toys on this list is this crib mirror. You might think that a mirror might not be the most entertaining toy there is for a baby. But your child can actually learn a lot from a mirror!
A mirror can help your baby get a better sense of self as they watch what they're doing. It also provides endless entertainment since they can see themselves move differently every time.
Baby Einstein Sea Dreams Soother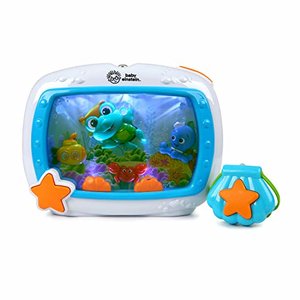 Our Rating: ★★★★
Review: While it's true that watching TV may not be the best activity for your baby, you can give them the best next thing. This Soother from Baby Einstein is adorable in its own right. It features a baby turtle, a baby octopus, a baby crab, and a yellow submarine all underwater.
But that's not all! This baby soother can play amazing light and sound effects for up to 25 minutes, enough to keep your baby calm and sleepy; leading a better night's rest!
Lamaze Baby Toys Crib Puzzle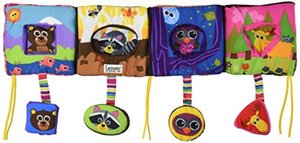 Our Rating: ★★★★
Review: Of course, every parent would like a toy that's both educational and fun. Well, this puzzle from Lamaze definitely fits that category. It's a guarantee that your little one will enjoy looking at the bright and pretty pictures of animals in their habitat that this puzzle features!
But that's not all. This super easy puzzle introduces the ideas of matches and shapes to exercise your baby's problem solving skills. It also has different textures that crinkle and sounds that jingle and squeak! So that's tactile, auditory, motor, and visual skills all stimulated!
Binen Baby Toy Soft, Hanging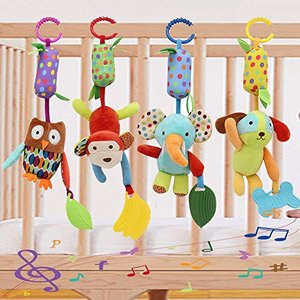 Our Rating: ★★★★★
Review: Soft toys are a big no-no when it comes to unsupervised crib time. While thy look innocent, soft toys are one of the leading causes of SIDS and suffocation in babies under 1. But these soft toys from Binen are different!
The soft toys in this set are all hanged up on your crib's railing. That way your baby can play with them but not risk it wrapping around their bodies. They also feature tons of cute animals in many fun patterns and vibrant colors!
Sorrel & Fern Birds & Clouds Mobile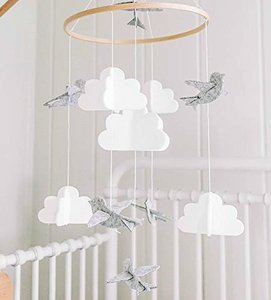 Our Rating: ★★★★★
Review: A huge reason why baby mobiles are a classic is because of their simplistic design. And for many younger parents, minimalist and naturalist are the way to go. If you prefer to go back to the basics, this mobile from Sorrel and Fern is perfect for your baby's nursery.
It is made from wood and felt with a simple bird and cloud theme. The white clouds, grey birds, white string, and light wood frame of this mobile makes for a peaceful mood. Guaranteed, your baby will fall in an easy slumber with this mobile hanging above them.
Frequently Asked Questions
When Can Babies Have Toys in the Crib?
This is a question that can be answered in different ways. The general consensus is that babies should be at least 12 months old before they're allowed to have toys in their cribs. Even then, there is still a risk of SIDS and suffocation.
But those are for soft toys and pillows that are in the crib that your babies can hold. Hanging and attached toys can be introduced earlier than that. This is provided that the toys are firmly in place and your baby can't pull them loose.
What To Have for Baby Crib?
The most popular baby crib toy to date is the mobile. It's been in use for a number of years now, and still popular. However, that's not the only kind of crib toy you can get.
You can also purchase toys that come in spirals and arches. Some toys play sounds or are made for teething. Others still can be used to develop learning skills like mirrors and puzzles. So don't be limited by mobiles. Look into the other types of baby crib toys, and get the ones you think your baby will enjoy the most.
What Do You Call the Hanging Toy in the Crib?
The classic crib toy is called a baby mobile. The origin of the term 'mobile' was actually coined sometime during the 1930s as a description for kinetic art. Kinetic art are sculptures that highlights the principle of equilibrium using rods and weighted objects. The objects balance each other while hanged in one or two rods.
The baby mobile that is hanged in the nursery, specifically above the crib is a style of kinetic art that provides your baby with endless entertainment and visual stimulation. The earliest mobiles can be gently pushed for it to move. More modern takes on the mobile have a motor that makes itself move in circles alone. Some can even play soothing music!
Conclusion
Crib toys can offer you lots of benefits. When you have to leave your baby in the crib while doing chores, crib toys can keep him engaged and entertained. They can also help with your child's development through exercising motor skills and visual stimulation.
But like any other baby product, make sure to inspect how safe the toys are for your baby. Double and triple check all the toys you're going to install to keep your baby away from harm.
So what are you waiting for? Outfit your baby's crib with the best and the latest toys today!