The Best Easel Brands for Toddlers in 2021
When it comes to playing, you would think it's all about going outside and running around or playing pretend inside your home. But that's not everything that your kids can do! Even arts and crafts can be considered playing. And with an easel for toddlers, your kids can do tons of creative playing to their hearts' content!
Arts and crafts is a broad term when it comes to playing. You can color, draw, create toys from different materials like popsicle sticks, or just make shapes with clay. But if you want to keep your kids engaged and organized while you're indoors, an easel can help you with that.
Easels help keep most of your little one's art projects all in one place. Plus, it makes them feel more genuinely like an artist. That's why I've curated some of the best easels you can get for your toddlers into one simple list. Check it out below!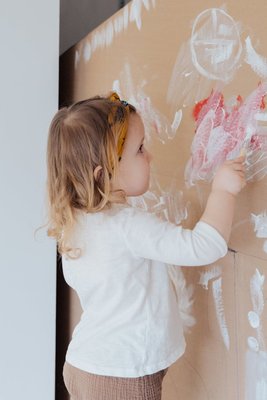 Our Top 5 Picks for Easel Brands for Toddlers
Easel For Toddlers Buying Guide
What Is the Best Easel For Kids?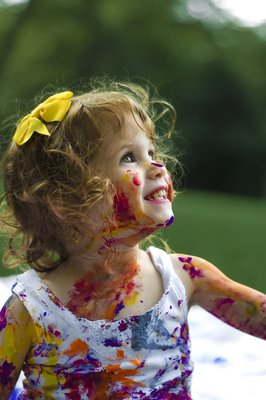 The best easel for your kid will depend on how old they are when you get it. For children four years and older, a taller easel will be easier for their height. They won't have to bend down while doing art which lessens any feeling of discomfort.
For toddlers, a shorter easel or a table-top easel might be the better choice. They can easily reach these easels so they can comfortable draw or color. You should also think about getting toddlers a chalkboard easel (as long as they're not allergic to chalk dust!). Chalk is an easy and clean way to help your little one master their drawing ability.
If you want an easel that your kid can start using as a toddler and still enjoy as they grow older, you can also check out adjustable easels for more height options.
Types of Children's Easel Sets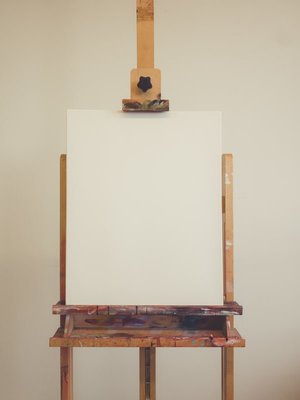 When you think about art easels for your kids, it's easy to suppose that there's only one type. In truth, there are a different range of easels available, and each one has its own advantages. To help you decipher which one will work the best for your child, check out the list below:
Portable. A portable easel is usually more compact. It can be folded into a flat design, and has a handle that makes it easy to carry around. They are also usually lightweight.
Double-Sided. Double-Sided easels are also called Flip Boards. They offer your child different mediums to create their artwork on, depending on the side they use. Some double-sided easels feature a chalkboard in the front and a paper roll at the back.
Tabletop. Tabletop easels are also compact since they can be set up on your table. They are perfect if you don't have a lot of space in the house.
Desks. Some easels come with an entire creative station. That means, it comes with a stool, a board, cubby holes, and a desk space. If your kid shows serious promise when it comes to art, you might like to give him his own creative space.
Painting. Last but not the least is the traditional painting easel. This is the type of easel that most professional painters use. You can also get your kid and child-sized painting easel for all his artistic projects.
While these kinds are the most common, these are not the only types of easels you can look into. So if you find an easel that you think works better for your little one, but isn't one of the types above, still get it.
Should You Get a Multipurpose Easel for Your Kid?
Some children show an affinity to arts at a very young age. If your kid prefers to draw, a simple chalkboard easel or paper roll easel might be enough. The same goes for painting. Go with a paper roll easel or a child-sized painting easel.
However, there are some kids who are more open to different kinds of art explorations. It is perfectly normal if they don't stick to just one type of art.
Sometimes a multipurpose easel can help in this situation. Your kid can choose to stand or stay seated on the table. They can go for chalks, magnets, paper, or paint. Multipurpose easels are perfect for kids with more diverse interests.
The Best Easel Brands for Toddlers
DasKid Table Top Magnetic Easel & Blackboard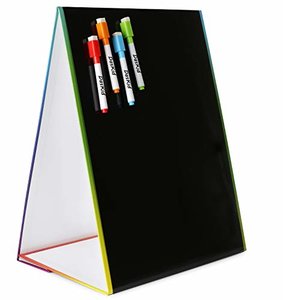 Our Rating: ★★★★
Review: This double-sided easel from DasKid may look incredibly simple, but it does pack a punch. One side is a white board that you can draw with erasable whiteboard pens. The other side is chalkboard that you can draw on as well. Both sides are magnetic which is perfect for when you're teaching your kid their letters and numbers.
What's more, this easel is a table-top type so you don't a huge space for it. Just plonk it down on your table and let your kid go wild!
B. toys by Battat Table Top Easel For Kids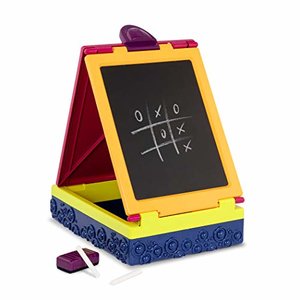 Our Rating: ★★★★
Review: If you don't have a lot of storage for your child's art materials, then you'd probably love this easel form B. toys by Battat. This foldable, tabletop easel has a small compartment that you can place your kid's pens and erasers in.
It also has two sides that they can draw and color on! One side of the easel is a white board and the other is a chalkboard. Plus, you can even bring it out wherever you go because of how compact it is!
Art 101 USA 179-Piece Double Sided Trifold Easel Art Set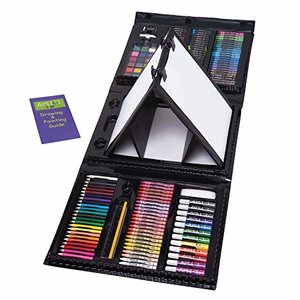 ](
Our Rating: ★★★★★
Review: If your kid is serious in their pursuits of the art, then the only thing to do is to encourage it. This art set from Art 101 USA is perfect for any budding artist because it has a ton of art materials included. Your kid will enjoy using different colored pencils, markers, crayons, and water color.
What's more, it has a foldable double-sided easel smack in the middle, so you don't even need to buy a separate one! Everything folds into one portable carry case so that your little one can make art anywhere they like!
Melissa & Doug Double-Sided Tabletop Easel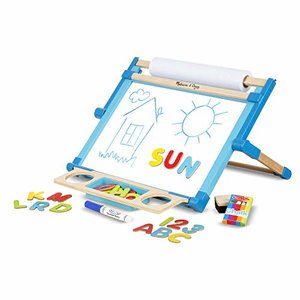 Our Rating: ★★★★★
Review: Now, durability is something we all want in anything we buy and that is what Melissa & Doug has promised us with all their products. Their tabletop easel is no exception. It might be compact, but this easel features a dry-erase board, a chalkboard, and a built-in paper roll holder.
And as if that wasn't enough! This easel even comes with its own paper roll, dry-erase marker, magnetic letters and numbers, colored chalk, and an eraser. Talk about high quality, indeed!
Step2 All Around Easel For Two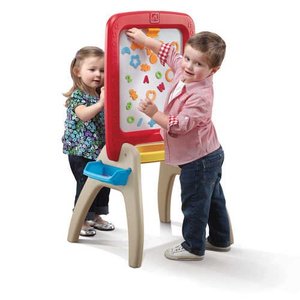 Our Rating: ★★★★★
Review: If you're looking for a standing easel that is super sturdy and adorable, look no further than this easel from Step2. It features a magnetized dry-erase board on one side and a chalkboard on the other. But that's not the best thing about it. Its standing structure allows two kids to play with it at the same time, making this easel the perfect play date accessory!
And parents who love getting organized will adore the deep storage trays that come with this easel. It can quickly house your child's pens and chalks. The middle storage is perfect for the 94 pieces of soft-foam magnets featuring letters, numbers, and symbols!
Benefits of Toddler Easels
Using an easel is definitely beneficial for your kids. I know my kids loved theirs! This is because exploring arts isn't just for fun. They can also be used to exercise your little ones' creativity and imagination.
Here are some of the things that you can develop with an easel for your toddler:
Academic Learning
Some easels come in sets, and included here are magnetic letters and numbers. These aren't just for décor. Magnetic letters and numbers can make learning how to count and how to read all the more exciting.
Use these magnetic pieces to create fun games as you teach your kids to read and count. The easel can be your board and your kids can mix and match magnetic pieces as they learn.
Creative Thinking
It's no surprise that allowing your kids to draw and paint can exercise their creative thinking. Your kids can feel more encourages to express themselves if they have a blank canvas in front of them.
Sure, you might not understand their colourful scribbles just yet. But those wiggly lines mean a whole to your toddler, and can really develop their creative thinking skills. By training their imagination, you're also getting your kid ready to come up with unique solutions to problems they might need to face in the future.
Motor Skills & Coordination
During this stage in their development, toddlers won't have the best hand-eye coordination. After all, they are just learning to move around. It may be surprising but arts and crafts can be a great motivation to developing better motor skills.
Your kid will need to learn how to hold crayons, paint brushes, and chalk all on their own. But that's not all! They'll have to manoeuvre this way and that to actually draw, paint, or write. Aside from motor skills, you can also train your kid's hand-eye coordination as well.
Conclusion
An easel for toddlers may seem like a fun toy that you don't necessarily need. But that's not true at all. You can get tons of benefits from easels, especially when it comes to your kid's development.
Easels, from table-top easels to multipurpose easels, can help your child develop certain skills like creative thinking, academic learning, and even coordination. Aside from keeping your little one entertained, you're also teaching them a lot of good things!
So what are you waiting for? Choose an easel and get to creative with your future artist!