The Best High Chairs for Babies in 2022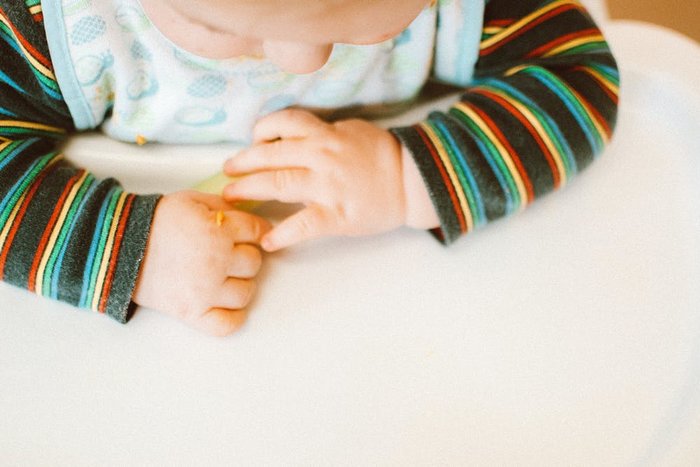 Feeding your baby when they're at a curious age can be difficult, especially when they're wriggling all over the place or reaching for the food on your plate. It's time to train them on sitting on their own place at the table.
A high chair is an excellent way to do so! Your baby can have their own space and they won't be able to reach anybody else's plate. By having a high chair, you can introduce a bit of independence so that your child can learn to feed themselves or just sit patiently while others are eating.
Read on below to discover which high chairs are the best for your baby!
Our Top 7 Picks for Baby High Chair
Baby High Chair Buying Guide
Is the High Chair Safe?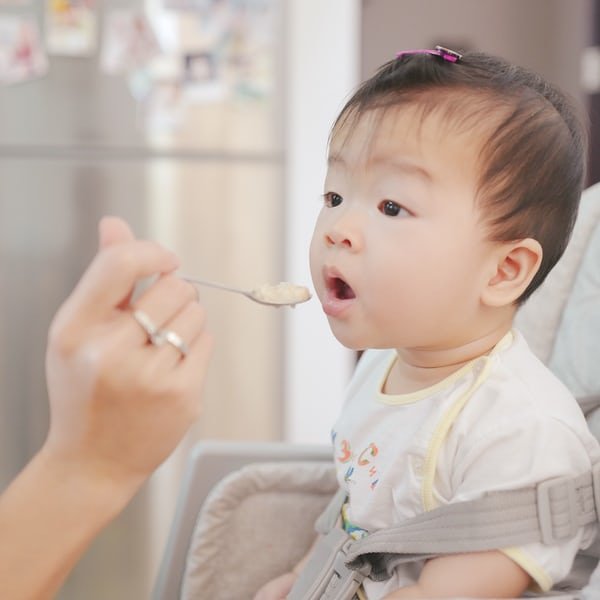 Your child will be sitting on the high chair for a period of time. It's critical that you get one that can keep them safe and secure. Safety features, therefore, are features you need to check and consider carefully. Some of the most important features a high chair should have are: • A crotch post • Wheels that lock in place or don't have wheels at all • Durable safety-restraint system Ensure that the high chair you're getting has a secure harness. Most modern high chairs have a 5-point harness system. Although a 3-point harness system is still acceptable. Check that all the safety equipment does not endanger your child. Make sure that they are able to breath easily.
Another feature you need to check is that the high chair does not easy to tip over. Remember that most toddlers are curious by nature and they might throw their weight around (literally). So you have to make sure that the high chair you'll get can withstand that.
Choose A Design You Like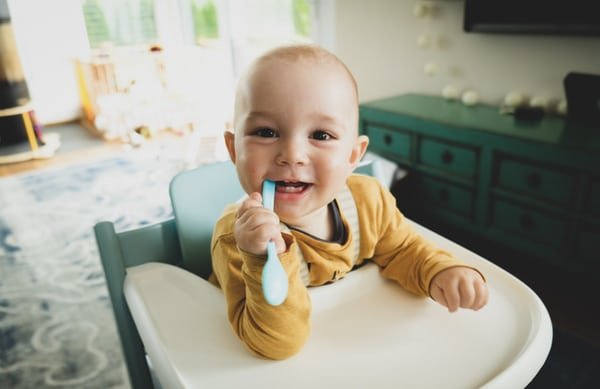 High chairs come in a wide range of designs. You can get some that look minimalist or futuristic. Some are more conventional while others are more contemporary. Other high chairs tend to focus more on functionality (adjustable trays and reclining seats, for example) than aesthetic.
As such, you should take the design of the high chair you'll be getting. Would you like it to look organic in the room? Then, get a high chair that matches your home's décor. If you're more pragmatic, a practical choice would be a high chair that makes feeding your child easy or that can be adjusted as your child grows.
Types of High Chairs To Choose From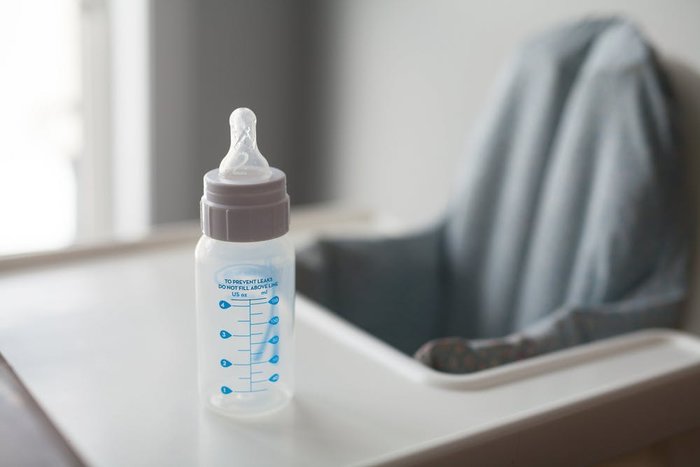 Like what was said above, there are many types of high chairs you can choose from. A few types you will encounter as you look for the perfect one to buy are:
Traditional High Chairs Traditional high chairs come in a wide range of prices and designs. They are not foldable. These high chairs are also not transformable. They can be made from wood, metal, plastic, or a combination of both.
Multipurpose High Chairs Multipurpose high chairs, as their name suggests, can be used in a variety of ways. These high chairs can be turned into booster seats for when your child is older. You can also use it with or without its food tray.
Grow With Me High Chairs Grow With Me high chairs (also called convertible high chairs) are like multipurpose high chairs in that they are convertible. You can start using this high chair from toddler age up to 3 to 5 years old. There are not many Grow With Me high chair designs as it is quite novel today. Rest assured, more and more brands are coming up with similar products.
Space Saver High Chairs Many people today live in smaller houses or apartments, and will need all the space they have. The industry responded to this dilemma by designing a high chair that can be used on top of your own dining chair. Space Saver high chairs look more like booster seats with additional harnesses and attachments to keep your child secure.
Portable High Chairs Like their name suggests, Portable high chairs are easy to bring whenever you leave the house. Most are foldable and lightweight. They can also be stored easily in small spaces or car trunks. Some of these chairs will look like mini versions of lawn chairs while others will have a more innovative hook-on design.
The Best High Chair for Babies
Fisher-Price SpaceSaver High Chair
Our Rating: ★★★★★
Review: Let's be honest. Most high chairs do take up a lot of space. If you live in a small home, a full-sized one might not be the best fit. It's a good thing that Fisher-Price designed a high chair that can be attached to your own dining chair!
It has a secure 5-point harness and a booster seat that can be adjusted into 2 heights and 3 reclining positions. This high chair also has a deep-dish on its tray to help keep all your baby's food in one place.
Cosco Simple Fold High Chair with 3-Position Tray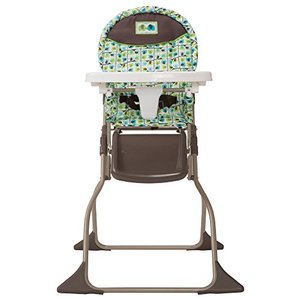 Our Rating: ★★★★
Review: If you're looking for a basic and foldable high chair, this one from Cosco will suffice your needs. It folds into a compact size for better storage, and its no-nonsense design allows you to set it up as quickly as possible.
Plus, cleaning this high chair is a breeze since the seat is easy to wipe. Your child will also be safe because of its secure 3-point harness.
Winco CHH-104 Wooden High Chair, Walnut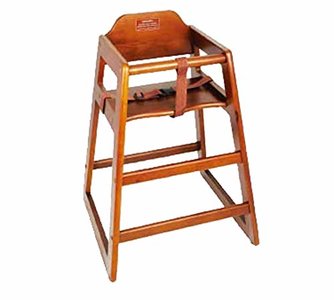 Our Rating: ★★★★
Review: If you're looking for a high chair that fits that country vibe or vintage look that your house has, then this beautiful high chair from Winco will be perfect! It comes in a stunning walnut color and looks very sturdy. It is also made from 100% solid wood.
You might be a bit apprehensive since it comes unassembled. But don't worry! It will only take you fifteen to twenty minutes to get it set up if you use the steps provided in the pack.
Summer Infant Summer Pop 'n Sit Portable High Chair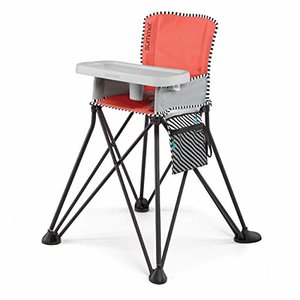 Our Rating: ★★★★
Review: Kids still eat even when you go out, so it's not surprising if you want to bring a portable high chair during your trips. This one from Summer Infant can be used both for indoors and outdoors. It folds into a compact size, and has its own storage pocket and carry bag.
What's more, this high chair has a removable, machine-washable seat fabric as well as a dishwasher-safe tray and cup holder. It also has a 3-point safety harness to keep your child secure.
Evenflo 4-in-1 Eat & Grow Convertible High Chair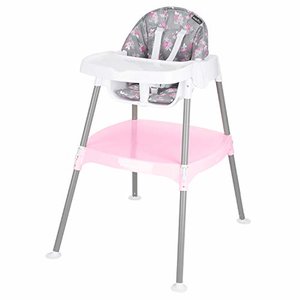 Our Rating: ★★★★★
Review: For more practical parents, the idea that a high chair can fit your toddler until they're older is appealing. After all, it's a great money-saving investment! Well, this 4-in-1 high chair is both convertible and flexible in use.
This set can be used as a baby high chair, a standalone chair, and even a kid table and chair duo. If you really want to lengthen the use of the product you're buying, this chair is the one for you.
Graco Slim Snack Compact High Chair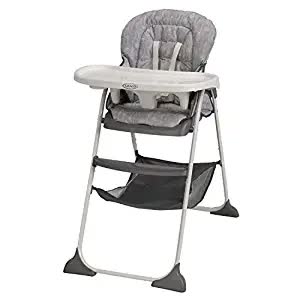 Our Rating: ★★★★★
Review: As far as high chairs go, Graco is a well-known brand, and if you want a guaranteed good experience, then get one of their high chairs. For rooms with little space, this fast-folding high chair will be a reprieve. You can even fold it with one hand!
And if you lack storage space? Well, this high chair has a mesh basket below that can keep your baby's essentials on hand.
phil&teds Lobster Clip-On High Chair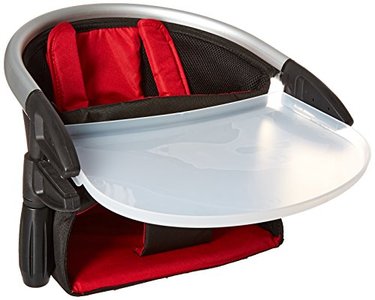 Our Rating: ★★★★
Review: Foldable high chairs are definitely portable but they're not the most convenient to lug around because of their length. Well, what if I tell you that there are high chairs that are both lightweight and more compact? This one from phil&teds is just like that!
It is made from aluminium frame and has a secure shoulder harness systems. You can attach it directly to tables using strong aluminium clamps with innovative non-slip grip pads. What's more, this chair can fit easily into diaper bags or even your big purse!
Frequently Asked Questions
When Can Baby Sit In A High Chair?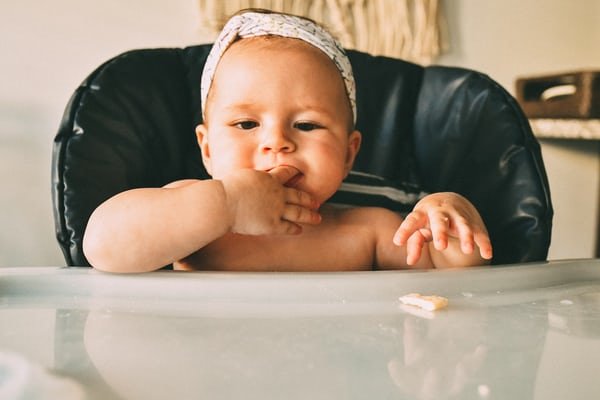 What age is acceptable for a baby to use a high chair depends on the baby's development. As long as they can, more or less, sit down on their own, your baby can start using a high chair. As a general guide, most babies can use a high chair by 4 to 6 months of age.
You can also start your baby younger than the average if you get a high chair with a reclining seat. That way, you can find a position that won't strain them too much.
When Can Babies Use A High Chair?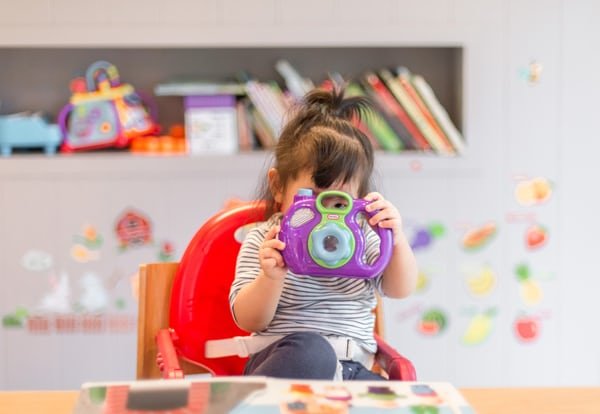 High chairs are traditionally used during meal times. That's why most modern high chairs have a built-in tray in front of them for your children's food.
While high chairs are primarily used for eating, your baby can also be put there while you're pattering around the kitchen. If you don't have a bouncy chair, a comfortable high chair is secure enough to keep your baby in one place. You can place toys in front of him on the tray or coloring activities for older children.
When Do Toddlers Stop Using High Chairs?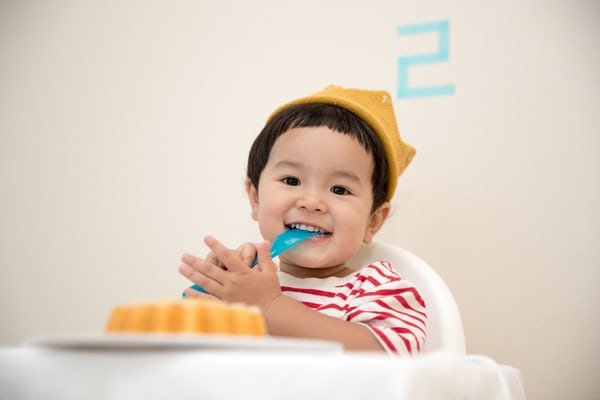 There is no specific age for your toddlers to stop using their high chair. It really depends on their balance and stability. If your toddler can already sit well on their own without falling over, then they can move away from the high chair and into a real chair.
As a general guide, though, most kids will be able to sit on traditional chairs somewhere between 18 months to 3 years of age. But don't get rid of the high chair at once! You might find use for it until their about 4 to 5 years old (as an extra chair when you have guests over).
Conclusion
High chairs are a necessary furniture for your house. Your baby will soon be able to join in the table during meals so you would want to be ready or that.
But that's not all that a high chair can be used for! It can also double as a way to keep your child secure while you work around the kitchen. So what are you waiting for? Enjoy fuss-free dinners today with your baby on their very own high chair!