Top Sippy Cup for Babies in 2022
It's easy to look at babies drinking and think that it's all cute. But you also need to keep in mind that they won't be drinking like that forever. Someday soon, your baby will need to learn how to drink from a cup all on their own. A great way to transition from bottle to cup is with a sippy cup!
A sippy cup is the perfect in-between because the most basic one acts like a baby bottle but has a shape of a regular cup. Designs come in many different varieties so you can slowly introduce your child to the proper way of drinking from a cup without any hassle.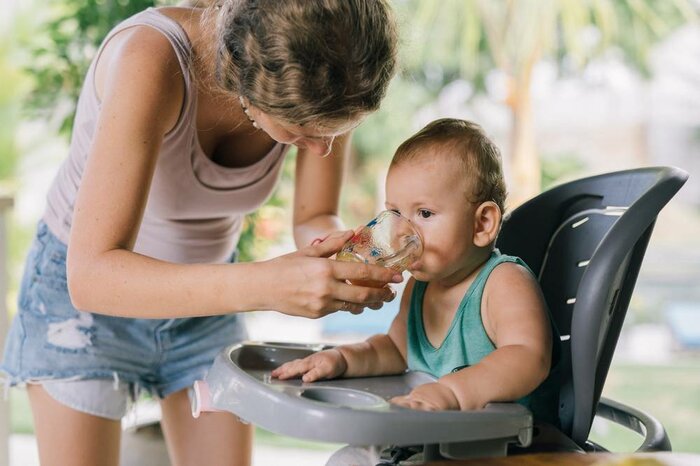 Discover which sippy cup to use best for your little one by reading on below!
Our Top 10 Picks for Toddler's Sippy Cup
Sippy Cup Buying Guide 2020
Types of Sippy Cup Spouts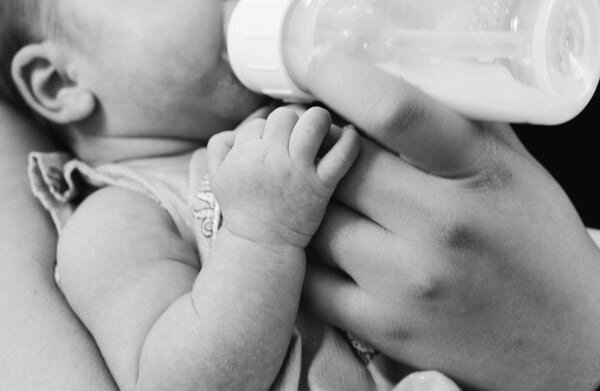 Sippy cups come in many designs. Each design can help your child in a unique way so it's always a good idea to know more about them. While the body of the sippy cup does change as well, a primary concern for most parents is the spout.
The spout is the part of the sippy cup that acts like the edge of the cup. This is where they drink from and can affect the formation of your little one's growing teeth. Here are a few types of sippy cup spouts you're sure to encounter:
Soft Spouts. Soft spouts are made from either silicone or plastic, and resemble the nipple of a baby bottle or a pacifier. This type of cup is a good first sippy cup as it does require your child to suckle.

Free Flow Spouts. Free flow spouts resemble the look of soft spouts but are made from harder plastics. Liquid flows more freely and your child doesn't need to suckle, making this a good transition from soft spouts. However, this isn't the best type for traveling.

Straw Spouts. Your child will also benefit from learning how to drink from a straw. It exercises different muscles (which is also beneficial for their language skills). Plus, your child will love having a cup that doesn't look like a bottle.

Natural Cups. Natural cups do not have spouts and look like regular drinking cups, except they have a spill-proof mechanism. When pressed on your little one's lips, liquid can flow freely. This is the best cup used for transitioning from sippy to regular, drinking cups.
Features of Sippy Cups to Consider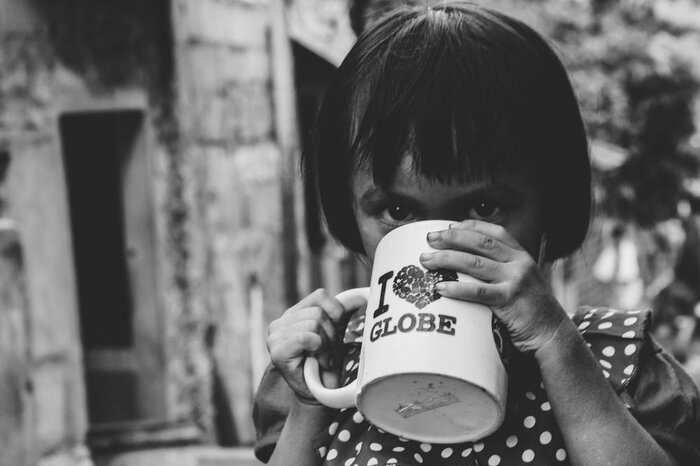 Aside from the spouts, there are also other considerations you have to keep in mind when buying a sippy cup for your child. Here are a few:
Material
Plastic. Plastic is the most common material used for baby bottle and sippy cups. It is incredibly lightweight (perfect for baby's use) and very hard to crack. Just remember to get a plastic sippy cup that is BPA free.

Stainless Steel. Stainless steel sippy cups are fairly new to the market but are showing their worth quite well. They are as hard to break as plastic which makes it a great alternative if you want to go plastic-free. What's more, stainless steel sippy cups can retain your child's drink in the desired temperature.

Glass. Glass is the safest material used in terms of preventing harmful chemicals coming into contact with your little one's drink. It is also very durable and resistant to scratches. However, they are breakable and not recommended for accident-prone children.
Handles or No Handles. Sippy cups with handles are always a good idea for children who are just starting to hold their own cups. You can choose from single or double handles.
Some sippy cups have a drinking system where handles are detachable. This is a good investment if you want the sippy cup to grow as your child grows.
Leak-Proof. You'll be thanking your lucky stars when the inevitable spills happen. Sippy cups that are leak-proof are perfect if you and your child are always running around.
Cleanliness. The most worrying thing about sippy cups is that they can grow molds if not cleaned properly. You will want a sippy cup that is easy to clean to avoid it from being a health hazard to your child. Sometimes, the simpler the design is better when it comes to cleanliness.
Helpful Tips When Transitioning to Sippy Cups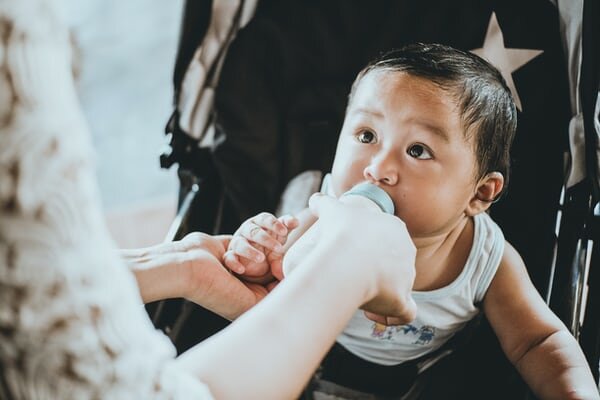 Babies develop differently so don't feel pressured if your baby isn't too fond of the sippy cup by 6 months of age.
Most toddlers love sippy cups because they feel independent and grown up. Stick to water most of the day. Sugared drinks like juice or milk can lead to tooth decay if you're not careful.
Don't let your child drink and walk at the same time. Drinking from sippy cups and walking can still cause falling and injuries.
If you're child loves pretend drinking in regular cups, let them try for real. You never know, they might not need a sippy cup after all.
The Best Sippy Cup for Toddlers
NUK Disney Large Learner Sippy Cup, Mickey Mouse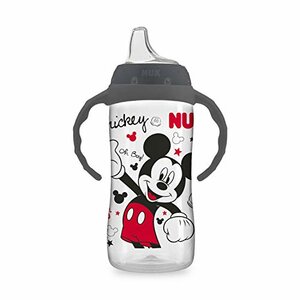 Our Rating: ★★★★★
Review: Your little one will love this sippy cup if they're a fan of Disney. This NUK sippu cup has Mickey Mouse designs all over that will make any young fan adore it straight away. It's also a great transition from baby bottles because it features a 100% silicone soft spout that is like a bottle and is gentle on the gums. It also features an air vent to lessen the chances of your kid swallowing air.
Your child will also love being independent since this sippy cup has an easy-grip, anti-slip handles on both side for your baby to hold (it's even detachable). What's more, this sippy cup is 100% spill-proof so you don't need to worry about pesky messes!
The First Years Take & Toss Spill-Proof Sippy Cups, 4 Count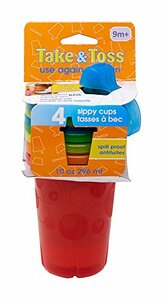 Our Rating: ★★★★
Review: If you like having multiples, you might like this set as it has 4 sippy cups. All sippy cups are made to be durable and can be used again and again. They are made free from BPA, PVC, and phthalates which makes them super safe for your baby.
The spout is interchangeable so you can use it for any of the actual cups. It is also spill-proof, making messes a thing of the past. What's more, this set is super easy to clean because it's dishwasher safe.
Munchkin Miracle 360 Sippy Cup, 2 Count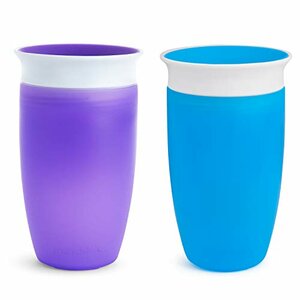 Our Rating: ★★★★★
Review: Big toddlers will love this sippy cup because of the 'grown up' vibes it has. If your little one is almost ready for a regular drinking cup, this sippy cup is the perfect transition tool. It has a 360-degree drinking edge, making it look like most drinking cups without the worry of spilling. The cup automatically seals itself when no one is drinking.
Plus, it's BPA free and dishwasher safe. Bonus points because that it comes in bright, glazed colors that even big kids and adults will love!
Tommee Tippee Insulated Sportee Toddler Water Bottle with Handle
Our Rating: ★★★★
Review: Active and sporty little kids will definitely love bringing along this sippy cup to their adventures. It is made free from BPA, BPS, and phthalates and is designed to keep your children hydrated while playing.
The spout is bite-resistant, durable, and stays on well. It also has a 9-ounce, double-walled insulated body that houses drinks and keeps it cool throughout the day. What's more, it's sweat-proof and has handles so your child can carry it with ease. It also fits most stroller and car holders, making it a travel-friendly alternative.
Re-Play No Spill Cups, Eco Friendly, 4 Pack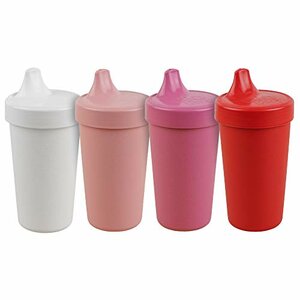 Our Rating: ★★★★★
Review: Buying new things for your baby doesn't mean you can't be economical and eco-friendly. This sippy cup set is made from recycled milk jugs (HDPE) and is free from BPA, phthalate, PVS, and melamine. It is both safe for the environment and your baby.
It is also durable and can be used again and again without any problems. Not only that, but the colors it comes are chic and stylish. Plus, they're also space-saving since they are stackable. Dishwasher and microwave friendly, to boot. Need I go on?
Dr. Brown's Cheers 360 Spoutless Training Cup, 2 Count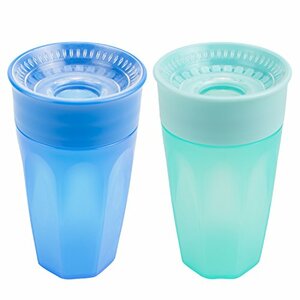 Our Rating: ★★★★
Review: Another amazing 360-degree training sippy cup that your little one will love using is this pair from Dr. Brown's. It comes in a few beautifully stylish colors and is made from clear silicone. Your child can easily check whether you're giving them milk, water, or something exciting like juice.
It also has a bevel-shaped body to make it easy to grasp. Some variants even have handles for little hands to grip on. They are also conveniently dishwasher safe.
Playtex Sipsters Stage 3 Paw Patrol Sill-Proof Spout Cup, 2 Pack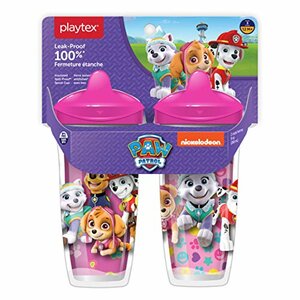 Our Rating: ★★★★★
Review: Training your children to do things is super easy if you make the activities fun and interesting for them. One way to do that is to use their favorite colors and cartoon characters. This pair from Playtex will be an instant hit with Paw Patrol fans!
But it's also really efficient. It is 100% leak, spill, and break-proof (perfect for kiddie use) and is built with double-wall insulation to keep drinks cool for longer. They're also BPA free.
Nuby No-Spill Super Spout Grip N' Sip Cup, 2 Pack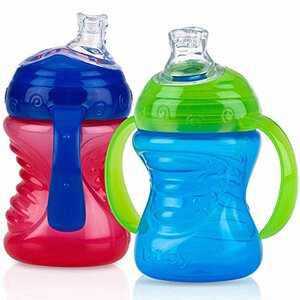 Our Rating: ★★★★
Review: This pair from Nuby is another great starter sippy cup if your child is transitioning from baby bottles to training cups. It is made from high-quality BPA-free plastic with a soft silicone spout that is spill-proof.
No need to worry about wiping messes with this sippy cup! The spout is made to be clear so that you can easily check if its clean or not. It even has sturdy double handles that your little one can hold on to with both hands.
Elk and Friends Spill-Proof Sippy Cups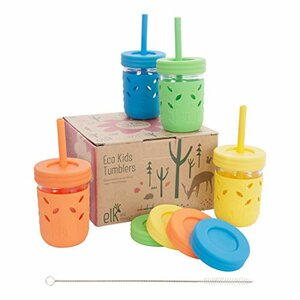 Our Rating: ★★★★
Review: Instagram-worthy sippy cups are a real thing! If you're a modern mommy or daddy, you'll definitely love this aesthetically pleasing sippy cup. It is made with the trendy mason jars and silicone straws. But it's not just great for pictures!
Each mason jar comes with its own leak-proof, air-tight lid, silicone straw, and straw stopper. The silicone is FDA food-grade level (your kid can even chew on it) and is free from BPA, phthalate, and PVC. No spills will occur because of the lids and the stoppers. These sippy cups are even dishwasher, microwave, and freezer safe! Just remember: they are made of glass so be careful when handling.
MAM Trainer Cup with Handles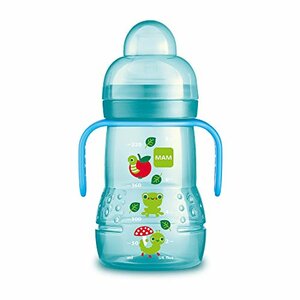 Our Rating: ★★★★★
Review: If you think your little one is not yet ready for the soft spouts but can be trained to hold their cups already, this trainer cup from MAM is a good start. It features a spill-proof nipple AND a soft spout so you can choose whichever your baby likes better. It also has non-slip handles on both side of the cup for your baby to hold on to.
This sippy cup is made from high-quality, 100% baby-safe materials that are both BPA and BPS free. Plus, the cup opening is wide (unlike baby bottles) so you won't have a problem cleaning it!
Frequently Asked Questions
When To Introduce A Sippy Cup?
If your child is feeling very secure about their baby bottle, it's a good time to transition to a sippy cup. Think of it as mastering one level and moving up on the next. Likewise, once your little one has mastered the sippy cup, it might be time to move to regular, drinking cups.
As a general rule, though, babies ages 6 to 9 months are usually ready to start using sippy cups.
How to Teach Baby To Use Sippy Cup?
There are many ways to teach your child to use a sippy cup. Don't worry if they don't get enamored by it instantly. You could always try different methods of teaching them to drink from the sippy cup before they become accustomed.
One example is by putting in a familiar drink in the sippy cup. A favorite juice or milk will work nicely. Your child might be more willing to make an effort if you put a drink that you're sure they love.
Another example is to put a little bit of liquid (just a teaspoon or two) and help your little one drink without the spout. This way, they can associate the sippy cup with drinks. Just remember to put back the spout when they're ready to drink.
When to Stop Using Sippy Cups?
Most people would recommend stopping using sippy cups around 12 months to 2 years old. While it is true that children have more developed fine motor skills by this age range, it's still not the best. Kids this age tend to be clumsy (or too energetic) and will most likely spill their drinks often.
As such, just observe your own child. If you think they're ready to try drinking from a regular, drinking cup then transition them. But don't worry if they're still drinking from a sippy cup past 2 years old. They'll be ready when they're ready.
Conclusion
Sippy cups are an essential transition for most kids when they've outgrown drinking from a bottle. It's a good way to introduce to them how to drink from a regular, drinking cup. Sippy cups offer your children the chance to practice and develop the different muscles to efficiently drink from a cup, including how to latch on to a cup and how to hold it properly.
Sure, you can teach your kid to drink directly from the cup. But that might be messier as the chances of spilling will be high. A sippy cup provides less pressure while assuring you that you won't have to clean to many messes while your child learns how to drink. That's why you should definitely get the best sippy cup for your little one today!