Top Swim Diapers for Your Baby in 2021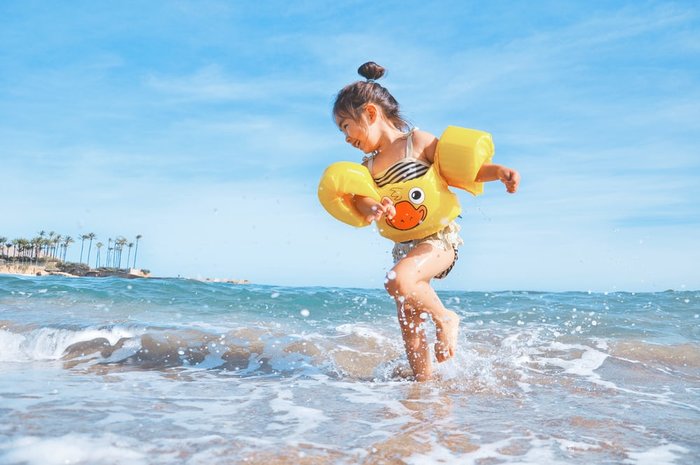 We all know that little ones cannot really control their urge relieve themselves, and that's the same case when you're out on vacation. Whether you're playing in the waves of the sea or in a pool, most babies will still pee or poo whenever they need to. That's where swim diapers come in!
Swim diapers are specially designed to be used while your baby is in the water. It is different from your typical everyday diaper and is a vacation must-have. Discover which swim diaper is perfect for your baby by reading on below!
Our Top 10 Picks for Swim Diapers
Swim Diapers Buying Guide 2020
Normal vs. Swim Diapers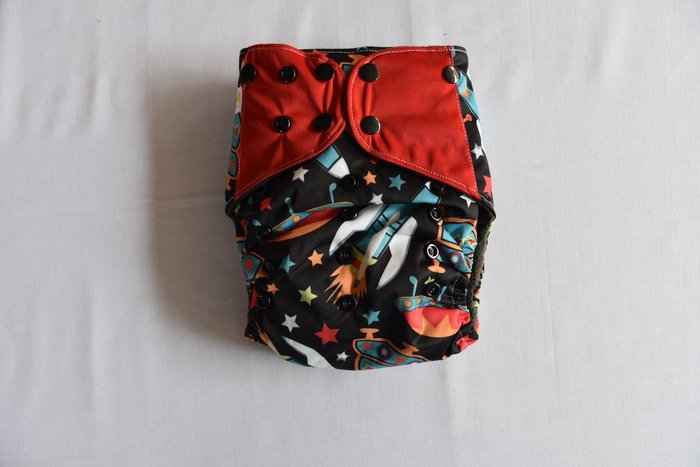 There is a good reason why diapers made for swimming is developed. Its design slightly differs from the normal diapers your baby uses daily. Normal diapers are made to hold large amounts of liquid and will expand when it is wet. That is why it feels very heavy and can result to the diaper lining tearing apart.
Swim diapers are less absorbent than normal diapers but can still contain any accidents your baby might experience in the pool. They can be submerged in water but won't retain as much liquid so they aren't as heavy.
Swim diapers can come in two kinds:
Disposable Swim Diapers: This kind are readily available in supermarkets and are easy to use. You just slip it on and toss to the trash once done. Disposable swim diapers are great alternatives if you're not regular swimmers but they are not the most eco-friendly option.
Reusable Swim Diapers: Reusable swim diapers are more economical and environment-friendly since you can save up from buying diapers again and again. These are great for babies who regularly go to the beach or swim in a pool. The downside is, more laundry for you!
Importance of Wearing Swim Diapers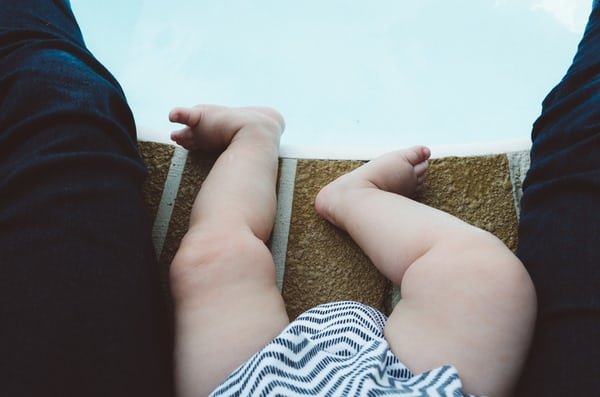 Your baby is too young to successfully avoid peeing or pooing while in the pool because they can' control their bladder and bowel function yet. As such, they might release fecal matter in the pool accidentally. Wearing swim diapers can prevent the spread of fecal matter and allow you more time to change their diaper.
By having your children wear swim diapers, you are doing your part in stopping the spread of disease in the pool. One common bacteria that might be transmitted is E. Coli. If fecal matter contaminates the pool, other people may be transmitted with E. Coli and increase the risk of infection which can result to:
Diarrhea
Stomach cramps
UTI
Nausea/vomiting
Severe anemia
Kidney failure
And even, death
Tips on How to Use Swim Diapers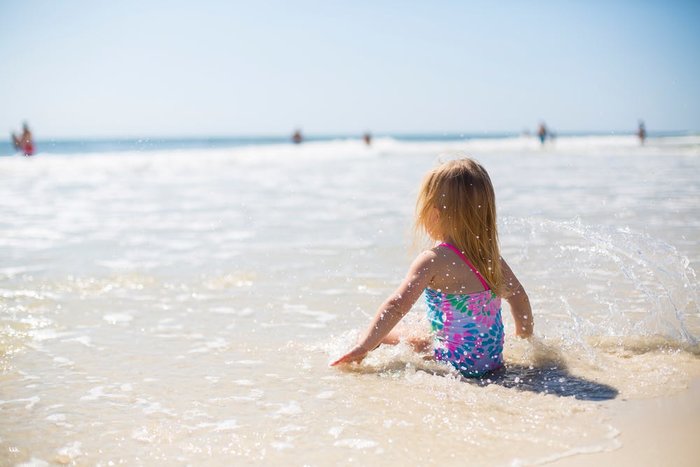 Swim diapers are highly recommended if your child is not yet fully potty trained. They are worn under swimming costumes. Below are other useful tips to know when using swim diapers:
Check your child's diapers every 30 to 60 minutes
When changing swim diapers, move away from the pool and food to avoid contamination
Responsibly throw away disposable swim diapers
When cleaning reusable swim diapers, make sure to rinse out immediately after use to remove chlorine or sea salt. Wash thoroughly at home.
One swim diaper is not enough. Bring a few for diaper changes.
The Best Swim Diapers
Huggies Little Swimmers Disposable Swim Diapers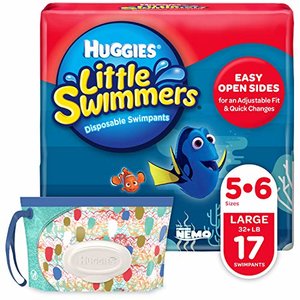 Our Rating: ★★★★★
Review: If you're a family who doesn't regularly go on swimming trips, the Huggies Little Swimmers will be a convenient thing to pack. Putting on your baby is easy as it opens at the sides and can be adjusted to fit snuggly. It wouldn't swell like regular diapers as it is designed specifically to be submerged under water.
What's more, you even get a reusable pouch for your wet wipes! And the diapers will be a new favorite of your toddlers as they come in incredible Finding Nemo designs.
i play. by green sprouts Baby Reusable Swim Diaper, Blue Undersea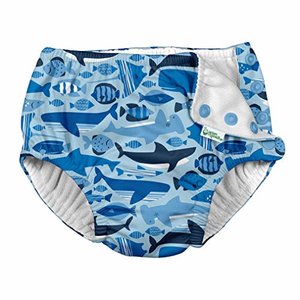 Our Rating: ★★★★
Review: For families who are advocates of environmentalism, a reusable swim diaper like this from i play. by green sprouts is the perfect solution. It is made from 100% polyester and has a convenient snap closure. It can also fit snuggly around the waist and legs as they are garterized.
What's more, they are lightweight so you don't need to worry about it weighing heavily on baby while they're submerged in water. It is also easy to clean because it's machine washable!
Beau & Belle Littles Reusable Swim Diaper, Fish Red Blue Green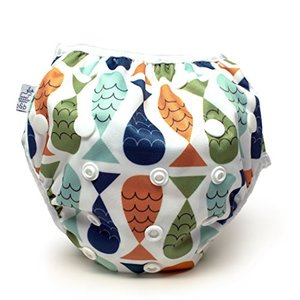 Our Rating: ★★★★★
Review: Frequent swimmers will definitely find this reusable swim diaper from Beau & Belle Littles highly economical and eco-friendly. You can save the environment and save your money by using this cloth diaper again and gain.
The outer lining of the diaper is even waterproof and is made from 100% PUL polyester fabric (but it's still breathable). It is also easy to adjust to your baby's height and size through its adjustable snaps.
Pampers Splashers Disposable Swim Diapers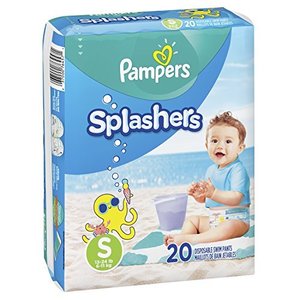 Our Rating: ★★★★★
Review: Another great household brand that makes a swimming line is Pampers. Their Splashers line is made specifically to be submerged under water and will not swell up or burst. It even has dual Leak-Guard Barriers that keep the diaper snug around baby's legs to prevent any leakage.
You can also rest easy because this swim diaper's 360-degree stretchy waistband does not allow any drag and makes your diaper fit like swimwear. Removing is also no problem due to its easy-tear sides.
babygoal Baby Reusable Swim Diaper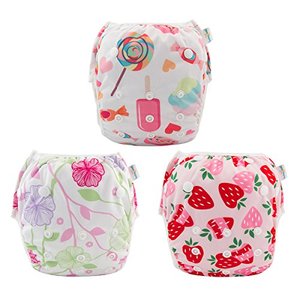 Our Rating: ★★★★
Review: Make your little daughter as cute as possible while swimming and wear these diapers from babygoal. Their adorable candy, floral, and fruit prints can really light up anyone's day. But that's not all! This swim diaper is made from 100% polyester and breathable TPU, making it waterproof but breathable.
What's more, it features different snaps so that you can adjust the size to fit around baby's legs an waist better.
ALVABABY Reusable Swim Diaper, Happy Dolphin & Fish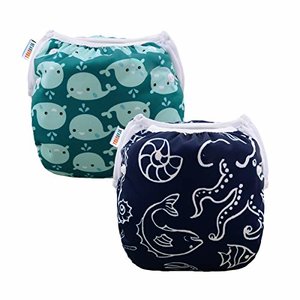 Our Rating: ★★★★
Review: If you're little one is growing up to be a fan of the water, then they'll definitely love these diapers from ALVABABY. This set features an adorable whale design and an elegant dark blue under the sea theme, perfect for lovers of the sea.
Plus, the diapers are made from 100% polyester which makes is waterproof. It even has an elastic waist and legs made with soft lycra bindings to give a secure, stretchy fit. You can even adjust its size in three different ways.
Wegreeco Baby & Toddler Reusable Swim Diaper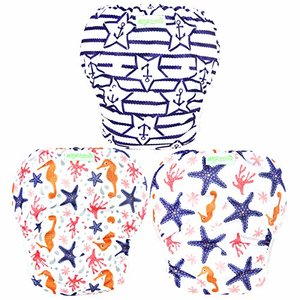 Our Rating: ★★★★
Review: These swim diapers from Wegreeco feature really fun prints, and you're sure to love them for those alone! But that's not all that these reusable swim diapers can give you. They are made from 100% PUL polyester, making them waterproof and very able when your child is swimming. Its interior is made from soft mesh which makes it comfy for baby's sensitive skin.
It can even fit toddlers of up to 3 years old with its adjustable snaps. That way, you don't need to keep buying diapers again and again.
Bambino Mio Reusable Swim Diaper, Sea Blue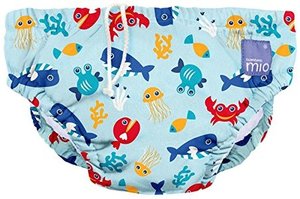 Our Rating: ★★★★
Review: For maximum comfort with amazing performance, these swim diapers from Bambino Mio is perfect. They are made from a mix of cotton and polyester for comfy soft wear, and a 100% polyester outer lining to make them waterproof. Even their waist and legs are leak-proof so you don't need to worry about contaminating the water.
Just remember to buy the right size, and choose from the four sizes available.
Langsprit 3-Pack Washable Swim Diaper, Underwater World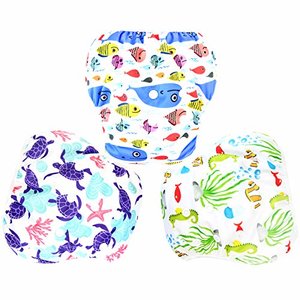 Our Rating: ★★★★
Review: Another pack that features amazing under-the-sea patterns is this one from Langsprit. These 100% polyester-made swim diapers have a waterproof PUL lining that's perfect for when your baby is submerged in water.
Plus, they are super easy to clean! All you need to do is to throw any waste in the trash and either hand or machine wash the diaper. After that, line dry it or tumble dry before storing!
Little Toes Natural Disposable Swim Diapers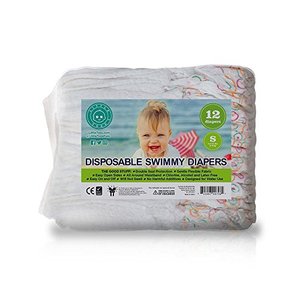 Our Rating: ★★★★★
Review: Sometimes disposable diapers are really more convenient for you. But if your baby has ultra-sensitive skin, then you might need to wear natural swim diapers like this one from Little Toes. It is made free from alcohol, latex, and other harmful chemicals.
Like other swim diapers, it will not swell or burst in water, and features an easy pullpup/pull-off design. It also has a stretchy 360-degree waistband for a soft, snug, and comfortable fit.
Frequently Asked Questions
Do Swim Diapers Hold Pee?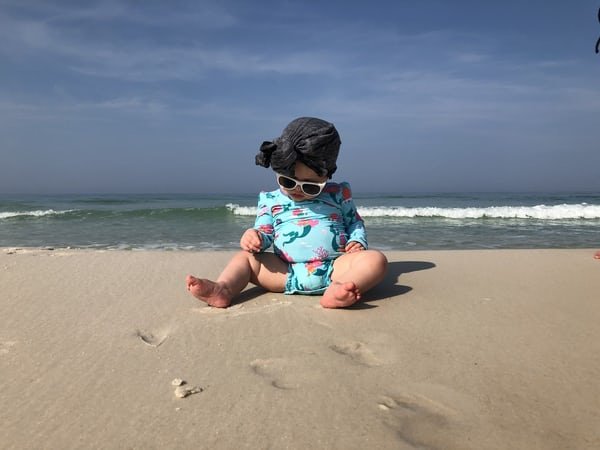 Swim diapers do not hold pee, and that is why they don't get heavy when your baby uses them in the pool. However, they are designed to withhold solids.
So why use swim diapers and not your regular disposable diaper? Normal diapers are meant to hold water in and become heavy. Submerging them in the pool might make them burst open. This is because they contains superabsorbent polymer (SAP) while swim diapers do not.
Can You Use Cloth Diapers as Swim Diapers?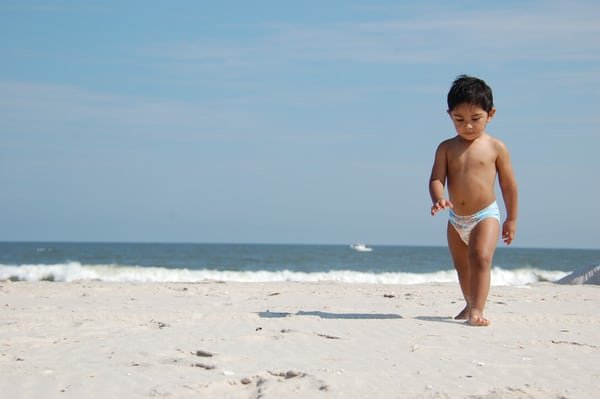 If you already have cloth diapers in your baby's wardrobe, good news. It can be substituted for swim diapers since it can hold poo and can be worn under swimming costumes.
But swim diapers are very affordable so it's still recommended to get a few for your baby (especially the reusable ones). This way there is a clear distinction about which diapers are for daily use and which ones are for swimming.
How to Use Reusable Swim Diapers?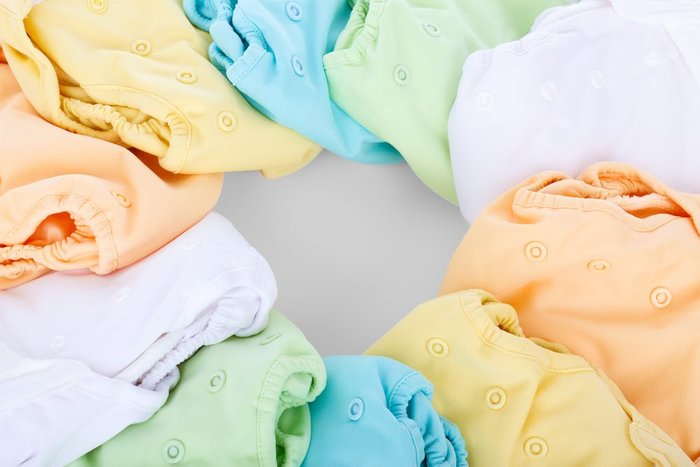 Most reusable swim diapers have Velcro or snaps at their side. All you need to do is put the diaper on like usual, and keep it snug on your baby.
When changing diapers during your swimming outing, make sure to go to the bathroom or keep away from the pool to avoid contamination. Rinse the used swim diaper thoroughly to remove poop, chlorine/sea salt, and keep in a separate wet bag.
Once home, make sure to thoroughly clean your reusable swim diapers by putting them in the washing machine. Follow the laundry instructions of the brand for more effective cleaning.
Conclusion
Swim diapers may not be able to hold pee but it can contain poo which is equally important when your baby goes swimming. That's because they cannot control their bowel movement yet and may accidentally release fecal matter into the water.
When that happens, the risk of bacterial infection increases for everyone who is using the pool. To avoid that, a swim diaper needs to be worn and changed when soiled. Keep everyone healthy while swimming and dress your baby in a swim diaper!