Best Wooden Toys for Babies in 2022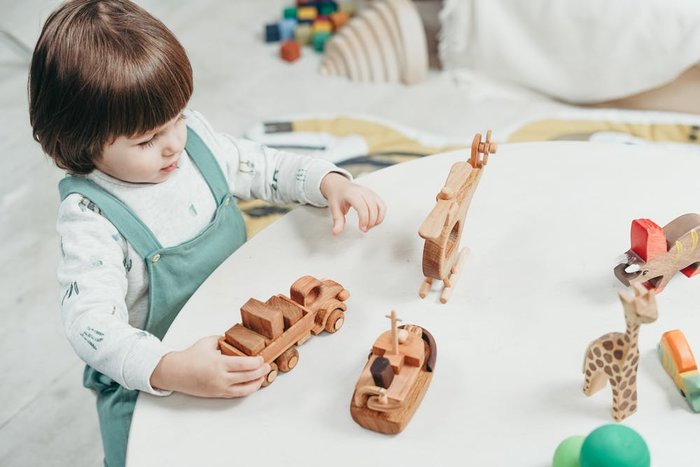 Plastic toys are as fun as any other toy out there. But they're not exactly the most durable out there. Often times, kids will break their toys because they don't know their strength or don't know how to play with the toys in the right way. One solution to that is to buy wooden toys.
Wooden toys come in varying shapes and sizes. You can give your little ones wooden cars, dinosaurs or wooden kitchen utensils and food. Wooden toys also come in puzzles and teethers. Really, what we already have in plastic, there's sure to be a wooden alternative.
Discover which wooden toys would be a good choice to get your baby by reading the recommended list below.
Our Top 10 Picks for Wooden Toys for Baby
Wooden Toys for Baby Buying Guide
Are Wooden Toys Safe?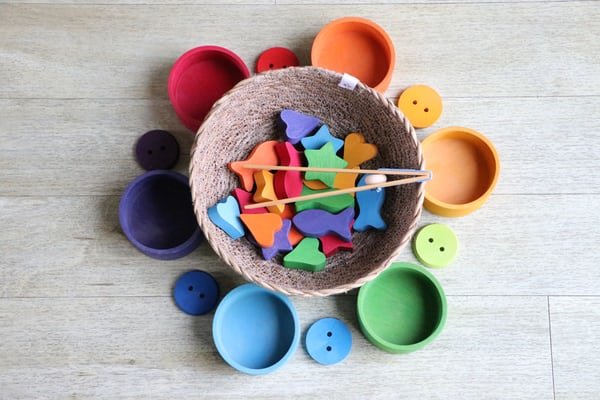 The USA has very strict standards and regulations when it comes to children's safety. Therefore, wooden toys made in the USA are perfectly safe. Other countries are not as strict so you need to inspect any toy you buy before allowing your child to play with it.
More often than not, quality wood is used to make wooden toys. Most companies use non-toxic and not lead-based paint for children's toys as well. What you need to keep a look out for is small parts that might be a choking hazard. Watch your child and make sure they don't try to fit small parts in their mouth.
Why Wooden Toys are Great for Playing With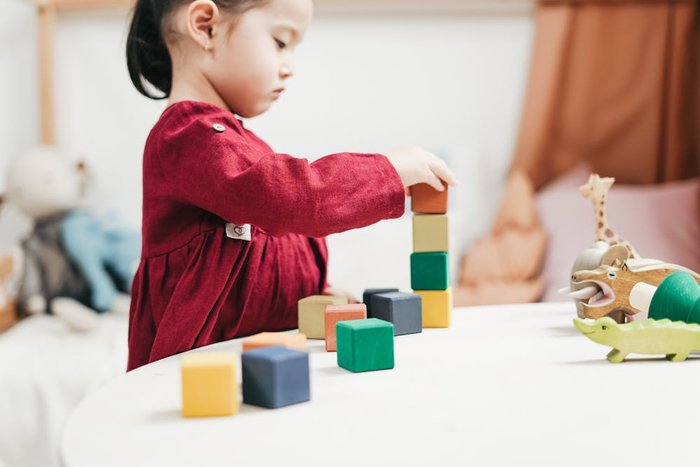 Wooden toys are just like most any other toy (except that they are more environment-friendly and more durable). They foster the same development that other toys may offer to your child. Wooden toys can awaken their imagination and exercise their creativity.
Wooden toys can also assist in the development of finer motor skills because they are denser and heavier than plastic toys. Therefore, playing with them requires slightly more effort in picking up and moving around. A great many more skills are developed while playing with wooden toys like concentration, problem solving, and social interaction.
Environment-Friendly Alternative to Plastic Toys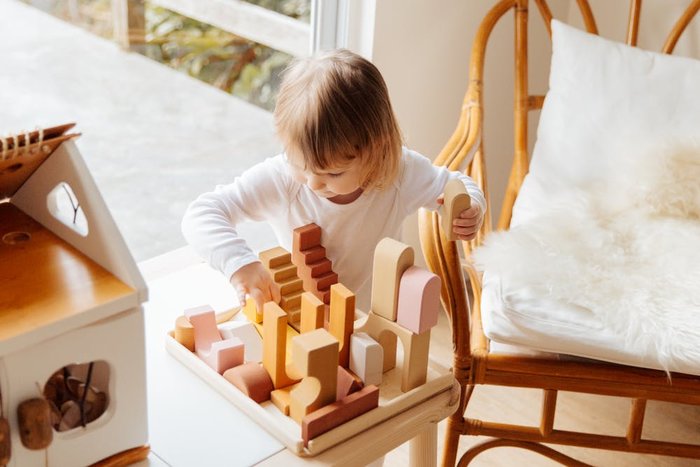 The simplest truth is that wooden toys are friendlier to the environment than plastic ones. The disposal of plastic toys contributes affair amount to the plastic in landfills and oceans. Wood is a recyclable and often biodegradable alternative to this.
You won't even have to think about tree cutting since most wooden toys are made from wood scraps and leftovers which significantly reduces your environmental footprint.
The Best Wooden Toys for Baby
GEMEM Stacking Rings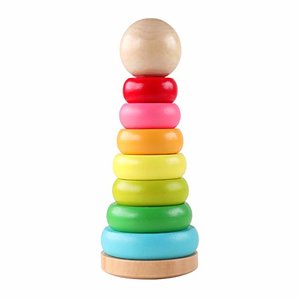 Our Rating: ★★★★
Review: Babies can get so much from toys, and it doesn't matter if you think they're simple. For your baby, they'll provide the right challenge. And speaking of challenge, a stacking ring toy like this one from GEMEM can do the job.
All your baby needs to do is stack the rings from biggest to smallest, and the reward will be to see the amazing rainbow color they produce. It's fun and can teach your kids to be creative and logical. It can even aid in hand-eye coordination!
Homi Baby Organic Wood Montessori Styled Baby Rattler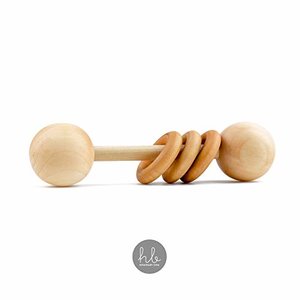 Our Rating: ★★★★★
Review: Not all toys need to be educational to be fun. For really young babies, a rattle provides a lot of entertainment on its own. His wooden rattle from Homi Baby is made from hard maple and birch for a smooth and durable touch.
Then, it is sealed using a mix of organic coconut oil and beeswax which makes it non-toxic. You wouldn't have to worry about your baby biting on this rattle because it's safe. Plus, it's made in the USA which has tons of strict regulations when it comes to raw materials.
Hape Wooden Elephant Push and Pull Toy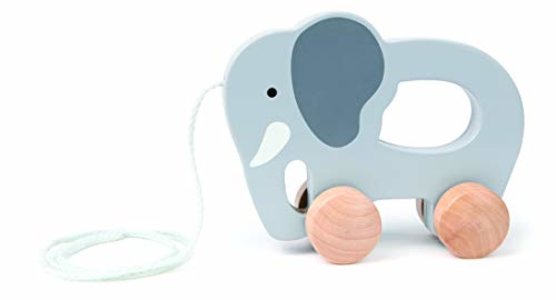 Our Rating: ★★★★★
Review: When baby's learn to walk, it doesn't mean they're immediately experts on moving. They still get unbalanced from time to time. Make walking a fun activity to do with this push and pull elephant from Hape.
It has a long rope that your child can pull on so that the elephant follows them while she makes the rounds in the nursery. This toy can assist in better hand-eye coordination, balance, and even creativity!
Manhattan Toy Classic Baby Beads
Our Rating: ★★★★★
Review: Another simple activity that young babies will benefit from is with these wooden beads from Manhattan Toy. These beads come together with an elastic so that they can twist and turn every which way. Having your kid play with this toys improves his gross motor skills while they're having fun.
Plus, these beads can also double as a rattle or a teether because they're made from non-toxic materials and are relatively big. You wouldn't need to worry about your kid putting these in their mouth!
Hape Beaded Raindrops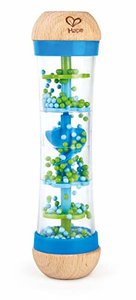 Our Rating: ★★★★
Review: Different kinds of toys are meant to assist in different milestones. While some hone visual or motor skills, others provide the other sensory development your child needs. Take for example this rainmaker from Hape. Aside from looking reall interesting because of the twisting and trickling happening inside, it also makes a raindrop-like sound that is both soothing and intriguing for your baby.
This simple toy can provide hours of musical entertainment and visual stimulation that your little one will surely enjoy!
Melissa & Doug First Bead Maze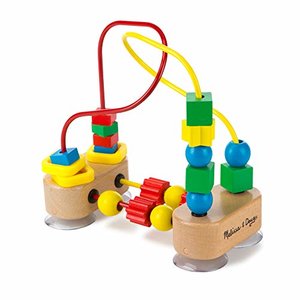 Our Rating: ★★★★★
Review: Is your kid old enough to play with puzzles? Well, this beads maze is the perfect introductory toy! It can visually stimulate your kids with all the bright colors, exercise problem solving by showing them where the beads can go and not, and even develop their fine motor skills!
What's more, you can safely attach this toy to any surface since it has suction cups at the bottom. No need to worry about your kid getting hurt!
FYBBER&MUMU Wooden Preschool Shape Puzzle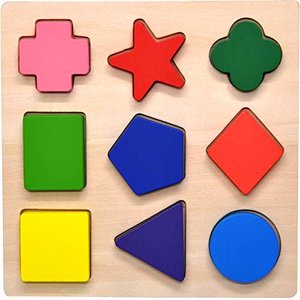 Our Rating: ★★★★★
Review: Another great and easy puzzle that your kids will enjoy is this Shape Puzzle. It has 9 different shapes and features nine different colors. All your little one has to do is match the colored block to its corresponding space.
This puzzle is truly educational. You can teach your kids colors and shapes, as well as develop his problem solving and fine motor skills! Talk about hitting lots of birds with one stone.
Melissa & Doug Geometric Stacker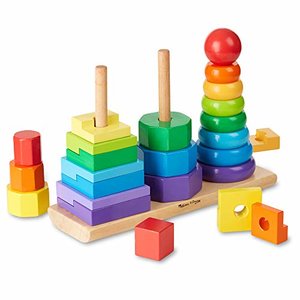 Our Rating: ★★★★★
Review: If your little one knows how to play with the stacking rings, you can up the challenge by giving her 3 puzzles to work one. This geometric stacker from Melissa & Doug features 3 stacks of different shapes.
Let your kid develop their problem solving and fine motor skills by stacking up rings, octagons, and rectangles. It doesn't hurt that the set looks extremely interesting because of its bright rainbow colors as well!
Manhattan Toy Skwish Natural Rattle & Teether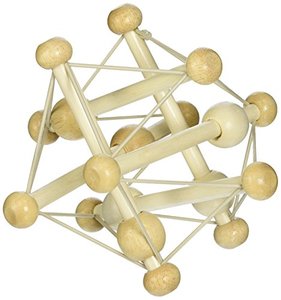 Our Rating: ★★★★★
Review: Most of us grew up with a traditional rattle, the one with a handle and a rattling end. This rattle from Manhattan toy is better! It is a multi-sensory rattle that encourages your little one to grasp and reach for the different knobs and ties around it.
Plus, it can double as a teether since it made from un-dyed, sustainable wood. It can even look amazing in minimalist nurseries because of its natural color. Don't worry about your kids gnawing on this toy. It always returns to its original shape!
Melissa & Doug Wooden Animal Stacking Cars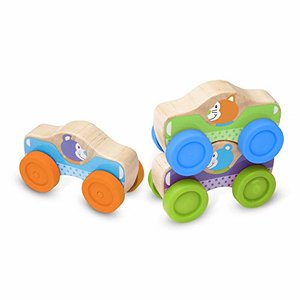 Our Rating: ★★★★★
Review: Little boys and girls like seeing things roll around, and these stackable cars from Melissa & Soug are no different. These four-inch long cars are bright colored and have animals driving them (which is utterly adorable). Your little ones will love stacking, rolling, and racing them with each other.
But that's not all. Unlike your traditional plastic cars, these wooden toys are much more durable so if your kid ever decides to play bumper cars, it's fine! These toys can definitely handle the rough playing!
Frequently Asked Questions
How to Clean Wooden Toys for Babies
There are many ways to clean wooden toys. You can go with the natural way which is with white vinegar or apple cider diluted in water. You can also choose non-toxic synthetic solution by diluting a mild multipurpose cleaner or mild dish soap in water.
Once you have a solution, spray the toys with it and wipe down with a sponge or washcloth. Let the toys air dry and put them out in the sun to help kill the germs and speed up the drying.
Why Are Wooden Baby Toys Better?
There are tons of reasons why wooden toys are better than their plastic counterparts. But the two most important reasons are because wooden toys are loads more durable and are environment-friendly to boot.
Wooden toys are easily recyclable and biodegradable so you don't need to be guilty when it's time to throw them away. What's more, some wooden toys are made with sustainable wood which allows you to lessen your carbon footprint.
Wooden toys are also harder to break. They can take more rough housing from your kids and won't easily be destroyed.
What Wood to Use For Baby Toys
Different wood types are used for different wooden toys. The most durable toys are made from solid wood. Affordable wooden toys are made from compressed wood but beware. Compressed wood is sometimes made with toxic adhesives. These are the moments when quality should trump price.
If you're going for the most eco-friendly choice, bamboo is a sustainable and readily available wood that some toys are made from.
Conclusion
When it comes to play time and fun, wooden toys are at par with the most exciting plastic toys there are. But they can be considered better if you think about durability and eco-friendliness.
Wood is a much more sustainable source than plastic which makes wooden toys superior in that aspect. Wooden toys are also less susceptible to damage than their plastic counterparts.
Plus, you can be trendy parents. The popular thing right now is going for wooden toys. Wooden toys will look really nice in any nursery and are definitely photogenic as well. Get Instagram-worthy pictures of your child playing happily with these toys.
So give your babies only the best toys they deserve, and purchase wooden toys today!