Best Nerf Guns for Kids in 2021
Why you need to gift your kid a Nerf Gun
Numerous studies show that kids need at least one hour of exercise daily, but due to economic and other parental restraints, there has been a reduction in extracurricular activities among kids.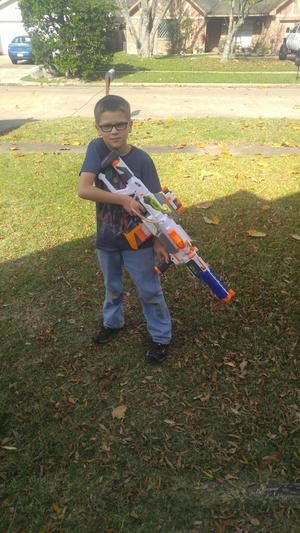 With the advent of the computer and the exponential growth of the internet, increasing numbers of children are engaging in less physical activity and more time is being spent watching television, playing video games, and by extension communicating on social media platforms.
One study also showed a marked increase in the use of technology by kids per week. Almost 4 hours are spent watching television; over 1 hour on the computer and almost 1-hour playing video games.
This rise in sedentary lifestyles among kids also shows a corresponding increase in obesity among school-age children as well as other factors that impact on kids' mental health and overall well-being.
Another area of concern is the belief that social media activity among kids is becoming a major distraction and is invariably impacting on a number of time kids should be spending outdoors.
Conversely, it seems that the new family pastime is watching television, but the truth is, kids still have an immense love of the great outdoors, and given the opportunity and encouragement, will relish time spent frolicking and having safe fun.
One possible solution: Nerf Guns
So how do kids and parents get off the couch, turn off the gadgets and have more fun outdoors?
There is an interactive, safe, user-friendly product that is guaranteed to increase physical activity among kids.
It is said to be one of the best action games for kids. It is lightweight, age appropriate, and kids enjoy playing for hours.
When monitored adequately, this competitive sport provides healthy interaction among kids and helps them develop a sense of fair play, leadership, concentration, and problem-solving skills.
While it keeps kids physically active, it helps improve their motor skills while developing teamwork and coping skills; since they have to plan and develop strategy and learn to think under pressure.
This activity also enhances their concentration, dexterity, and hand-eye coordination. They also learn to focus and develop patience.
Nerf Guns are Safe, Easy, Fun:
Sounds too good to be true?
Kids Nerf guns are designed to engage them in lots of movement, so while having fun, they become more physically active.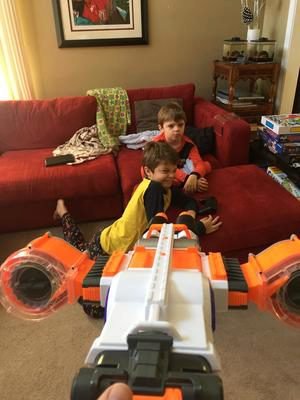 There are numerous versions of nerf guns for kids. Nerf guns are versatile, and kids can engage in nerf gun wars, and other nerf gun games. There are Nerf guns for kids of all ages. Nerf gun kid videos are interactive and kids can watch and play along to help them develop their own style of play.
Nerf guns for little kids are quite safe and easy to use. The Firestrike pistol is a great choice for toddlers. Toy Nerf guns for kids are designed that even the little ones are included in the fun. They are light to carry and won't topple them over or restrict their movement as they play.
Kids with Nerf guns are a joy to behold, as they engage in hours of adventure and friendly combat among siblings and other family members. It's a great way to get the whole family involved in some form of physical activity.
Some of the best nerf guns for kids include:
Strongarm Blasters
Demolishers
Pistols
Missile Launchers
Dart Blasters
Nerf guns are a great way to fuel your kid's imagination and creativity. Pretend and role-playing activities are sure to keep your kids thinking, reasoning, learning to solve problems while having fun.
Best Nerf Guns for Kids:
Is your imagination fired up as much as your Kids?
My two daughters and I had a ball over the Spring break with their favorite Nerf guns. I couldn't imagine that it would be so much fun! Even setting up the targets was a great way to connect and talk with my daughters that made our family time very special.
We planned a galaxy theme for a sunset Nerf party, and our targets were "stars", "Moons" and 'planets" cut into the various shapes of paper plates, colorfully decorated and hung around the back yard. The 'planets' were hung from the clothesline, the "moons' from the fence and the 'stars' were "sprinkled" on the back wall of the kitchen.
Nerf N-Strike Modulus EC-10 Blaster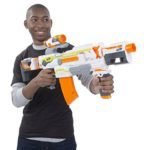 I "borrowed' the Nerf N-Strike Modulus EC-10 Blaster from my eldest who was on a weekend camping trip (and missed all the fun!). When I purchased it at Christmas, I thought it was a bit pricey and now I've actually used it, it's well worth the price over the cheaper models.
I loved how easy it was to add and remove the interchangeable attachments. I hit my targets quite well and it proved a great stress buster for a busy mom like me.
Nerf N-Strike Rapid Strike CS-18 Blaster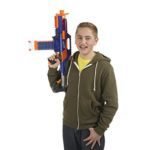 My other nephew had the Nerf N-Strike Rapid Strike CS-18 Blaster. She liked the beautiful colors and it was very lightweight and comfortable to hold. I was surprised at how fast and accurate it was. She maneuvered it quite well and felt very good about herself.
Nerf N-Strike Elite Hyper Fire Blaster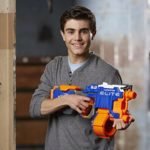 My nephew used the Nerf N-Strike Elite Hyper Fire Blaster and he certainly had a blast shooting at the 'stars". For a ten-year-old, the N-Striker was well-balanced, and it was a very fast and accurate shooter. She hit almost every target in one round!
Are you Game?
Most Nerf guns for kids are made of foam and are safe, easy to use and affordable. Prices very competitive and you can purchase a Nerf gun for you kids from popular stores such as Toys"R" Us, eBay, Amazon, Walmart, and Target among others.
Nerf guns are designed to provide the ultimate experience in safe play for your kids that will improve their creativity and imagination. The physical and mental stimulation will engage your kids and bring out the kid in you for hours of family fun during parties, holidays, and other events. They will certainly keep you off the couch!
References:
http://www.webmd.com/children/news/20110414/most-young-kids-dont-get-enough-exercise#1
https://www.toysrus.com/products/nerf.jsp
http://www.ebay.com/bhp/all-nerf-guns
https://www.amazon.com/Nerf/pages/2597258011
https://www.walmart.com/c/kp/nerf-guns
https://intl.target.com/c/nerf/-/N-55o14
Written By Barbara Jenkins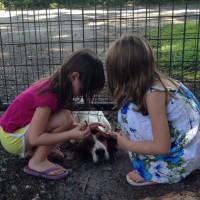 Proud Mother of Two Awesome Kids. When not looking after them, she likes to blog here.