10 Best Remote Control Cars for 2, 3 and 4 Year Olds in 2021
Why you should buy RC toy cars for kids 2,3 and 4 years of age?
Remote Control or RC cars offer exciting, interactive playtime experience for little kids. They provide hours of role play fun.
By operating the remote and pressing the directional buttons, little kids improve their fine motor skills while also teaching quick little minds about cause and effect.
A good RC car should provide visual perception exercises to help color recognition. It should also have necessary actions for developing hand-eye coordination. They should further develop the cognitive skills and create imaginary scenarios for play. All in all a good RC toy car boosts child's confidence and sense of accomplishment.
We have compiled the list of best remote control cars suitable for kids between 2 and 5 years. In this list are the bright, colorful and perfect RC cars for young children learning to play with remote control toys for the first time.
The Top 10 RC Cars for 2, 3 & 4 Year Old Kids
Cartoon Race Car Radio Control Toy by Liberty Imports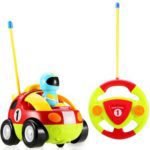 This is a fast cartoon for children with driver figure that kids can place in the car or take out to play with. It has very simple remote control and very easy to use, just press one button to move forward and other to move reverse/left.
Remote controller has three buttons, and they all play funny sounds like honking, the sound of an engine starting and some other tune. It also has flashing headlights.
Fisher-Price Thomas & Friends R/C Thomas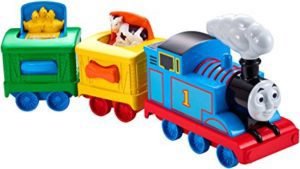 It is a very sturdy toy with long battery life. This is the perfect toy to teach children how remote control toys work and also the meaning of forward and backward. It features an easy-to-use, easy-to-hold remote control, designed to perfectly fit small hands.
The remote control has simple buttons allowing young children to bring Thomas to life by moving him forward and backward.
Kid Galaxy My First RC Fire Truck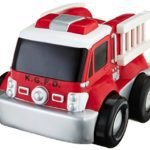 This is an award winning, very easy to use RC fire truck for toddlers for developing their fine motor skills. The remote control is in form of a steering wheel specially designed for little hands. There are just 2 buttons, one for spinning and other for moving forward. The body the car feels soft like a rubber which absorbs some of the impacts and making it safe for kids.
Fisher-Price My Easy RC Vehicle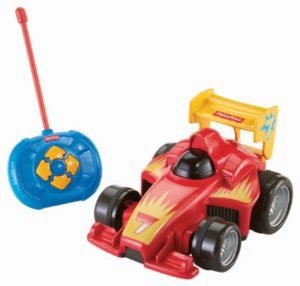 The Fisher-Price My Easy RC features an intuitive and ergonomically designed remote with easy-to-use directional buttons for simple 4-way driving (forward, backward, left and right). The special turn technology allows kids to make the vehicle drive AND turns at the same time by pressing only one button ('left' or 'right') on the remote.
With two parent-controlled speeds, you can start your young driver off slowly and then flip the switch to the more exciting expert speed once they've mastered the controller. Plus, the auto shut-off timer of 5 minutes helps conserve battery life to ensure kids get the most mileage out of the My Easy RC.
Haktoys HAK101 Invincible Tornado Twister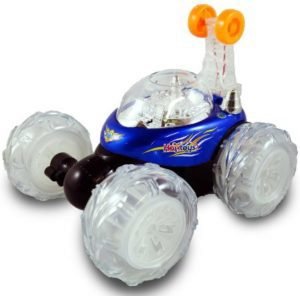 Haktoys Tornado Twister is a ready-to-run toy which can perform advanced stunts like spiral spins, flips, 360° coiling, super wheelies, among other things. It has been designed with bright, colorful LED lights and translucent wheels which look breathtaking in dark.
The car has a rechargeable battery which provides 20 minutes of playtime with 90 minutes of recharging time. The build of the toy is quite sturdy and its soft rubber like plastic construction leaves no dent or marks on walls or furniture.
The remote control uses 2 AA batteries and has an integrated plastic antenna which a good additional safety feature for kids.
Little Tikes RC Tire Twister Toy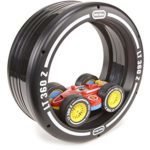 This Little Tire Twister is powered by remote control car inside which moves in the tire to spin and roll in a different direction. It is a 2-in-1 toy because the car can also be removed from the tire and played with separately.
The is tire apart from moving forwards and backward, can also spin full 360 degrees and the car can do back flips inside the tire, reversing the tire's direction.
Kid Galaxy Amphibious RC Car Mega Morphibians Turtle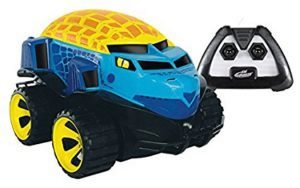 This ATV from Kid Galaxy is a "Family Choice Award 2016" winner, powerful amphibian all-wheel that can drive through all terrains like dirt, mud, sand, pavement, grass, and water.
It has an easy to use, simple to understand, the powerful full-function controller makes explorations on any surface. Just push both levers forward and this ATV goes forward. Push both back to go backward. Push just one forward to turn.
This is perfect gift for kids who like outdoor activities or are into cars(practically every kid)
The build is sturdy and its remote control can operate on different frequency enabling simultaneous play with other toys.
This toy is also available in other shapes like lobster, crocodile, snakes etc. All compatible with others on a different frequency.
Fisher-Price Thomas The Train Trackmaster R/C Percy Train
Another easy to use, easy-to-hold remote control 'Thomas' the train with its single train to start and stop, is perfect for little kids. Just press the button once to start him, then press it again to stop him.
It is also compatible with other TrackMaster toy trains if you already have any. This toy has a nice design and made of good quality material.
Haktoys Light Up RC Car with Flashing LED Lights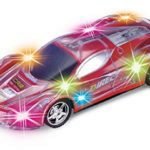 This car has LED lights all around the body look really cool in the dark which is very appealing to the kids. It is very easy to control runs very smoothly.
It is a full function R/C car i.e. it can move forward, backward, left and right.
WALFRONT RC Car with Gravity Sensor & USB Cable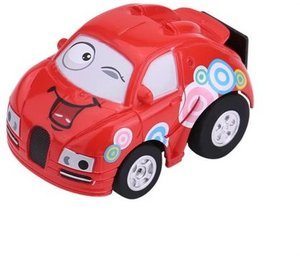 This cute looking car is sure going to seek the interest and curiosity of your kid. The build material is smooth, tough, durable, non-toxic and eco-friendly as every toy should be.
As with other cars it can move forwards/backwards and sideways but what separates this from others is gravity sensor control which helps controls the speed and direction by changing swing angle, to help train your children's abilities of coordination, reaction and practice.
The remote control is light enough to be held conveninetly in a kids palm and the range is also good.
The car has a rechargable battery, powerful enough to last hours of play time and remote requires 2 AAA batteries.
What to look for when buying RC Car for 2 to 5-year-old kids?
Make sure that materials used in the toy are in line with international health and safety standards.
The toy should be made from high-quality plastic which is non-toxic, Environmentally-friendly, safe and durable.
Many toys ship without spare batteries. Make sure that if the toy does have batteries included, then order required batteries at the same time.
A better option would be to buy a rechargeable battery as remote control toys eat batteries regularly.
If your kid plays with toys outside the house, then make sure that the toys have limited range and stop at once they get out of range. If they don't, then they can't be controlled and poses the danger of hitting someone or colliding with other objects. RC cars for kids are a great way to put their development on the fast track. Hope your kids learns and get the joy of playing with them.
Written By Barbara Jenkins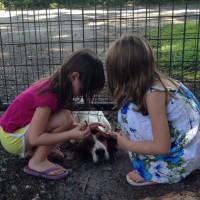 Proud Mother of Two Awesome Kids. When not looking after them, she likes to blog here.