10 Best Remote Control Cars for 8, 9 and 10 Year Olds in 2021
How to select an RC Car for your Kid
RC cars come in many varieties. Some are simple racing cars, some stunt cars while others are simple replicas of supercars. You should have simple idea about what your kid is interested in. Is he interested in racing cars or likes to do stunts?
Next thing you should consider is where is he going to play with it? If he is going to play outside in parks or sandy beaches then it's good idea to skip racing cars and buy Rock Crawler. If he is going to play inside the house then racing cars or stunt cars are good options as they require smooth surfaces to run properly.
And If you have 2 or more kids in the house or looking to play together with your kid then you could go with 2 set of cars. Just make sure that their frequencies don't interfere with each other.
Some of these cars don't ship with included batteries. So make sure that if batteries are not included then order some batteries along with it. Better yet, buy rechargeable batteries.
10 Best Remote Control Cars for kids 8 to 10 years olds
Maisto R/C Rock Crawler Radio Control Vehicle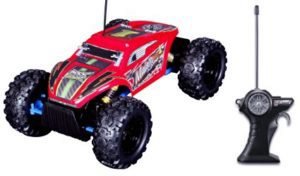 Maisto Rock Crawler is powered by 2 motors and low gearing for making sure that it is rugged enough for off-road action. It is equipped with TPE tires for ultra grip and articulated front and rear suspension which make this car go over obstacles like small rocks, books and other things pretty easily. It also has a tri-channel transmitter which can be changed easily for playing with 2 other cars simultaneously.
This car is easy to control and has good speed and range which makes it great remote control car for young kids. It requires 6AA for the vehicle and 2 AAA for the controller, none included. So make sure that while ordering this car, you also order extra batteries. The batteries lasted 7 days with reasonable use.
The build is good and quite sturdy. It also performed very well for a toy at its price range. The car is able to handle collisions well thanks to its big and soft tires. Its motor does make some noise when climbing an obstacle, but it's not very disturbing.
The car can work on 3 different frequencies which can be changed easily by switches. This feature will be very handy if you buy 2 or more and your kids decide to play together.
All in all, this is very good beginner remote control car for kids and adults for its price. Its features match hobby grade RC cars which cost in the range of hundreds of dollars.
This car has a range of 32 feet or 10 meters and max speed is 5 mph.
iPlay RC Battling Tanks - Infrared Radio Remote Control Battle Tanks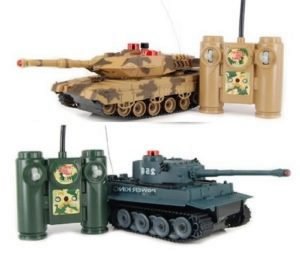 iPlay RC Battling Tanks is a set of two infrared laser battle tanks each with its own fully functional remote controllers and wall chargers. The controls are very simple which let you rotate the gun and fire a cannon. On pressing the fire button, the tank roars and sends an infrared signal attacking the opponent. Upon getting hit by the signal, the opponent gets 'damaged' by indicating by the flashing LED lights.
They make up for a fantastic gameplay. You start with 4-hit lifespan (4 LED lights) and you must hit the other tank either via the cannon or the machine gun, each having its own impact. On firing the cannon, the firing tank recoils and opponent tank simulates being hit, bringing complexity and realism into the play. Then you again reset your aim of turret and position of your tank on your target again for your next shot.
The tanks can move forward, backward, left or right, its barrel moves up and down 30° and its turret can turn up to 320°. It also makes various sound effects like ignition, engine, cannon fire, machine gun fire, impact etc. for dramatic effects. The tank's realistic movements and pivoting turret make this a great choice for your kids.
Batmobile Remote Control Vehicle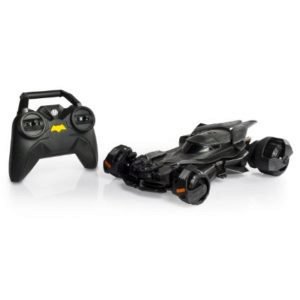 This Batmobile is an official Batmobile replica from Batman v Superman: Dawn of Justice which has been designed down to the last detail. The brushed metal detailing, motorized turret, and Bat symbol branded remote control give this 1/16 scale RC replica the authentic look and feel of the real thing.

It boasts of 4 powerful front-mounted LED lights and the rear afterburner red LEDs lights which light upon hitting the throttle indicating speed. The remote control feels responsive and has good range. The car has a rechargeable battery (recharged via USB) which has 20 minutes of play time and controller requires 2 AA batteries.

This is a 1:24 full-scale RC off road cross country vehicle. The engine is very powerful and it can reach up to 32 miles per hour. It has full metal gear parts and body is made from tough PVC shell with the independent shockproof system. The rubber wheel is anti-skid and prevents slippery like in realistic road conditions.

It has suspension shockproof system and responsive steering and throttle which enable it to easily drive in terrains such as grass or sand. Not tested but it should work in snow too but not recommended

This can be considered hobby grade RC as it can easily be assembled and disassembled using a screwdriver. All parts have a part number which can be looked up in the included manual book. By the part number, you can purchase required part separately. So it's easy to repair any damages or upgrade it.

The radio controller works on wireless 2.4GHz technology enabling the range up to 100M and playing with other cars simultaneously.
Maisto Tech Red Radio Control Rock Crawler RC Remote Control Race Truck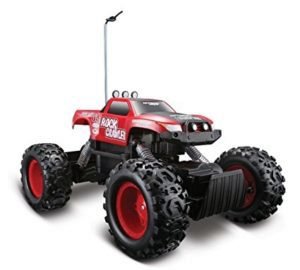 This Rock Crawler is powered by 2 motors each for the front, back, and low gearing. Both motors and front and rear suspension make this an awesome truck for rugged terrain. Its high wheels can make it handle stumps, rocks, big sticks or grass with ease. Front and rear axles are both strong making it a good rock crawler.
Tri-channel radio control enables up to three people to play simultaneously with their other Maisto radio control vehicles.
It comes with a remote control which has a range of 15 meters and powered by 2 AA batteries.
Officially Licensed RC Lamborghini Veneno Sport Racing Car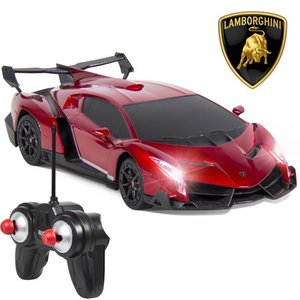 This Lamborghini Veneno is sure to capture the attention of your boy as well as any car enthusiast like you. This officially-licensed car even drives like a genuine Lamborghini with shock suspension, functional white headlights in front and rear red taillights.
Your kid can race through hallway or the sidewalk as a proud Lambo owner.
The remote control is kid friendly & the range is pretty good for a toy.
The build is durable as made with non-toxic plastic.
For the remote you'll need 2AA batteries and for the car 3AA batteries.
Why You should Gift Your Kid a Good Remote Control Car
RC or Remote Control cars make up for super cool gifts for kids and they also develop skills like sensory, fine motor, gross motor, logical, creative, linguistic, emotional and self-esteem. While playing with other kids they also develop their social, communication skills and team play. Role playing spurs the imagination of the kids.
Any of the Car on this list will be perfect for kids and they will love it!
Written By Barbara Jenkins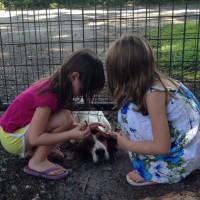 Proud Mother of Two Awesome Kids. When not looking after them, she likes to blog here.