Best Remote Control Cars for Girls You Can Gift in 2022
Want to buy a remote control car for the little girl in your life? Does your daughter like to play with gadgets? Does she enjoy flashing lights and fast action? These remote control cars are just what you're looking for.
Why buy a Remote Control Car for your girl?
As parents we want our kids to be entertained, but also stay active. These cars will keep her busy for hours, help with motor coordination and be a fun toy for her to enjoy. She can play with her brothers, sisters, and friends, outdoors where kids like to play, giving you some peace and quiet inside while they are entertaining each other.
Remote Control Cars are a good way for your kids to satisfy their interest in technology mixed with the fun of remote control toys. Little ones can hone their motor skills, while the older kids can get their technology fix with the more intricate models.
Best RC Car for Baby and Toddler Girls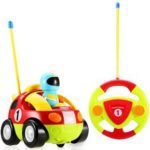 For baby, toddlers, and kids, the Holy Stone RC Cartoon Race Car with Music and Lights Electric Radio Control Toy is a very good choice.It has a two channel forward, reverse, left, right; honking sounds with music and flashing headlights, and a removable race car action figure. It's for ages 18 months and up.
Best RC Car for Preschool Girl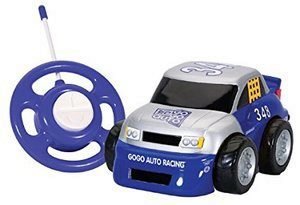 For your preschooler, the Kid Galaxy My 1st GoGo Auto Race Car for ages 2 and up. With a chunky style soft body, that's squeezable, safe, with a steering wheel style, remote with a spin and go action, takes one 9-volt battery.
It will drive on hardwood floors, tile, concrete and on a medium carpet, making it versatile. It's for ages 2 and up, has a soft antenna for safety, takes one 9-volt battery and 3 AA batteries, not included.
Best RC Car for Grade School Girl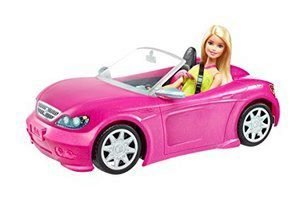 The best remote control car for a grade schooler girl would be, Barbie DGW23 Glam Convertible. It is colored sparkly pink and has realistic tires. It also has seat belts to teach your girl about safety.
It's a simple function Corvette convertible with a joystick remote control, and working steering wheel. The cool part for little girls is that since it's a licensed Barbie vehicle, it fits any Barbie! (Probably why it costs a bit more, but she will love it!)
Best RC Car for Teenage Girl
The teen model we found is the HAK142 Motohawk Multi-Functional 3 Wheeler ATV Ready to Run RC Motorcycle w/LED Headlights. The design looks futuristic and the animated rider figure is an added plus.
The motorcycle is easy to drive and controls are intuitive. It has as anti-roll suspension, runs on a low carpet and tile floor, goes forward, backward, left, right with right/left tilting. It also has LED headlights which look bright in the night.
This motorcycle uses 6V rechargeable batteries (included) and, has a run time of 15-20 minutes with an optimum charge time of 3 hours. The remote controller requires another 9V battery.
Another RC Car for Girls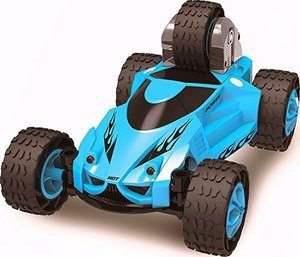 You can also check out the Haktoys HAK123 5 Wheeled X-Terrain RC Stunt with Car Extreme 360 degree Tumbling & Spinning Action with LED Headlights. Optimum charge time is 2-3 hours, with the run time of 15-20 minutes, and speeds up to 12 mph.
Runs on low carpet and tile, with a 9v battery included and rechargeable. It also absorbs impact so it won't harm your furniture.
Disney Minnie Mouse R/C Vehicle
Growing up Minnie Mouse is one of the favorite characters of little girls. And this Minnie Mouse car from Disney is sure to become a favorite of your girl too.
Your girl will love making Minnie Mouse ride around the house with a remote control. What it lacks in functionality (it can drive forward only), it makes up in cuteness. Unlike boys, my girls prefer cute and easy to play with toys than heavy and fast RC cars.
The car requires 3 AA and 2 AAA batteries for the remote.
GirlMazing RC Jeep Wrangler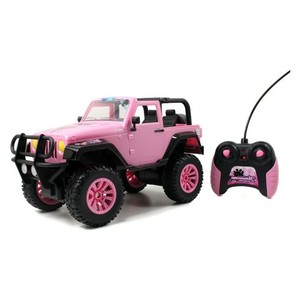 This remote controlled Jeep toy car is perfect gift for your little girl if she is a car lover. The intricately designed jeep perfectly replicates a real Jeep Wrangler.
As an added bonus, the toy comes with stickers which girls love to accessorize the car while exploring with creativity and developing her motor skills.
The remote is light and easy to operate. The car and remote require 4 AA batteries to run.
RC Cars for Girls Buying Guide
So, how to choose RC Car for your girl? For toddlers and babies, you can get a cute car with flashing LED lights all over it. They have simple controls like single button to move.
The next grade of cars a more controls like moving left or right. The remote controls in this range are designed especially for small hands. These cars are safe, durable, non-toxic and eco-friendly.
The entry level RC Cars start from $15 or more. These simple cars have a lower learning curve. They lack speed and cannot run on difficult terrains like sand, mud etc. But for little girls, these things do not matter. The cars in this range are sturdy as young children can break the toy while learning.
In the middle range ($30 or more), the RC cars have more speed, longer range and extra features like 4 wheel-drive, realistic sounds, perform stunts etc. The cars in this range are more durable. These cars are often miniature replicas of real cars and include figures like Barbie.
In the upper range ($50 or more), the RC cars have very high speed and can perform a multitude of stunts. These cars are meant for outdoor playing and can handle rugged terrain like beach, mud etc. Cars like rock crawlers, racing cars come under this range. Great for running outside with pets without worrying about the elements with features like torque or more battery life.
Other considerations when buying an RC Car for Girls
When looking for these RC cars, we recommend the rechargeable battery type (batteries get eaten up quickly with motorized toys, so buy extra if rechargeable isn't to your liking), safety features for the little ones, and lots of lights to entertain your kids. There are many to choose from, these are just a few of our favorites. Happy shopping!
Written By Barbara Jenkins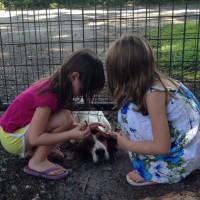 Proud Mother of Two Awesome Kids. When not looking after them, she likes to blog here.