10 Best Toys & Gift Ideas for Seven-Year-Old Boys in 2020
As your little boy grows older, so will his understanding and curiosity. He'll appreciate his environment better and want to explore it all the more.
There are numerous toys out there that can help him out with that! Focus more on activities that allow him to do stuff on his own. Experiments and DIY projects are great games to give at this age.
Here are a few awesome examples of gifts that your kid will totally love:
Best Gifts for Seven-Year-Old Boys
Fat Brain Toys Chalktrail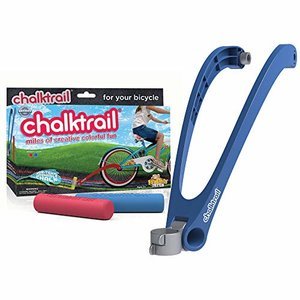 Rating: ★★★
Review: Combining two exciting activities in one, Chalktrail allows your kid to draw on your sidewalks while riding a bike! It's another level of fun, that's for sure.
You get an innovative tool called the Chalk Draw which connects to the end of your kid's bike. You just need to insert a colored chalk on the Chalk Drawer, and let your little boy ride his bike for the magic to happen. It's super easy to use, and exercises both your kid's creativity and physical abilities. He can even choose to hold the chalk and draw directly on your sidewalk.
K'NEX Imagine Creation Zone Building Set
Rating: ★★★★
Review: Does your child love building stuff? Is he a fan of vehicles, robots, and the like? Well, he'll probably go over the moon with the K'NEX building set!
This whole bucket has over 417 pieces, and can build up to 70 fantastically unique models. Your kid will love designing his own car, spaceship, or boat. He can even aim higher and make a dragon or a robot! It's a great way to keep your little boy on his toes since he won't be relying on digital technology to solve this.
Wowood Trex Dinosaur 3D Wooden Puzzle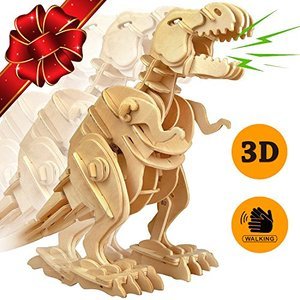 Rating: ★★★★
Review: If there's a type of toy I 100% approve of, it's the environmentally friendly ones. They win my heart all the time. Buying eco-friendly toys are a great way to provide your kids with a happy and holistic childhood while saving the planet.
One such toy that your seven-year-old will love is this wooden 3D dinosaur puzzle! Not only is it challenging and rewarding once finished, it is also a great way to encourage his building and cognitive skills. But that's not all! This highly durable wooden toy also comes to life. It can walk and roar on its own when your little boy claps his hand. Who would've thought we'd see the day when a wooden dino roars, right?
Hasbro Battleship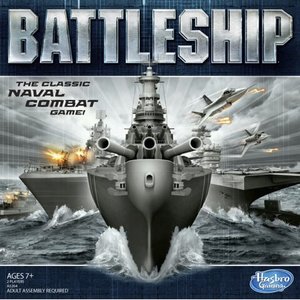 Rating: ★★★★
Review: Battleship is a classic that many a generation has enjoyed, and is continually enjoying. It's a simple and innovative way to simulate a naval war, and it's super fun to imagine how each round of the game is going.
Your little boy will not only have tons of fun playing Battleship, but his analytical and strategical skills will also be put to the test and developed. The rules are relatively easy to understand, but getting to experience the game itself is a better teacher. It's amazing how this World War pen and paper game is still a fan-favorite today! Pass on the tradition to your son.
Kid Galaxy Remote Control Bumper Cars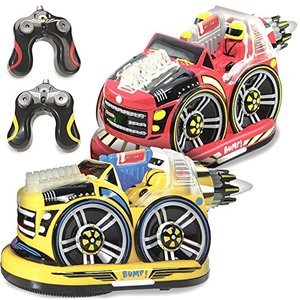 Rating: ★★★
Review: Not all toys need to be educational or skill-building. You can still give your kid something that will provide him countless entertainment. He and his friends will probably love this set, especially if they're car crazy.
In one set, you already get 2 remote-controlled cars (which is an awesome deal in itself!). But what's better is that your little car racer can bump them with each other all he wants. He can do battles and challenges with these durable toys, and it's fine because they're designed to withstand bumping and crashing! But, Mommies and Daddies, beware. These cars can zoom on many types of floors including medium carpets so you might want to set some safety rules.
Osmo Genius Kit Educational Play System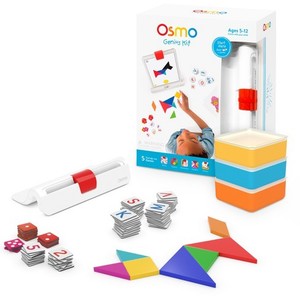 Rating: ★★★★★
Review: Digital innovation isn't all that bad. While many parents advocate for traditional play, using digital devices can also be beneficial for your child especially since he lives in a digitized world. Osmo proves that using modern technology for play has a lot of advantages!
All you need is to hook it up on your iPad. It has 5 incredible apps that help your children learn basic math, spelling, problem solving, and many more skills. The set also includes physical toys such as word and number tiles, a tangram puzzle, and even stackable containers. One drawback I dislike about Osmo is that it's not Android-Compatible so you need to have an iPad to use it.
MindWare Unbored Disguises Activity Kit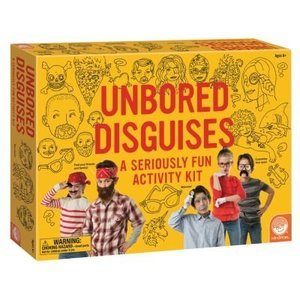 Rating: ★★★★
Review: Does your little boy want to be an international super spy? Well, this little activity kit is the perfect gift for him! With this, he can become the ultimate Master of Disguise.
This kit has over 30 pieces of accessories to help your little boy change his identity numerous times. He can make use of temporary tattoos (which are MY all-time favorite), fake glasses, and even fake teeth to fool your whole family! Your kid can exercise his full imagination and even entertain the whole family at the same time.
Spikeball 3 Ball Game Set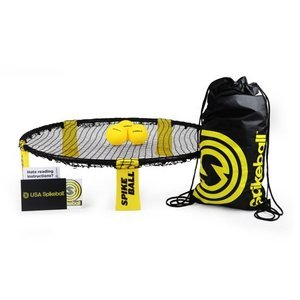 Rating: ★★★★
Review: Being active is a great trait to have in little boys, and there's a lot of toys and games to keep them well-exercised. One such popular game is Spikeball.
If you've seen Spikeball on Shark Tank, then you know the fun that your little guy will get to! He can even invite his games to play inside or outside. The great thing about this set is that it's fun for everyone. Even if you give it to him while he's seven-years-old, he can still play with it until his much older. Spikeball is even popular with college kids. Think of how cool he'll feel like then!
Shop Circuits Skill Builder 125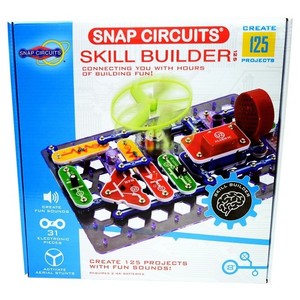 Rating: ★★★★★
Review: Most of the time, you'd be telling your kids not to go near the electric sockets, and not to go playing with electricity. That's a smart thing to do since it's very dangerous. But there's a toy that allows your curious little guy to play with electricity safely!
Shop Circuits is a great way for your budding engineer to learn more about how electricity flows, and why it's such a vital necessity in our daily lives. With this set, he can get hands-on experience and enrich his analytical and problem-solving skills. I'm sure he'll be miles ahead of his peers with the help of this toy!
Razor A Kick Scooter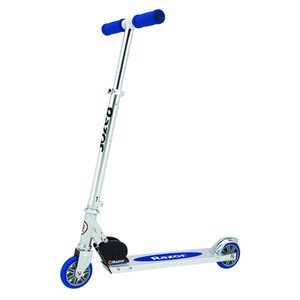 Rating: ★★★★
Review: The start of the 2000s welcomed the popularity of scooters, and they're still gaining momentum today! Why not give your kid the chance to experience this worldwide phenomenon as well? Give them this classic design by Razor!
The blueprint of this scooter is well-tested by the many kids that have tried it in the past. It's so famous that the design is even patented. Don't worry about your little guy's safety. This awesome toy is made from highly durable, aircraft-grade aluminum as well as urethane wheels that can support up to 143 pounds. It even has a rear brake for quick stops. As someone who tried this during my late childhood, I truly recommend giving your kid a scooter.
Conclusion
Doing stuff on your own can make you feel happy, confident, and content. That's why your seven-year-old keeps insisting that he can do things alone.
Let him! Give him activities that allow him to exercise his independence and boost his self-confidence. By the time he does have to do things alone, you'll be sure in his abilities to do so!
Written By Barbara Jenkins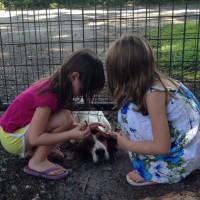 Proud Mother of Two Awesome Kids. When not looking after them, she likes to blog here.