The Top Maternity Pillows & Brands in 2022
Are you feeling sore recently? Does the aches and pains keep you awake at night because you can't find a good sleeping position? The bad news is that all of those are part of the experiences of being a pregnant woman. The good news: maternity pillows help a lot!
Maternity pillows can offer you support in target areas like your back, hips, and belly. With the added cushioning that these specially shaped pillows provide, you can get all the rest you need to achieve that beautiful pregnant glow. Discover which maternity pillows to get for a restful sleep today!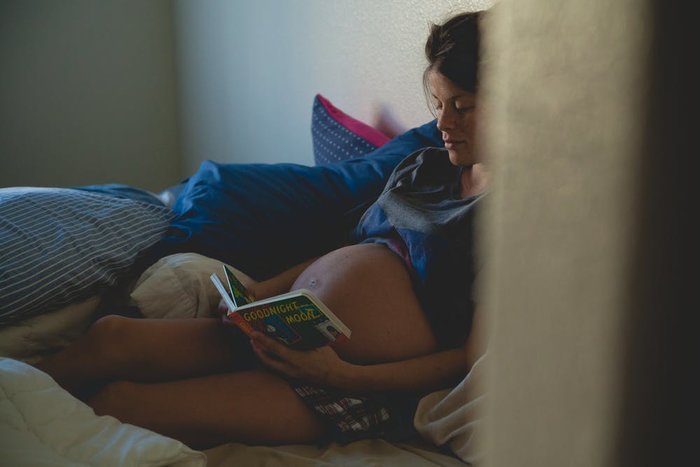 Our Top 10 Picks for Maternity Pillows
Maternity Pillows Buying Guide 2020
What Is A Pregnancy Pillow?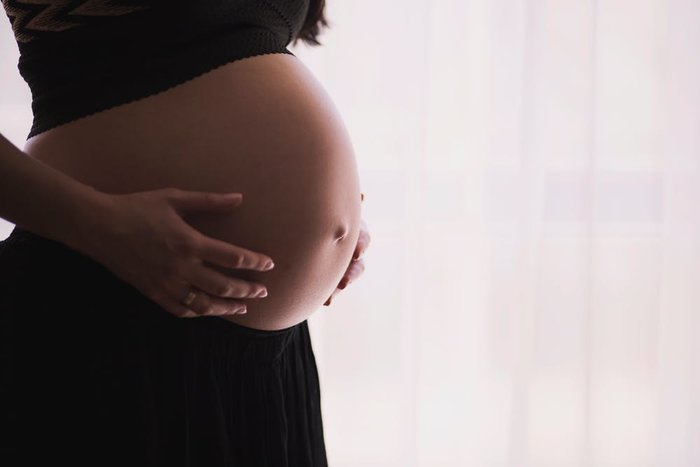 First things first, you have to understand that pregnant bodies are different from other bodies. That's normal because you need to change in order to accommodate the baby inside you. As such, your body will also have needs that are different from others.
For one, more weight is on your growing belly which puts strain and pressure on your back and joints. That's why sleeping can be difficult during pregnancy, especially when your belly has grown significantly.
Pregnancy pillows offer the support your body needs. It provides relief that most regular pillows and beds can't give you. It also cushions more parts of your body like your back, hips, and abdomen.
Why Use A Pregnancy Pillow?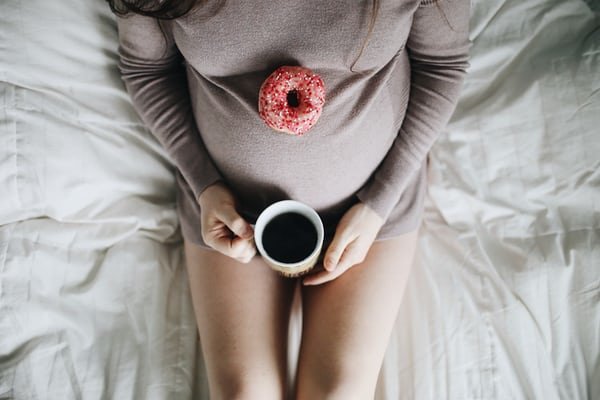 In general, pregnancy pillows aren't a true necessity. Some women can get through an entire pregnancy without ever feeling the need to use one. But a pregnancy pillow does make life more comfortable. Especially if you're constantly: - Feeling aches and pains. The extra weight of your body will make you feel unique aches and pains. A pregnancy pillow can give you the support and cushion you need to combat these. - Waking up in the middle of the night. A sore body can be one reason for why you keep waking up. It is understandably difficult to find a comfortable position to sleep in. This is not that much of a problem when you have a pregnancy pillow. - Sleeping on your back. Sleeping on your back while heavily pregnant is not recommend. For example, you can compress your inferior vena cava when in this position. You can avoid sleeping on your back if you have a pregnancy pillow that keeps you on your side.
How to Choose Your Pregnancy Pillow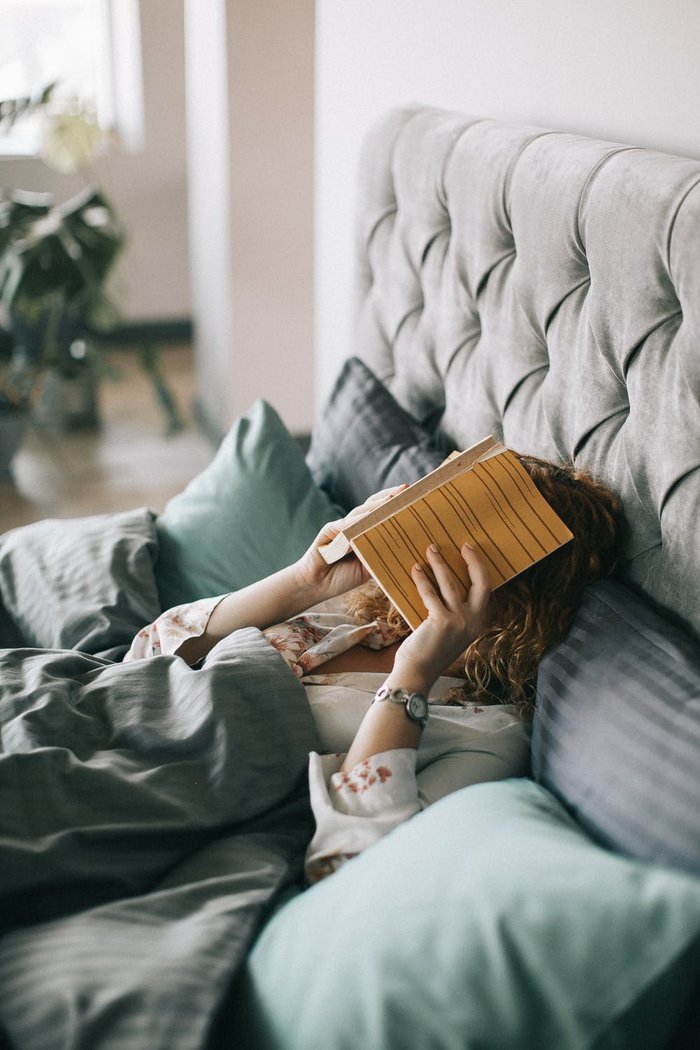 Choosing your pregnancy pillow requires some thought. But the most important is finding one that supports you where you need it the most. You will need to choose between shapes: - U-Shaped. These pillows run the length of your body. They are great for extra support since you are comfortably sandwiched between its two sides. - C-Shaped. These pillows can be configured in different ways depending on where you need the support. You can tuck in between your legs or use it to support your back. It also provides good head support. - Wedge. These pillows are smaller and more travel-friendly than the others. It provides support to one area, and can be used under your belly or back. - Inflatable. Inflatable pillows are large and have a hole in the middle for your baby bump. They are also good for storing in small spaces and traveling.
The Best Maternity Pillows
OCCObaby Pregnancy Pillow, Memory Foam Body Wedge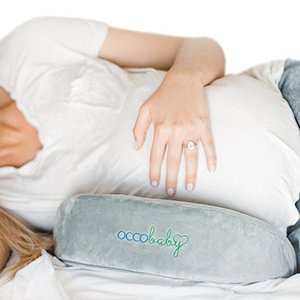 Our Rating: ★★★★★
Review: If you're looking for a versatile and travel-friendly option, the OCCObaby body wedge is the pillow for you. It is made from two types of foam, the top side is soft memory foam to keep your belly or back super comfortable while the bottom side is made of firmer foam for better support.
This pregnancy pillow can be used to support your growing belly, your aching back, or even wedged between your knees. It can also help reduce the swelling you see in your hands, legs, and feet. Plus, it comes with a handy travel bag for when you need to move!
PharMeDoc Pregnancy Pillow, U-Shape Full-Body
Our Rating: ★★★★
Review: Pregnancy can be uncomfortable, but not anymore with the PharMeDoc U-Shape pillow. It is made from 100% Jersey Knit cotton for maximum softness and comfort. Your entire body is supported from head to toe as this is a full-body pillow. But is does have detachable parts so that you can customize where you want support to be.
And while this pillow is marketed as a pregnancy pillow, you can even share it with other family members. Anyone who needs more support while lying own can use the PharMeDoc pillow!
INSEN Pregnancy Pillow, C-Shaped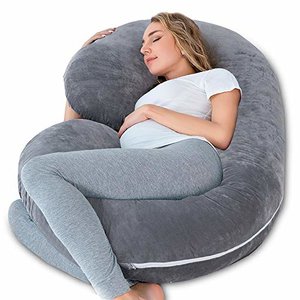 Our Rating: ★★★★
Review: If you're a natural tossing-and-turning sleeper, you might be waking up multiple times because of your growing belly. Avoid restless sleep with the C-Shaped pillow from INSEN. It is made from high-density soft cotton that easily adapts to your belly and back for comfortable support.
And because you're whole body is comfortably hugged by the pillow, sleep interruptions can be avoided. Enjoy an ache-free and restful sleep tonight! You can even use this pillow during the day while you're watching TV, reading, and even working.
Meiz Pregnancy Pillow, U-Shaped Removable Cover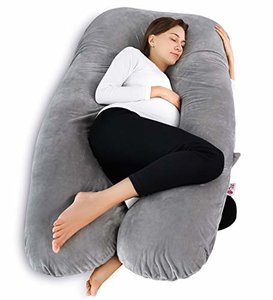 Our Rating: ★★★★
Review: Another great U-Shaped pregnancy pillow is this one from Meiz. It features an ultra-soft velvet cover for maximum comfort. This pillow is designed so you won't need to have multiple small pillows around the bed. Just this one pillow can help support your head, back, belly, sides, hips, and feet.
With the added support, not only will you reduce the soreness of your body. You can also use it to manage symptoms of gastric reflux, fibromyalgia, carpal tunnel syndrome, and many more. Plus, this pillow is easy to clean as the cover is machine washable.
Boppy Side Sleeper Pregnancy Pillow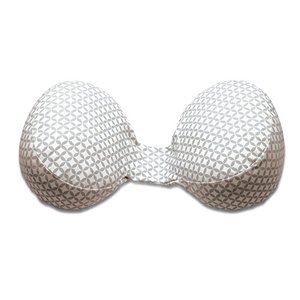 Our Rating: ★★★★
Review: An interestingly shaped pregnancy pillow, indeed. The Boppy Side Sleeper pillow is a perfect companion if you prefer staying on your side. It provides the perfect support for your back and your growing belly. The Side Sleeper pillow is made from 100% polyester virgin fiber which is known for its durability and support.
What's more, this pregnancy pillow is very compact and can conveniently be taken with you while traveling. This Boppy pillow can also be used for other activities like lounging or sitting. You can even use it while recovering from your delivery.
Boppy Pregnancy Support Pillow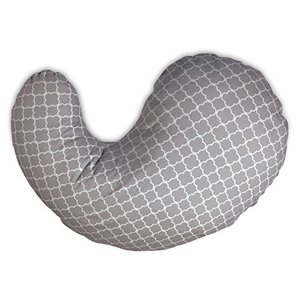 Our Rating: ★★★★
Review: Boppy is a brand that provides innovative pregnancy pillows, shaped differently than the classics. This one features a curious apostrophe shape that's also perfect for side sleeping. You can use it for support for your back and legs, or for your baby bump and legs. You can even use it for head and neck support.
It's also twice as small as the typical full-body pregnancy pillow so you can save space in your bed without compromising on comfort. You can also use this pregnancy pillow during the day while sitting or lounging about.
AngQi Full Body Pregnancy Pillow, L-Shaped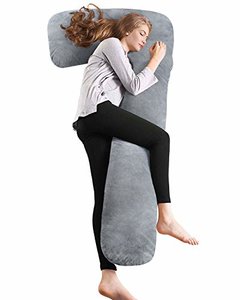 Our Rating: ★★★★
Review: Another pregnancy pillow that you might want to try out is this L-Shaped one from AngQi. It features a high-grade 7D PP soft fiber filling with a breathable inner cover and 100% soft velvet lining making it one of the comfiest pillows you can ever find.
Its L shape is specially designed to help reduce aches and pains you feel when sleeping on your side, most specifically lower back pain. You can also tuck it between your legs or use it as a leg pillow when sitting down for a comfier position.
Meiz 65" Full Body Pregnancy Pillow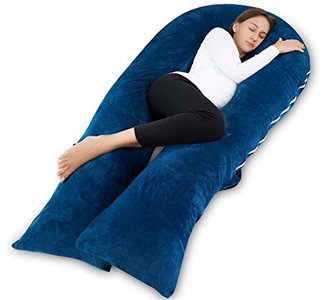 Our Rating: ★★★★
Review: If you've noticed, many pregnancy pillows come in neutral colors. If you want something a bit more exciting to look at, you'll love this full-body pillow from Meiz. At 65", your entire body will be hugged and supported without any problems. It helps with keeping your spin and hips in neutral positions as well as reducing the swelling in your legs and hands. You won't need to worry about sleepless nights anymore.
This pillow is filled with scent-free 7D hollow fiber that is super fluffy and comfortable. Its inner cover is made from flowered, brushed fabric that looks super luxe in your room.
Restorology 60-Inch Fully Body Pregnancy, C-Shaped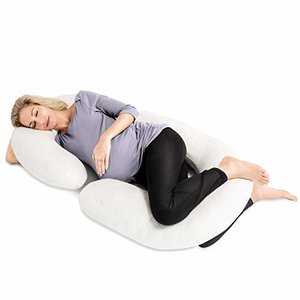 Our Rating: ★★★★
Review: Another great C-Shaped pregnancy pillow is this one from Restorology. It is designed to follow the natural curves of your body to give you the perfect support you need. Instead of stocking up on tons of pillows, you can get all the benefits from just this one. It relieves the aches and pains you can feel on your belly, back, head, and legs.
What's more, it's super easy to clean! All you have to do is to remove the zippered cover and wash it in the machine and tumble dry.
AS AWESLING 60in Full Body, U-Shaped Lounger
Our Rating: ★★★★
Review: If you want to have the ultimate pregnancy pillow, then you can't go wrong with this one from AS AWESLING. It is a full-body, U-Shaped pillow that can be adjusted and detached to really customize the support you get.
You can use this pillow for multiple sleeping positions depending on how you shape it. It can turn into a knee rest, a C-Shaped pillow, and a U-Shaped pillow. It even has a bonus pillow you can remove and use anywhere you want! That's not to mention that amazing padding and support it provides your head, shoulders, back, belly, legs, and even your ankles!
Frequently Asked Questions
When To Buy A Maternity Pillow?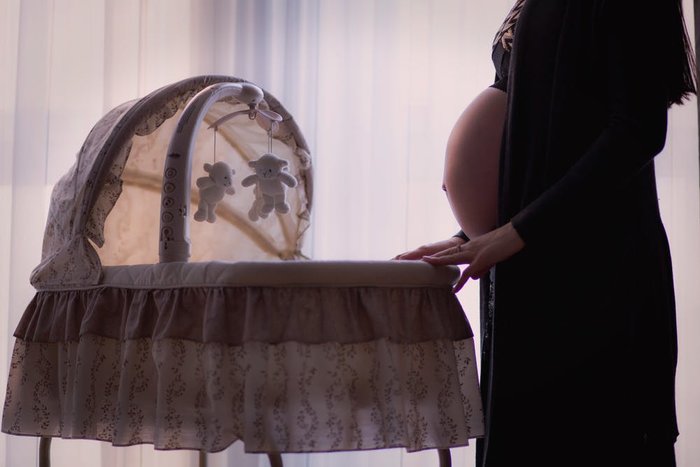 There is no set time on when you need to buy a pregnancy pillow. Some women won't even feel the need for one throughout their entire pregnancy. As a general guide, a pregnancy pillow is most useful about 20 weeks or more in your pregnancy. This is the time when your belly starts to expand. But if you're feeling some strain even before the 20-week mark, then you can buy a pregnancy pillow earlier than that.
How to Use A Maternity Pillow?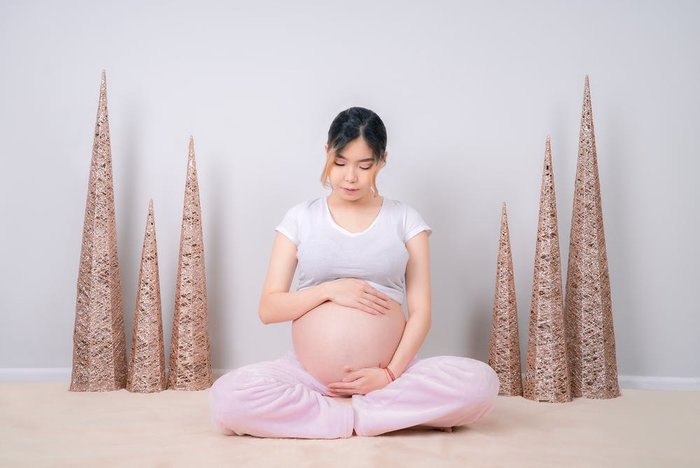 The different shapes of pregnancy pillows can be utilized depending on what type of sleeping position you're most comfortable with. For example, a full-length maternity pillow is best for women who sleep on their side, do not move around a lot, and have extra space on their bed.
A C-Shaped maternity pillow, on the other hand, is better for women who suffer from back pain and want full-body support. It also helps you sleep in your side.
A U-Shaped maternity pillow provides full-body support, and is better suited for restless sleepers. It can help you sleep on your side or on your back. An Inflatable maternity pillow is best used by women in their third trimester who sleep on their stomachs. Lastly, a Wedge maternity pillow offers localized support and is the most affordable of the bunch.
How to Make a Maternity Pillow?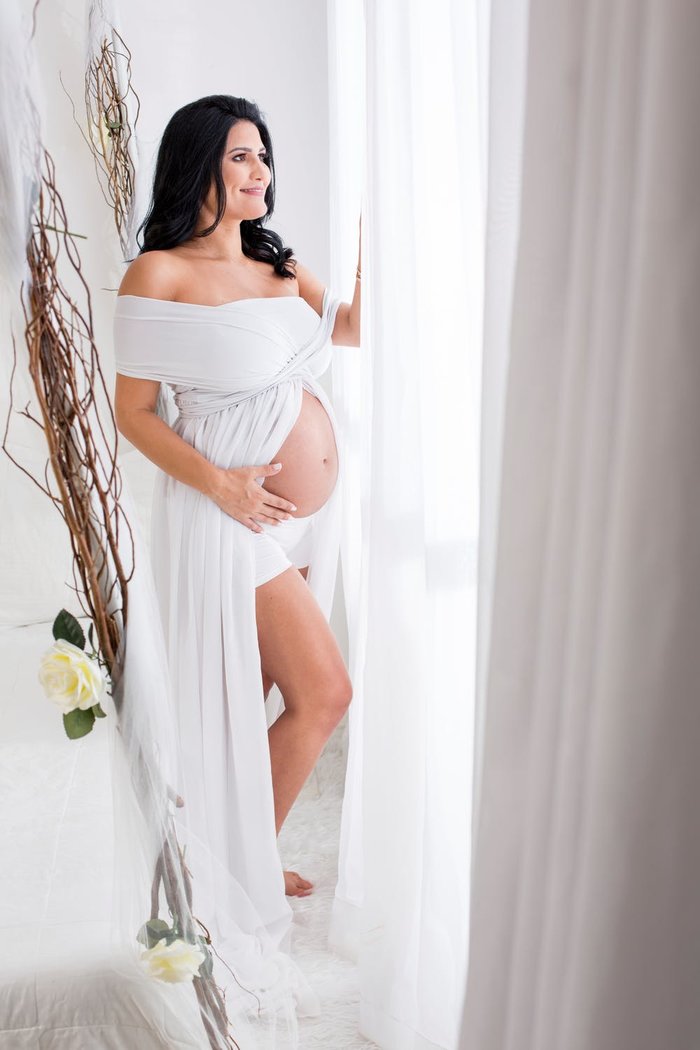 Making a basic maternity pillow is quite easy. All you need is the pattern of the maternity pillow type and some stuffing. Finding the pattern you like is easy if you surf the internet so it won't be hard. With the pattern on hand, it's just sewing a typical pillow.
Conclusion
Maternity pillows might not be a necessity for most pregnant women, but they sure help keep you comfortable during your experience. Carrying a baby is no easy feat. Your body changes and with that, finding ways to be comfortable changes as well.
You might be feeling aches and pains all over your body, and those might be the reason why you keep waking up during the night. Don't suffer from restless nights when you can use maternity pillows to give you the support your body needs. With a maternity pillow, you're sure to sleep better!