Top Play Kitchen Sets for Your Kids in 2021
Cooking is an essential skill that everyone needs to know a bit of to survive, and having your kids know how to cook will make it easier for them in the long run. Introduce the idea of cooking and keep it fun and engaging through play time.
Play kitchens are a great way to get your kids interested in preparing meals. It allows them to understand why you need to cook food, eat healthy, and so on. Playing pretend kitchen can even expand their social skills if they play with other kids as well.
Learn more about why play kitchens are a great addition to any playroom, and discover which products to get by reading on below.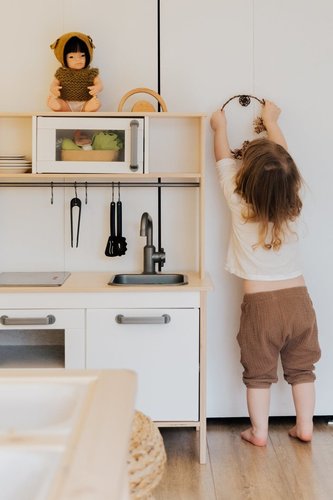 Our Top 10 Picks for Play Kitchen Sets
Play Kitchen Set Buying Guide
Is the Play Kitchen Safe?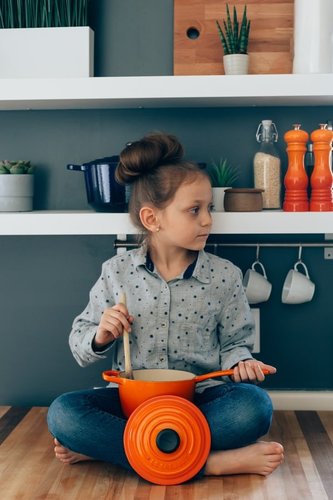 The first thing you need to check when buying a play kitchen is its durability. Most play kitchens are built to be the proper height for your toddlers. While it may look small to you, it's not for them. So make sure that it won't easily fall on your kids or break when they're playing.
Another thing to take notice of is the play kitchen accessories you get. Most play kitchen tools will be small. These might cause for concern for toddlers ages 3 and below as they might choke on them. If your kids are playing with small toys, make sure to keep a watchful eye!
Does a Play Kitchen Contribute to Your Kid's Development?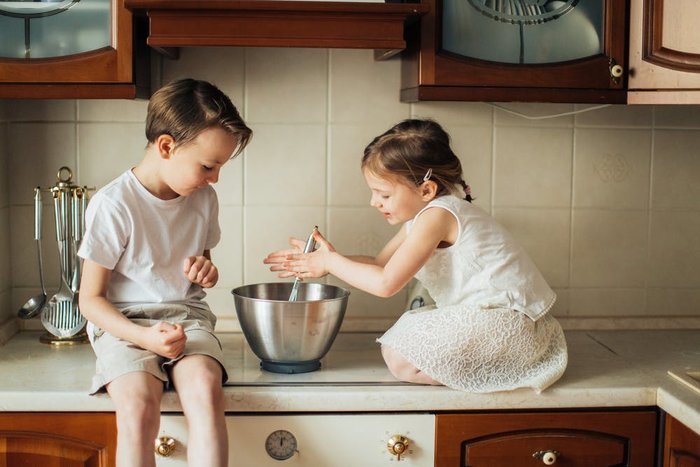 Yes! There are tons of skills that your child can learn through playing kitchen by themselves or with others. Here are just some of the things they could develop during their play time: - Creativity. Role playing exercises your kid's ability to imagine. Playing kitchen helps them envision themselves in certain scenarios like being a mom cooking for her family or being a chef in a restaurant. Pretend cooking also enriches their creative skills through their pretend recipes and ingredients. - Communication. Role playing can also develop communication skills since your kid will have to do their own form of storytelling. They have to enact their roles in the story while learning new terms like 'cook,' 'cut,' and 'stir.' - Social Skills. Play kitchen is a great activity for multiple kids since some can act as chefs while others can act as customers. Role playing makes them interact with each other. - Life Skills. Pretending to cook is a good way to introduce why preparing meals is needed in everyday lives. By allowing your kid to act like an adult, you're also helping them understand the world better. - And so much more!
Healthy Choices and the Play Kitchen
Playing kitchen with your kids is a great way to introduce a healthier diet. During their play time, you can teach them about fruits and vegetables, and why they need to eat those to stay strong and healthy.
In no time, you'll be able to see your kid's mimicking what you're saying while they cook their own pretend meals.
The Best Play Kitchen Toys
Battat Deluxe Kitchen 71 Pieces Toy Set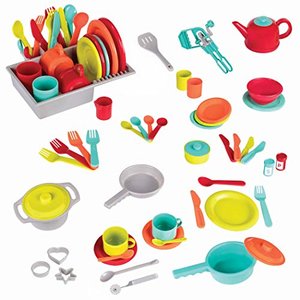 Our Rating: ★★★★★
Review: Make sure that your kid has everything they need for their play kitchen. This kitchen set from Battat has 71 pieces so you know your kid will not want for more. It has different sizes of dishes, pots, pans, cups, and utensils. It even has baking tools like cookie cutters, a rolling pin, and a whisk.
Plus, this set comes with its own dish rack! And if you ever need to clean these toys? Well, you can also put them in a real dishwasher, too. Plus, they come in fun and bright colors!
Step2 Fun with Friends Kitchen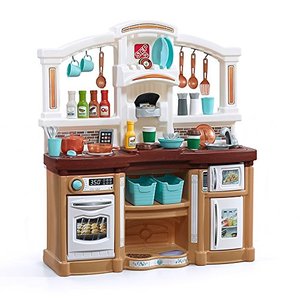 Our Rating: ★★★★★
Review: If you're looking for a classically elegant country kitchen, this one from Step2 is perfect. Your kid will love the stove, oven, microwave, and refrigerators built in in. It even has a sink they can work on.
Plus, all the extra storage space! You can keep your child's kitchen toys away in two storage bins located in the under shelf, and place cups and utensils on the overhanging hooks. They can even feed their imaginary pets with the built-in pet bowls!
FUNERICA Toddler Play Kitchen Accessories Set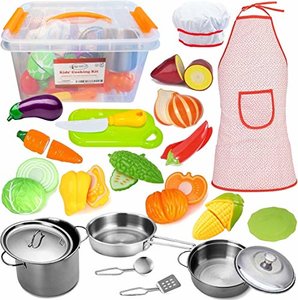 Our Rating: ★★★★★
Review: Are you looking for more interactive toys? Well, these pretend food with Velcro is definitely a fun way to teach your kids about different ingredients! They can easily pretend to cut each food in half with a plastic nice.
And what's better? Well, you can keep all the toys in its own covered storage box. So if you're a parent who loves being organized, this set is definitely for you!
HONEY JOY Kitchen Play Set, Pink Strawberry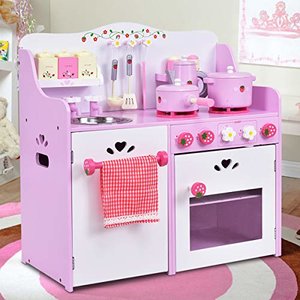 Our Rating: ★★★★
Review: Does your little girl love the color pink? Well, this play kitchen from HONEY JOY is the perfect one for dainty little princesses. It has cute flower sinks and adorable strawberry knobs for maximum interaction. I also has incredibly durable wooden pots and pans for your child's enjoyment.
Plus, this kitchen set is super sturdy because it's made from solid pine wood. You won't even need to worry about paint because it's colored with environment-friendly, non-toxic paint. It also has working doors to its stove and cabinet!
Tiny Land Brew & Serve Wooden Coffee Maker Set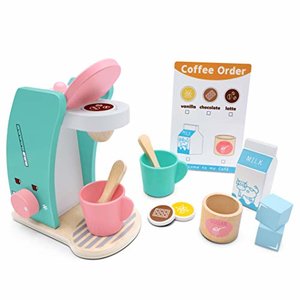 Our Rating: ★★★★★
Review: Now let's be honest, mommies and daddies. We love our coffees in the morning, and our kids probably see us drinking our cuppas. Well, they can't drink their own cups right now so the next best thing is to pretend!
This set from Tiny Land is perfect because it looks like a coffee maker. It even has its own coffee pods (how adorable, right?!), ice cubes, milk, sugar, and cup. What's more, all the toys and accessories are made from high-quality wood and non-toxic paint. If I'm being honest, I want to play with this set myself.
Hape My Creative Cookery Club Wooden Play Kitchen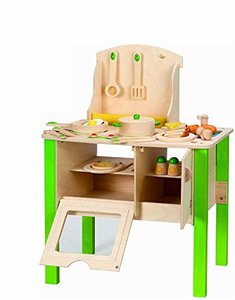 ](
Our Rating: ★★★★★
Review: Going for a more minimalist look? Well, this play kitchen from Hape will definitely fit with your aesthetic. It looks like a simple wooden desk but with enough details to show that it's actually a kitchen. It even has kitchen accessories to match its look!
Everything looks natural and minimalist because it is made from solid wood and features natural wood surfaces. What's more, this set also include wooden pretend food so you wouldn't need anything else.
Meland Play Pots and Pans, Stainless Steel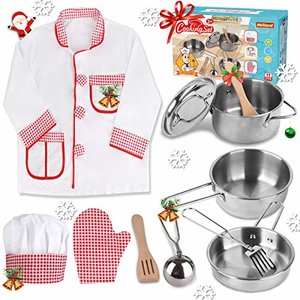 Our Rating: ★★★★★
Review: If your budding chef isn't satisfied with the bright plastic accessories, maybe it's time to upgrade to a more realistic-looking set? Well, this one from Meland is made from high-quality stainless steel so you know it'll look authentic.
What's more, your kid can also play dress up because this set comes with a chef's jacket and hat. It even has an adorable mitten they can use!
KidKraft Vintage Play Kitchen, Red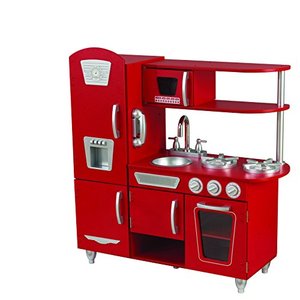 Our Rating: ★★★★
Review: Others may like minimal looks but if you're more into retro, this KidKraft play kitchen is the perfect one for your kid's play room! It's made from sturdy wood and is colored in retro red with metallic silver details. It even has a cordless phone detail!
What's more, your little one will love how much storage they have for their kitchen accessories. This play kitchen has working cabinet doors, an oven, a microwave, and refrigerator. But it doesn't come with accessories so you'll have to get those separately!
Rolimate Wooden Toaster Kitchen Set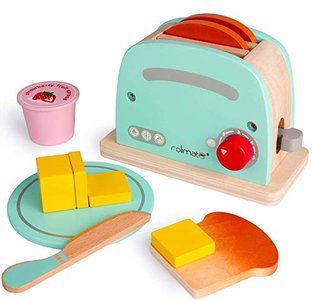 Our Rating: ★★★★★
Review: The great thing about play kitchen's is that you can keep adding accessories to it. One great kitchen appliance that your kid will surely love is his own toaster. This wooden toaster from rolimate even comes with pieces of toast, butter, and strawberry jam.
What's more, the butter can be cut and you can even put the toast pieces in the toaster. Talk about interactive! Kids have such good toys nowadays…
Little Tikes Kitchen & Restaurant, Red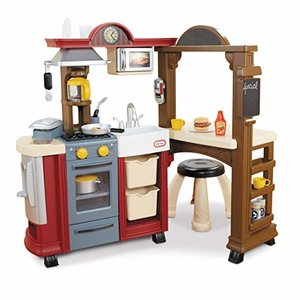 ](
Our Rating: ★★★★
Review: Little Tikes have been a well-known brand for a long time because they make such nice toy sets, and this one is no different. If you have more than one kid, then this sit-down restaurant is the perfect toy to share.
Your children can take turns as the chef and the customer since this set has its own kitchen and dining area. It also has adequate storage space for a few kitchen accessories.
Frequently Asked Questions
How to Make a Kid's Play Kitchen?
Creating a Do It Yourself play kitchen can be done in so many ways. If you want to go with the easiest, cardboard kitchens are a good option.
But if you want something that will last a long time, then you should probably go with wooden play kitchens. There are tons of interesting tutorials online that will help you create wonderful wooden play kitchens for your kids.
But make sure you have the essentials. You will need a stove and oven, and a sink. You can also choose to make appliances like a refrigerator and microwave. Then you will need to get accessories for your kitchen like pots and pans, play food, and utensils.
How to Make a Play Kitchen Out of Boxes?
Making a play kitchen out of cardboard is easier and more affordable. What's more, they already have the necessary shapes of most kitchen appliances. Their flaps can also work as doors. So what's left is just designing them to look more like a kitchen.
You can use acrylic paint to put on details like a stove top or buttons. You can also use excess wallpaper to make them look like real wood or genuine tiles. If you're feeling up to it, you can also make cardboard shelves as backboards where you can house play food and pots and pans.
Do Little Boys Play with Kitchens?
Yes! Playing pretend cooking isn't just for girls. Little boys can also be amazing cooks so it's a good idea to have them play in a pretend kitchen as well.
Remember that cooking is a life skill that anyone, whatever their gender, needs to learn. So let your little boy don on a chef's hat and apron, and get him cooking his pretend meals!
Conclusion
Playing pretend cooking can be an important step to your kid actually learning how to cook in the future. Plus, it's a really great way to keep your little one engaged and having fun.
So what are you waiting for? Cultivate your budding chef's culinary skills by getting them a play kitchen today!