The Best Baby Powders According to Science in 2022
When taking care of a baby, diaper changes are inevitable. Suffice to say, babies tend to be messy and changing of clothes is a multiple occurrence during the day. That's why your nursery essentials like baby powder are super important!
Baby powder is considered a nursery essential because it keeps your baby comfortable throughout the many diaper changes you'll be doing. It absorbs moisture and helps keeps your baby's skin dry and smooth. Plus, they smell good! Discover which baby powder is the best to use for your little one through our specially curated list below!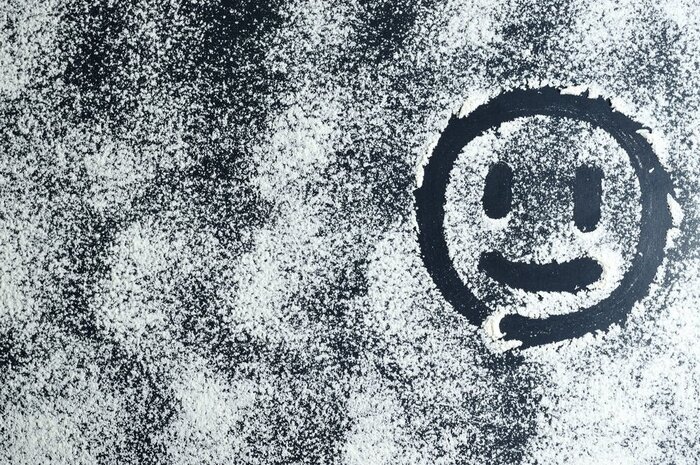 Our Top 10 Picks for Baby Powder
Baby Powder Buying Guide 2020
Scented vs. Unscented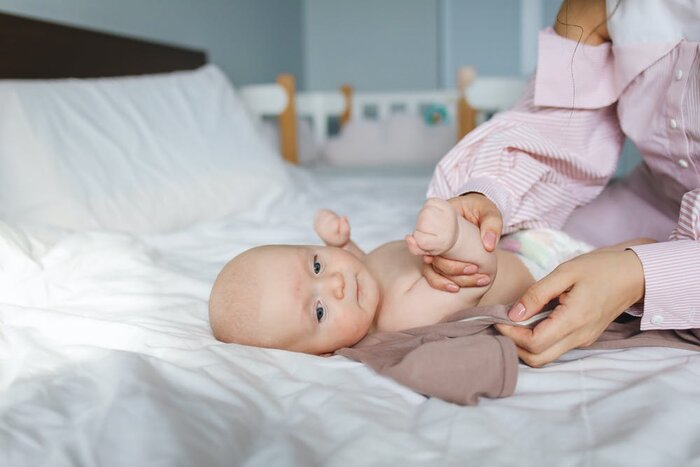 You may be wondering why some baby powder brands opt for scented while others are unscented. Like many other bath products, many fragrances are made with chemicals that might irritate to your baby's sensitive skin. That is why you should err on the side of caution when buying scented baby powders.
However, your little one might not react strongly to all scented baby powders. If you really like the fragrance of one product, the safest way to go about it is to do a patch test. Apply a tiny bit of the baby powder to your baby's leg and wait for a couple of hours. If you don't see any negative reactions to the powder, you can continue using it. If a reaction does occur, wash it off your baby's leg at once.
Why Go With Talc-Free Powder?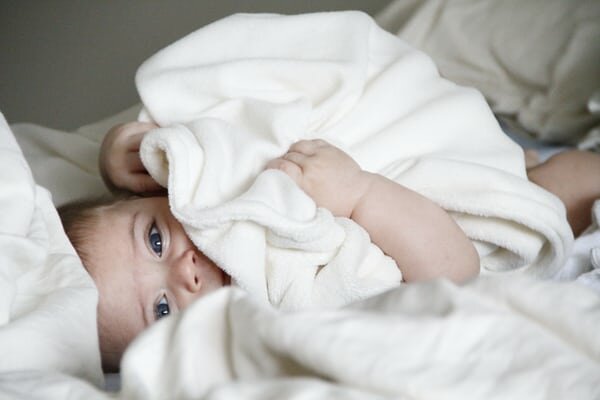 The thing about technology is that it is continuously innovating, meaning we learn something new all the time. In the past, most powders (beauty and baby variants) contained talc, a clay mineral that is great at absorbing moisture and odor. For all intents and purposes, talc does what baby powder is made for wonderfully.
However, recent studies have seen a correlation between talc and the development of cancer. Although clinical trials for this study are far and few in between, it might be better to be safe than sorry. This is especially critical since you'll be using it on your baby. Rest easier by just getting a baby powder without talc in its ingredients.
Check Out Other Ingredients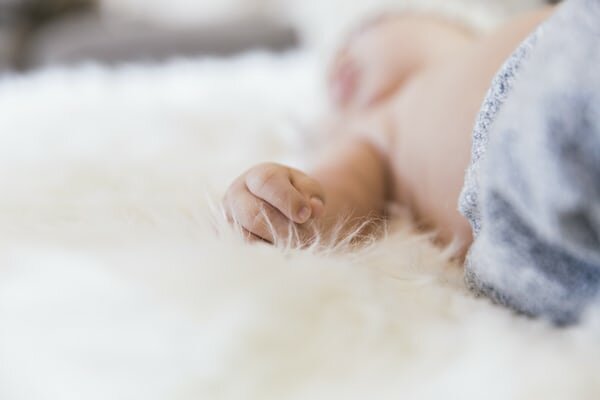 Most talc-free baby powders will use cornstarch or tapioca starch. These are good alternatives to talc, but you must also be vigilant in checking out the other ingredients used to make the powder you're getting.
Some additional ingredients that can have positive effects for your baby's skin are: - Aloe Vera. It is a known effective treatment for diaper rash and can safely treat burns, cuts, scrapes, and the like. Aloe Vera has been around since ancient times and is very widespread in its use. - Vitamin E. Vitamin E is usually consumed through fruits and vegetables, and is an essential nutrient for your health. But it can also be used to protect your baby's skin from harmful UV rays and other environmental pollutants. - Chamomile. It is well-known for its naturally soothing effects. Chamomile has anti-inflammatory and antiseptic properties and help protect your baby's skin from free radicals. However, it shouldn't be used for babies three months old and younger.
The Best Baby Powder
Burt's Bees Baby Dusting Powder, Talc-Free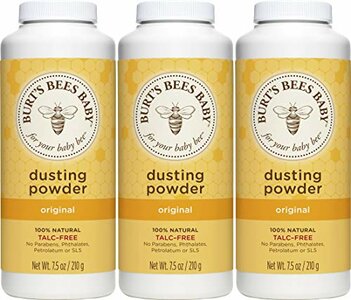 Our Rating: ★★★★★
Review: A proud USA brand, Burt's Bees is quite well-known for its natural beauty and skincare products. It's no surprise that even its baby line, specifically its dusting powder, is as efficient as its other lines.
This baby powder is made from cornstarch and bark powder, making it as absorbant as any talc-made powder (but without the worry!). It is hypoallergenic and paediatrician-tested so you know it's safe for your baby to use. Plus, it has a mild, clean scent that can calm and comfort your baby after every diaper change.
Judastice Angel Of Mine Cornstarch Baby Powder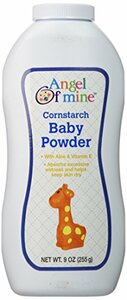 Our Rating: ★★★★
Review: Another proudly USA-made product that does not contain talc is this Angel of Mine baby powder. It is made from cornstarch, aloe vera, and vitamin E so you know that your baby's skin will stay dry and smooth throughout every diaper change.
It also comes in a decent size and can last you a long while. Plus, its mild powdery scent will make you love it more!
Johnson's Baby Powder, Calming Lavender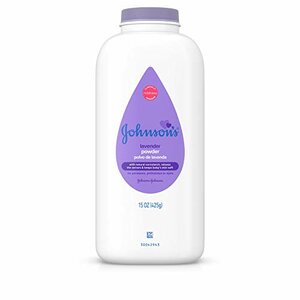 Our Rating: ★★★★★
Review: If there's a baby powder brand that's well-known around the world, it would probably be Johnson and Johnson's. Their Calming Lavender variant is as celebrated as the others. It is made from natural cornstarch that can quickly absorb moisture, and is free from harmful chemicals like phthalates, parabens, dyes, and sulfates.
What's more, this mildly lavender-scented powder is hypoallergenic and dermatologist-tested. It will leave your baby's skin smooth, soft, dry, and its scent can help calm your baby down.
Nature's Baby Organics USDA Silky Dusting Powder, Fragrance Free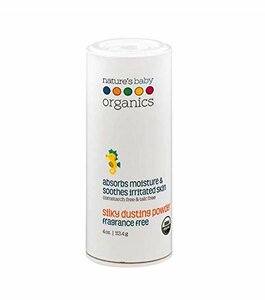 Our Rating: ★★★★
Review: If you want a certified safe and vegan baby powder, look no further than Nature's Baby Organics. It is certified for by the USFA and the Organic Trade Association as using only organic ingredients, and is free from talc and other harmful chemicals.
This baby powder uses tapioca starch to effectively absorb moisture to keep your baby comfortable all day. It also uses moisturizing aloe and chamomile to soothe irritated skin and chafing.
Caldesene Medicated Protecting Powder, Cornstarch & Talc-Free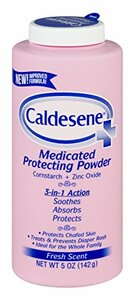 Our Rating: ★★★★★
Review: Babies might not be a fan of medicated powders but they do work wonders when they have diaper rashes. This one from Caldesene works just as great as traditional medicated powders without the worry that comes with talc!
It is made from cornstarch and zinc oxide which forms a protective barrier on the skin to repel moisture and keep your baby dry. It also has aloe vera and chamomile that helps soothe and soften your baby's irritated skin. With this powder, you won't need to use messy diaper creams or gels. This medicated powder will be enough.
Gold Bond Cornstarch Medicated Baby Powder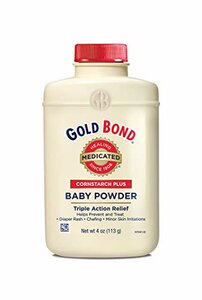 Our Rating: ★★★★★
Review: Another trusted brand is Gold Bond and they've made amazing skincare products ranging from eczema and psoriasis relief lotions to baby's first powder. This medicated baby powder is no exception. It is made from cornstarch to help protect against chafing, diaper rashes, and skin irritations.
It also has active ingredients that also control moisture as well as odor for long-lasting comfort. With this medicated baby powder, your baby can be guarded against the discomforts of pesky rashes.
Era Organics USDA Baby Powder, Talc-Free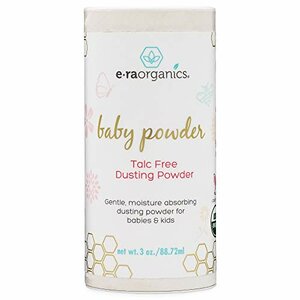 Our Rating: ★★★★
Review: Another great 100% certified USDA organic baby powder to look out for is this one from Era Organics. It is made with cornstarch and is talc-free. But that's not all. It also has other wonderful natural ingredients like arrowroot powder, kaolin clay, calendula extract, and rosemary extract to keep your baby's skin smooth, soft, and protected all day long.
It doesn't have any harsh and toxic ingredients in its make-up so you don't have to worry. Plus, it's specifically made from sensitive, irritated skin that's cracked, chapped, or chafed. With this baby powder, you can soothe and nourish your baby's skin. Plus, it works amazingly well with cloth diapers!
Noodle & Boo Delicate Baby Powder, Talc-Free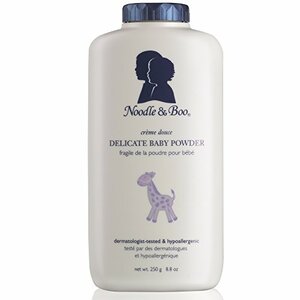 Our Rating: ★★★★★
Review: If you're looking for a mild and gentle baby powder that's perfect for your baby's sensitive skin, then this one from Noodle & Boo is the one to get. It is made from cornstarch and oatmeal powder to absorb moisture and leave your baby's skin soft and smooth.
This baby powder also has aloe vera and allantoin which helps nourish, leaving skin nourished and feeling fresh. Being talc-free, hypoallergenic, and dermatologist-tested, you're guaranteed that it's safe for baby's use and will keep their delicate skin protected from skin irritation and chafing.
Anti Monkey Butt Baby Powder with Calamine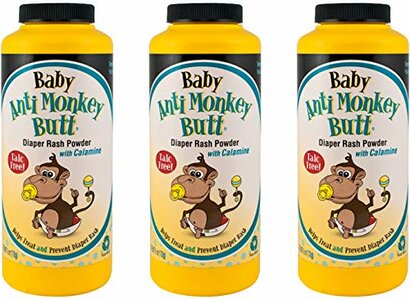 Our Rating: ★★★★★
Review: Sometimes your baby will get diaper rash, and it'll be highly uncomfortable. It's a good thing that Anti Monkey Butt has a baby powder specifically made for diaper rash. This baby powder is made from cornstarch and contains calamine which is commonly used to treat mild itchiness. Both ingredients can help dry out skin irritation like diaper rash!
It is safe and therapeutic for your baby especially during the times when the diaper rash is at its most uncomfortable. You can also use it to prevent skin from chafing!
California Baby Organic Powder, Calming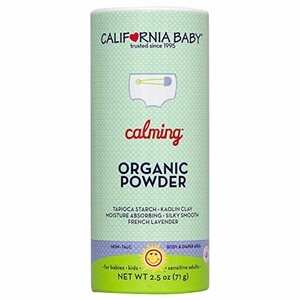 Our Rating: ★★★★
Review: This baby powder from California Baby mixes both corn and tapioca starch with other natural ingredients for a soothing product for your baby. Some of these natural ingredients include French lavender, clary sage, and tea tree essential oils. All of these are gentle and calming to your baby's sensitive skin.
It even has kaolin clay which is as absorbent as corn and tapioca starch so you know your baby will be dry and comfortable throughout the day. Plus, this baby powder is free from talc and synthetic fragrances.
Frequently Asked Questions
What Is Baby Powder For?
Baby powder is part of your little one's changing of clothes routine primarily because it absorbs moisture (sweat, urine, water, and the like) around their bottoms and genital areas. Powder keeps these diaper-hidden areas smooth and dry, making your baby comfortable throughout the day.
Some parents may also use baby powder around their baby's neck and on their back. This is especially true if you live in areas with hotter weather as these parts of your baby's body might be sweaty throughout the day.
Baby powder, as it keeps your baby dry, can protect your little one from the discomfort caused by rashes or friction on their skin.
When to Use Baby Powder?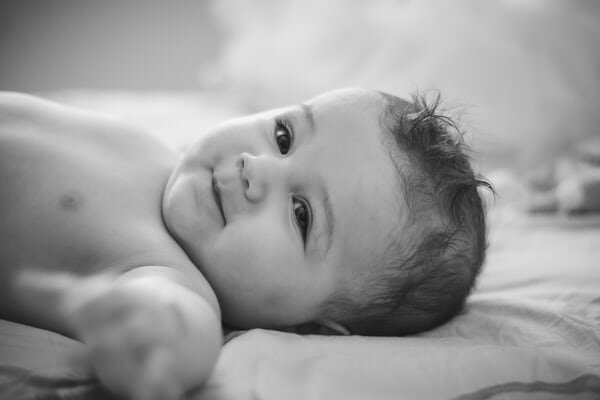 Baby powder is generally safe for babies when you take the time to use it carefully. Small amounts of powder can lead to respiratory illnesses if they come into contact with a baby's lungs. So make sure to use the baby powder as gently as you can to avoid this.
Most baby powders today are made without talc which lessens the risk of potential cancer development. So you can safely use them on your baby.
There's no definitive age as to when you can use baby powder. Some parents use it on newborns, and that's fine so as long as you're careful. Baby powder is usually used when your baby is in their diaper stage as diaper chafing can cause rashes.
When they are potty trained and out of their diapers, using baby powder is not as necessary anymore.
Does Baby Powder Expire?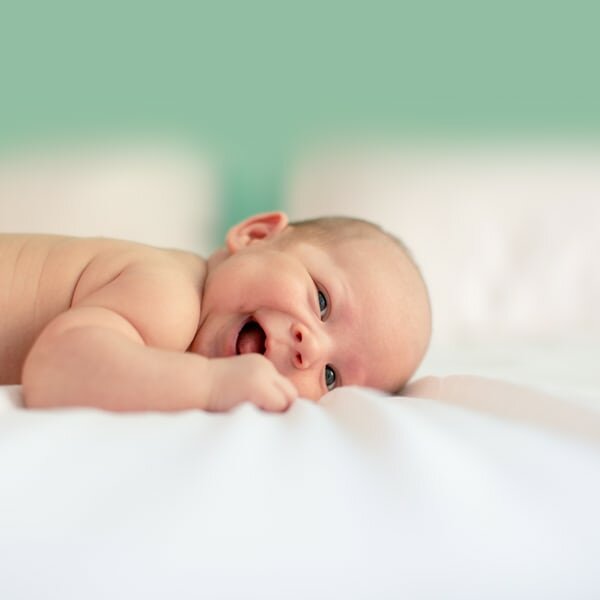 Like most baby bath products, baby powder also expires. However, the expiration date tends to depend on the main ingredient used. So a tapioca starch-made powder might have a different expiration length than one made with talc.
Generally speaking, you may use your baby powder between 12 to 18 months after you opened it. Longer than that and you should probably buy a new one. If you have an unopened tub of powder, you can use it within three years of manufacturing date.
Conclusion
Baby powder is an diaper station staple, especially if you want to keep your baby happy and comfortable throughout the day. It keeps your baby's skin dry and smooth, and most importantly, free from rashes caused by chafing.
Some baby powders also come scented and can help keep your baby smelling good and fresh throughout the day. It can also keep them comfortable and less sweaty when the weather is hot. So what are you waiting for? Get a talc-free baby powder for your little one today!