The Best Toothbrushes for Babies in 2022
Oral hygiene is something that we'll have to practice for the rest of our lives, so it's a good idea to start your kids young. But let's face it. Brushing your teeth isn't the most exciting activity to do and your kids might find it a boring chore. Getting the best baby toothbrush can help making brushing teeth fun and exciting!
You might think that toothbrushes are all the same but they're not! Kids' toothbrushes, especially, can come in many shapes and sizes. Some are made specifically for young babies who don't have teeth yet while others are designed for restless toddlers.
Whatever you choose, there's sure to be the best toothbrush for your baby out there! Read on below to discover which one you should get!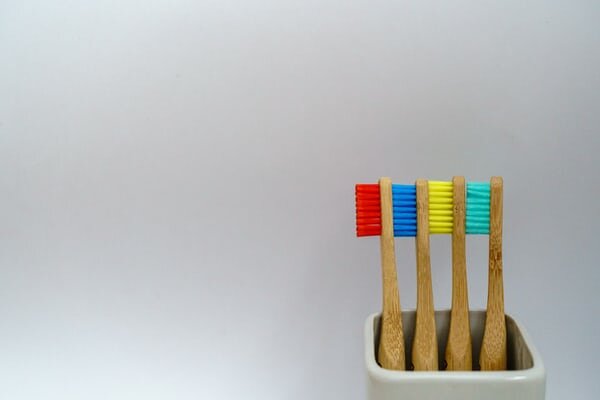 Our Top 10 Picks for Toothbrush for Babies
Toothbrush for Babies Buying Guide 2020
Types of Baby Toothbrushes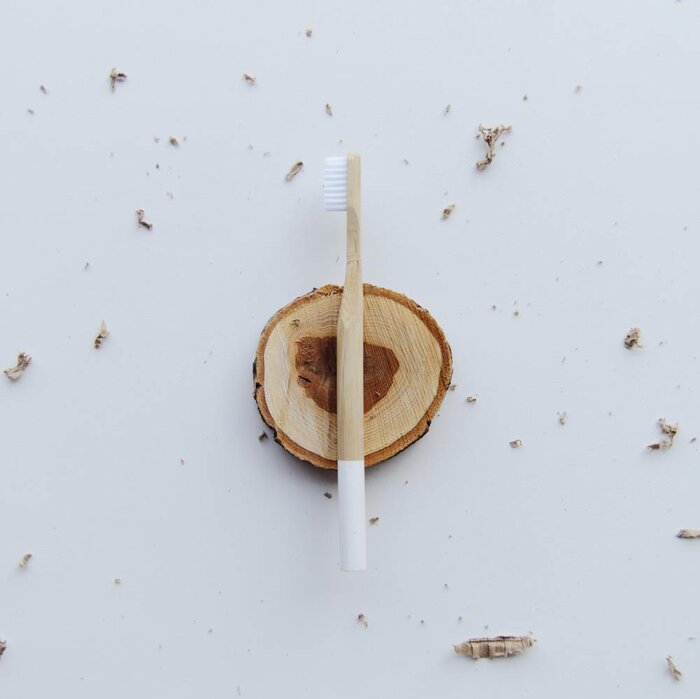 Right off the bat, let's discuss the different kinds of toothbrushes you'll encounter when shopping. Some toothbrushes are better for infants while others for toddlers. This is because oral hygiene also evolves as your baby grows older. Here are a few kinds you'll definitely see:
Wipes. Wipes are used for babies ages 0-12 months, and does not require any toothpaste. They are usually small and can be wrapped around the index finger. Use them to swipe around the gums, cheeks, and tongue.

Finger toothbrush/Gum brush. A gum brush is used for babies from 0-12months and does not necessarily need toothpaste. It usually looks like a thimble and is made with silicone bristles. Gently sweep around the gums, cheeks, and tongue. If your baby already has teeth coming out, gently sweep through them too.

Teether Toothbrush. A teether brush is used for babies from 6-18 months and can be used with toothpaste. It can come in different shapes and sizes, but are generally made from soft material to ease the discomfort of teething. Chewing on a teether brush can also help babies get used to the feel of bristles along their gums. Use like most toothbrushes.

Traditional/Manual Toothbrush. A wide range of toothbrushes with the softest being suitable for babies as young as 6 months and can have designs up to 3 years old. Manual toothbrushes rely on soft bristles to clean away food and bacteria over the teeth and around the gums. Toothpaste is required.

Electric Toothbrush. Electric toothbrushes are very much alike with manual toothbrushes, except they use batteries to work. Vibrations make it easier for the bristles to clean over the teeth and gums, and remove food and bacteria. It can be used for babies as young as 6 months up until 3 years old, and requires toothpaste.
Choosing the Best Baby Toothbrush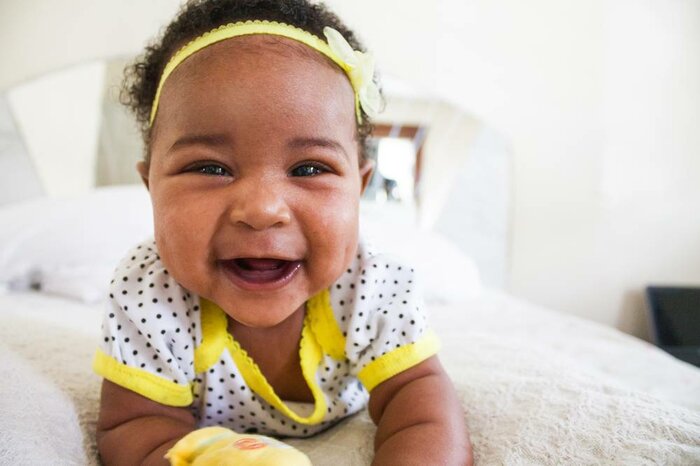 Little kids are not usually fussy. When they see something colourful and new, it'll get them interested and engaged. However, they also like being comfortable. So you need to make sure that the toothbrush you're getting them is both fun and gentle. Here are some features you'll need to look into while shopping:
Soft Bristles. Remember that your baby only has sensitive gums or very little teeth as of the moment. Teething can also make gums extra sensitive because they are inflamed. You need to make sure that the bristles on the toothbrush are soft and gentle or it might hurt your little one.

Size. Brushing teeth is a great activity that helps your child practice a little independence. Make sure to get the appropriate size for their age so that they can use it without any problems. Your child might gag on an overly large toothbrush, and might be a hazard if you're not careful.

Easy Grip. Remember that your little one's fine motor skills are just developing. Make sure that the toothbrush handle you're getting fits comfortably in their hands.

Dishwasher-Safe. Purely optional but dishwasher-safe toothbrushes provide another level of cleanliness that can improve your baby's hygiene.

Bright Colors and Characters. If you want to positively reinforce your child with brushing their teeth, it'll make your job easier if you get a toothbrush in her favorite color or favorite cartoon character.
Starting to Brush Baby's Teeth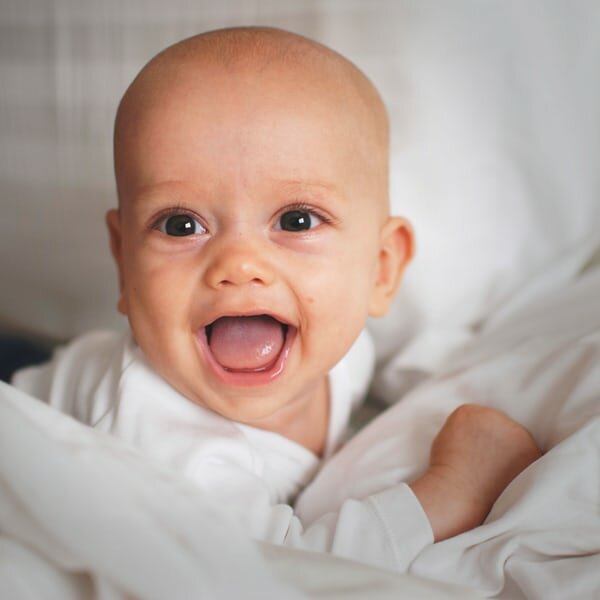 It's never too early to start cleaning your baby's teeth. Cleaning gums is important even before the first tooth starts showing up. You can start as early as soon as your baby is a few days old.
At this stage, you are only trying to get them used to the feeling of having things in their mouth. This'll make it easier to convince them to brush their teeth later on. You wouldn't need toothpaste yet at this stage. Just let them feel the gentle sweeping around their mouth.
The Best Toothbrush for Babies
FridaBaby Baby's First Toothbrush with Case, Silicone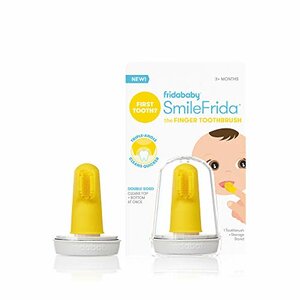 Our Rating: ★★★★
Review: Many silicone finger toothbrushes were made with bristles that only go one way. But with the triple-angle bristles on this FridaBaby's toothbrush, you can clean your baby's teeth more thoroughly than ever before.
The bristles wrap around each teeth so you can clean the top and sides at the same time. Its soft silicone material can also massage the gums. What's more, this toothbrush is bacteria-resistant so you don't need to worry about your baby's health.
Baby Banana Training Teether and Toothbrush for Baby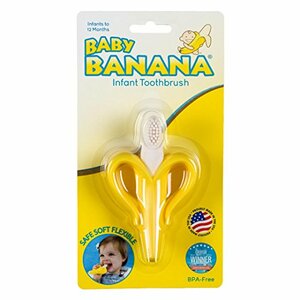 Our Rating: ★★★★★
Review: Another great toddler toothbrush is the Baby Banana. It looks adorable because of its banana design but it also has a lot of useful features. First, the adorable banana peel curving downwards serves as a handle that your little one can hold on to. It also protects your child from putting the toothbrush too far in their mouth and choking.
Second, this toothbrush is made from soft silicone which cleans and massages your child's teeth and gums. It doesn't have BPA, latex, or phthalate which makes it safe for babies as young as newborns. Lastly, this toothbrush is super easy to clean because they're dishwasher safe!
As a bonus, you can even store this in the freezer and use to ease the discomfort of sore gums.
Cuckool Baby Oral Cleanser, Disposable Cleaner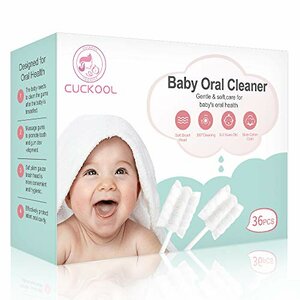 Our Rating: ★★★★
Review: If you prefer a disposable variety to really lessen the chances of bacteria growing on the toothbrush, these disposable wipes are a great alternative. It can effectively remove milk stains, oral stains gently. Made from 100% medical cotton with a 3D wave weave, it can clean all areas of the mouth without damaging your child's fledgling teeth.
It's also a great tool to have if your child has oral health problems like oral cavities, horsetooth, or thrush. Just open the bag, get a wipe, and dip it in warm water before use!
GRABEASE Double Sided Toothbrush, Anti-Choke Guard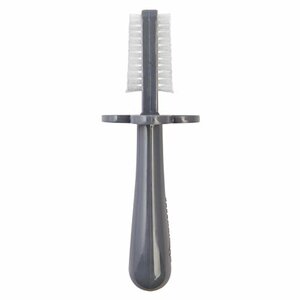 Our Rating: ★★★★
Review: If your baby is old enough for soft bristles, you can transition to this toothbrush from GRABEASE. It has an amazing choke guard built-in the toothbrush's design so that your little one won't accidentally swallow the entire thing.
It also has double-sided bristles for more effective and quicker cleaning, which is a huge plus if your child is fussy during bath time. Its super soft bristles not only swipe away germs and bacteria, but is also tender on your little one's sensitive gums. Plus, it's BPA-, lead-, and phthalates-free.
Dr. Brown's Infant-to-Toddler Toothbrush Set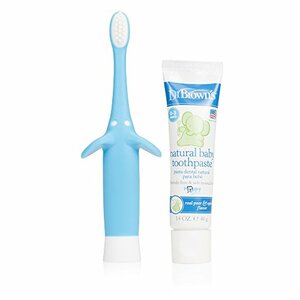 Our Rating: ★★★★★
Review: If you want to get the most of your money, you can always grab a toothbrush and toothpaste set like this one from Dr. Brown's. Its pear and apple-flavored toothpaste has no fluoride, artificial colors, and preservatives so your child can safely swallow it.
As for the toothbrush, it has an adorable elephant design with a handle that's easy and comfortable to hold for little hands. Its soft bristles can also effectively clean and massage sore gums and growing teeth.
Nuby 4 Stage Oral Care System Set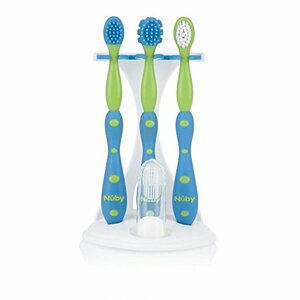 Our Rating: ★★★★★
Review: For economical mommies and daddies who prefer to be ready and to just buy something that can last a long while, this Nuby set is perfect for you. It contains four different toothbrush varieties that you can use for the different stages of your baby's development.
The first stage is a silicone massager that cleans and soothes a newborn's gums. The second stage is a gum massager with a longer handle that can be used for newly erupted teeth. The third stage is another type of gum massager that is perfect when your child is teething. The fourth stage has soft nylon bristles that can gently and efficiently clean your child's teeth. You can use this set from newborn until 6 years of age.
Slotic Baby Toothbrush, Teether, Extra Soft Bristles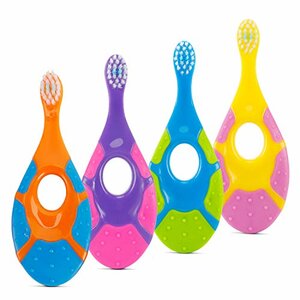 Our Rating: ★★★★★
Review: When your baby is teething, oral hygiene becomes an extra strenuous problem. It's a good thing that teether/toothbrush combos like this one form Slotic were created. This teether toothbrush is made from high-quality, non-toxic materials so you know your baby is safe even when they're biting on it.
It has a nice round shape for better grip and comfort which is large enough to discourage swallowing. It also features soft bristles that helps clean your baby's first teeth efficiently.
RADIUS Toddler Toothbrush, Extra Soft, 3 Pack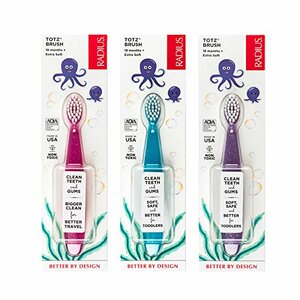 Our Rating: ★★★★
Review: If your child is trying to be more independent, this toothbrush from RADIUS is a good training alternative. It is proudly made in the USA and is specially designed to be handles by little hands. It features and easy-grip handle and a perfectly sized brush head to help clean sensitive teeth and gums.
Plus, this toothbrush was carefully made with non-toxic materials. It is free from BPA, latex, and phthalate. Even the soft bristles are vegetable-derived. You're assured that your child's health is in safe hands with this toothbrush!
Orajel Elmo Tooth & Gum Cleanser with Toothbrush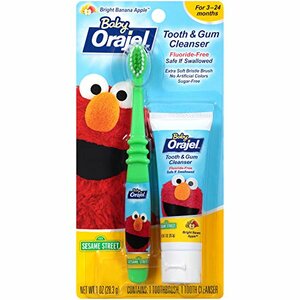 Our Rating: ★★★★★
Review: Another exciting toothpaste and soft-bristled toothbrush set is this Elmo-themed one from Orajel. It has a banana apple-flavored, fluoride-free toothpaste that can safely be swallowed. It is also free from harmful ingredients such as alcohol, parabens, aspartame, dyes, SLS. Health is also considered in the making of the toothpaste as it does not contain sugar, dairy, and gluten.
But what makes this thrilling for little kids is that the toothpaste packaging and the toothbrush have Elmo's smiling face on it. They'll just love using this set after every meal!
DADA-TECH Baby Electric Toothbrush, Smart LED Timer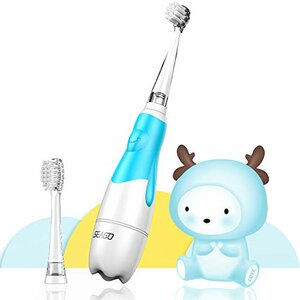 Our Rating: ★★★★
Review: If your baby finds brushing teeth cumbersome, you can make it fun and interesting with this electric toothbrush from DADA-TECH. It is made with soft nylon bristles and a food-grade silicone brush head so you know it's safe for your child's use. No need to worry about scratching sensitive gums! Its handle is made from high-quality CPE hybrid materials and is anti-slip as well.
But what makes it extra special is that is has a 2-minute smart timer and 30-second puls reminders to help your baby remember the steps on how to brush their teeth. It is even run by sonic technology that was designed for a child's oral and dental characteristics.
Frequently Asked Questions
How to Introduce Toothbrush to Baby?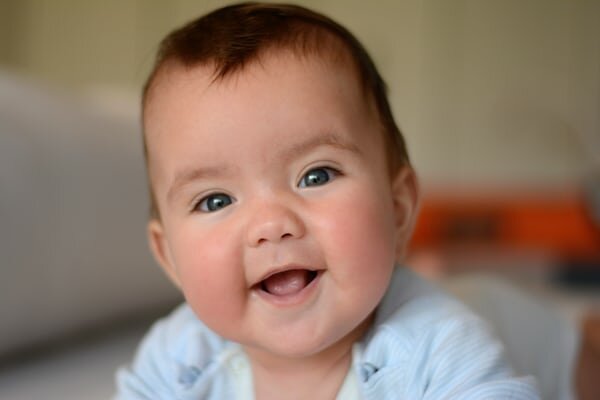 Start them young. You can use wipes or soft, gentle gauzes on a newborn to help them get used to the feeling of having something in their mouth. While not necessary, starting as young as a newborn will help you when it's time for the actual brushing of teeth as your child will already be adapted.
Newborns also drink milk from their mothers or formulas, and those usually leave residue in their mouths. It's also beneficial to gently swipe these away to improve your baby's oral hygiene. As your baby grows, you can also change the type of toothbrushes you're using.
When they hit the teething stage, a teether brush might be more helpful. Once they have teeth, you can choose between a manual or electric toothbrush.
How Often to Change Baby Toothbrush?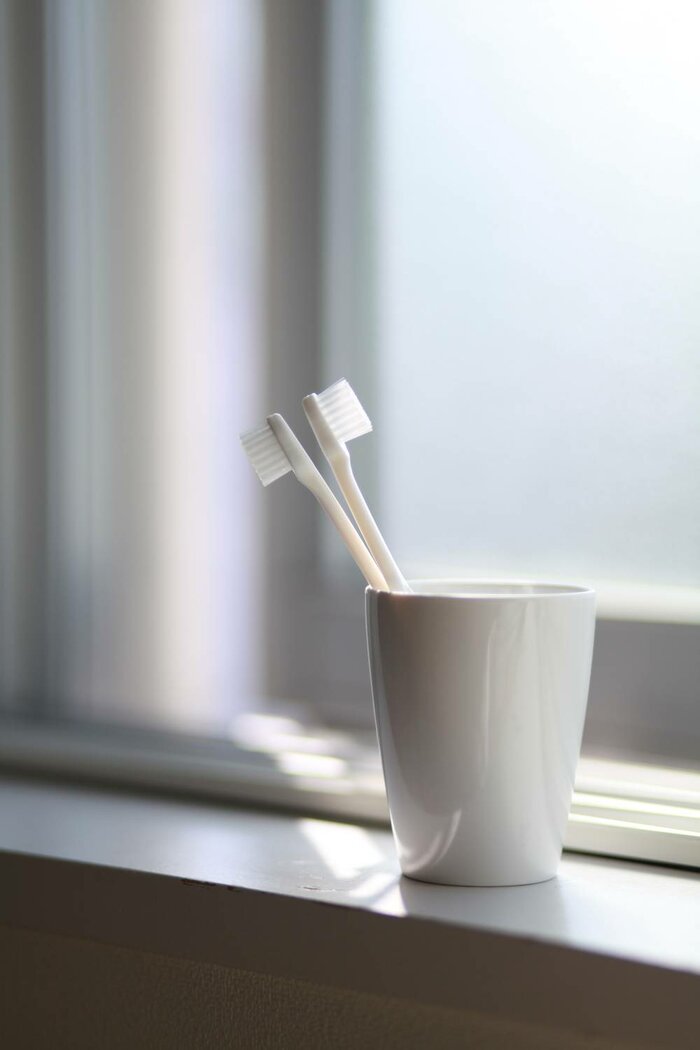 Just like adult toothbrushes, you should also change your baby's every three months. While silicone toothbrushes are more durable and do last longer, it still a good practice to change your baby's toothbrush every three months for hygiene purposes.
However, you might find the need to change toothbrushes earlier if your child has a tendency to bite down on their toothbrushes or if the bristles become frayed.
Can Babies Use Electric Toothbrushes?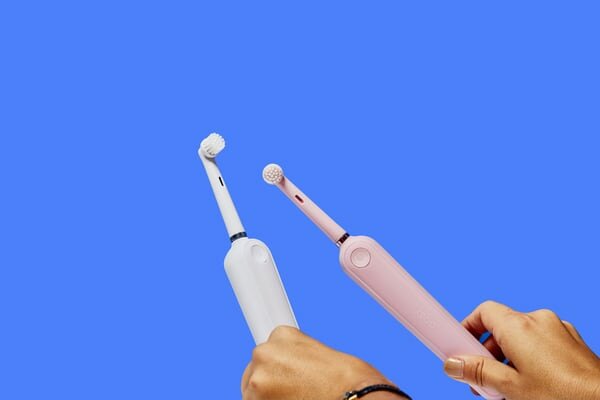 Electric toothbrushes wouldn't be recommended for younger babies like newborns and infants. They don't need it. You can, however, use electric toothbrushes for toddlers.
Most people would recommend electric toothbrushes for toddlers 3 years old and up. But toothbrushes (any kind) are only as good as the one using them. You can also use them for children younger if they already have teeth and are reluctant brushers. Electric toothbrushes can make the entire brushing experience easier for you and your child.
Conclusion
Brushing teeth is an activity that your child will need to do for the rest of their life. That's why it's important to train them on good oral hygiene as young as possible. Toothbrushes for babies can help you keep them properly clean while they're having fun.
Just remember to buy baby toothbrushes that are appropriate for their current age. There are so many to choose from as they vary in design and colors. So what are you waiting for? Teach your little one proper oral hygiene and get them the best baby toothbrush today!