The Best Telescopes for Kids (With Uses & Reviews) in 2021
Introduction
The night sky has always been a source of great fascination and interest. It has not only been the inspiration for stories and myths, but for true science as well.
Astronomy is a fantastic discipline for waking and developing exploring spirit in children, and the first tool you will need for that would be nothing more but a telescope.
There is a big offer and variety of telescopes and prices, so it is not easy to choose a right one. Also, we know that telescopes can seem so big and intimidating.
Therefore, we will try to bring them closer to you in this short kid telescope review. We will try to point out some of the best telescopes for kids and facts about telescopes for kids so that you and your child can enjoy their new waking interest in this incredible discipline.
Some of the Best Kids Telescope
Toyerbee Kids Telescope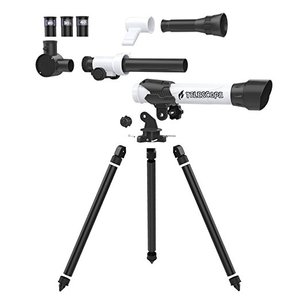 Features
DIY kids Telescope for Beginners,
Early Development Science Toys,
Three Different Magnification Eyepieces, Finder, Sky Observe, Tripod,
Easy Operation, Detachable
When it comes to kids telescopes, this might be one of the best, both in price and in quality. Also, it is straightforward to use.This DIY kid's telescope comes with a lot of pieces that you will have to assemble in kid-parent interaction.
Your child can start his or her journey as a young explorer and scientist with this easy to use DIY telescope.
One other great feature of this telescope is that it is made of recyclable materials, so it is entirely environment-friendly, perfectly suitable for those who take care of their surroundings.
Pros and highlights
Three different magnification eyepieces – With these 20X, 30X, 40X magnification pieces, your kid will be able to reach different depths of the sky.
Light weight – This is an essential feature when it comes to kids telescope, it will be easy to handle.
Demountable – Easy to reassemble, take it to another spot and assemble again, as well as store it without too much space waste.
Cons and potential flaws
No solar filters – However amazing at viewing stars and birds, it has no filters for sun spectating.
Emarth Telescope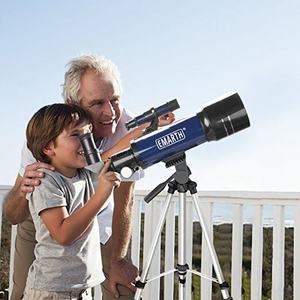 Features
Travel Scope,
70mm Astronomical Refracter Telescope with Tripod & Finder Scope,
Portable Telescope for Kids & Beginners
This telescope is not only suitable for children but amateur astronomers as well.
This beginner telescope for kids has optical glass that is coated with excellent transmission coating so it can create clear and bright images. It also has great magnification power and focus, so your picture would be even better.
Also, it has a finder scope that will help you locate objects. Beware, the picture it shows is always upside down.
Furthermore, it has an anti-slip mat and lock knob, so your images will not only be clear but steady.
Pros and highlights
Terrestrial and celestial spectating – Makes clear images of both sky and nature objects.
Focus and up to 60x magnification – You will get a beautiful image of your target object.
Cons and potential flaws
Price – Some may consider the cost to be very high for a toy, taking that kids have highly changeable interests.
Toyerbee Telescope for Kids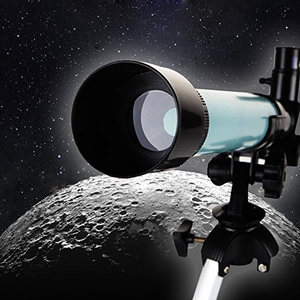 Features
Educational Kids Science Telescope Plastic Toy for Beginners
3 Magnification Eyepieces
Tripod Enjoy Steady Observation of Astronomy
This is a telescope made by one of the most famous producers of educational toys. If you are looking for a cheap version of kid's telescope, this is the one for you.
With this telescope, you will get sufficient quality for your child's first encounter with astronomy and not waste too much money.
You can adjust and tighten the angle when you find the right spot, and it can magnify objects up to 40x.
Pros and highlights
Focus adjuster - Focal length is up to 170mm. Hence, it will increase the overall performance of this telescope.
Durability- Due to great materials that were being used in construction, this telescope will show outstanding strength and serve your child for years.
Cons and potential flaws
Not suitable for far distance spotting- However, this telescope might not be the best solution when it comes to distant spotting.
Scharkspark Telescope for Kids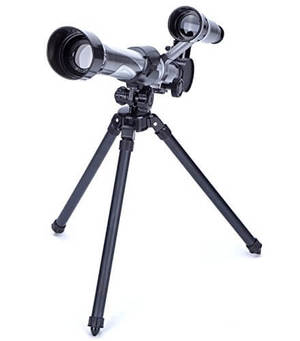 Features
Nature Exploration Toys, Tripod, Finder,
Three Magnification Eyepieces-Light-Stable-Cool
Easy to Use
This telescope is not only one of the best but is very appealing to an eye. It is not only effortless to set up, and quickly adjustable, but it is very light and easily portable.
It is a fantastic gift for kids that like nature and have interest in science activities.
Pros and highlights
Price – This is a rather cheap piece of astronomy tools to get your kid started on this new hobby.
Clarity control – You can adjust the clarity of your image with focus and different magnifying add-ons.
Cons and potential flaws
Stability – It is very light-weighted, so it is not very stable; be careful with this one.
Lunar Telescope for Kids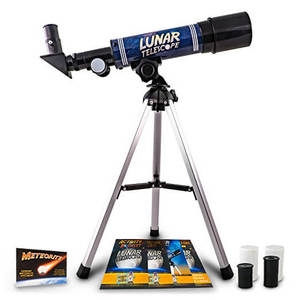 Features
Explore the Moon and its Craters
2017 Release
This telescope comes from one of the most accomplished new producers – Dr. Cool. It was founded by a science teacher and a rock collector who creates a line of fun educational toys for kids.
Anyhow, this fantastic new telescope for kids comes with a lot of additional equipment. You will get a lot of colorful booklets and guides, as well as a real meteorite specimen from Campo del Cielo Crater in Argentina.
It comes with two lenses for viewing objects up close and from afar. Its tripod is very stable, and your child will love it.
Pros and highlights
Easy to set up –This telescope is easy for kids to set up and carry around.
Adjustable – You can move your telescope vertically and horizontally, and adjust it to your liking.
Cons and potential flaws
Size – This telescope might be a bit too robust for a small child.
Telescopes are best Gifts for Your Curious & Intelligent Kids
Taking all that we have said so far about telescopes for kids, we may conclude that these are not only toys but tools for a real young scientist.
However some of them may look colorful and be appealing to your child's eye, we recommend that you pay attention to the features of each of these on the first place, and choose the one that fits your child's needs and your possibilities the best.
We do hope that we managed to help you in choosing a right telescope for your child and that both you and your children will enjoy in on a clear night sky for a long time.
Written By Barbara Jenkins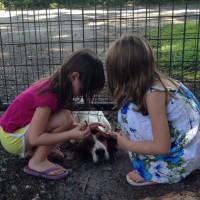 Proud Mother of Two Awesome Kids. When not looking after them, she likes to blog here.