The Best Backpack Diaper Bags in 2022
It's safe to say that babies use a ton of stuff throughout the day. From the endless diaper changes to the hourly feeding (not to mention the numerous outfit changes and toys), going out seems to be impossible. Well, not anymore with a backpack diaper bag!
Sure, the traditional diaper bag isn't so bag. It's spacious and has a number of compartments. But it isn't the most comfortable to lug around during the day. With a backpack diaper bag, you and your baby can go anywhere and have all their things comfortable and conveniently with you at all times.
Discover which backpack diaper bag best suits your needs by reading on below.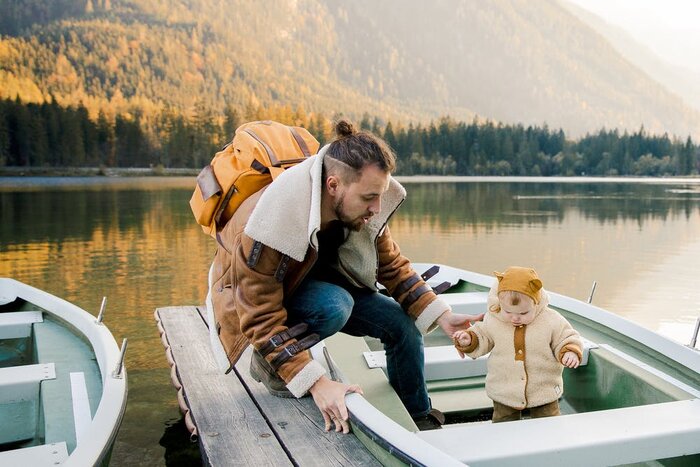 Our Top 10 Picks for Backpack Diaper Bag
Backpack Diaper Bag Buying Guide 2020
Benefits of Backpack-Style Diaper Bag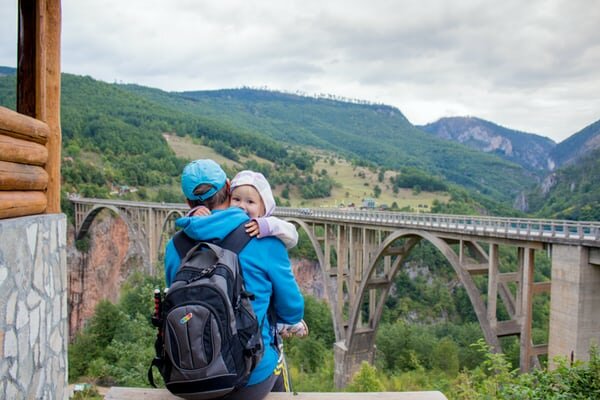 Traditional diaper bags are bulky because you need the space, and most of them come as shoulder straps. At first, this seems like a great thing since you can hang it on to your child's stroller. But as your baby grows older and moves around on their own, the shoulder-strapped bag suddenly becomes a hindrance.
A backpack diaper bag solves this problem with ease. Most backpack diaper bags are also spacious and have lots of nifty compartments. But what makes it different is that when you wear the bag, your hands are still conveniently free. You can hold your child's hand or chase them around with no problems!
Just think about all the times when you had to bend and your traditional diaper bag slips off. With a backpack, that won't be a worry anymore.
Why Closure Systems Are Important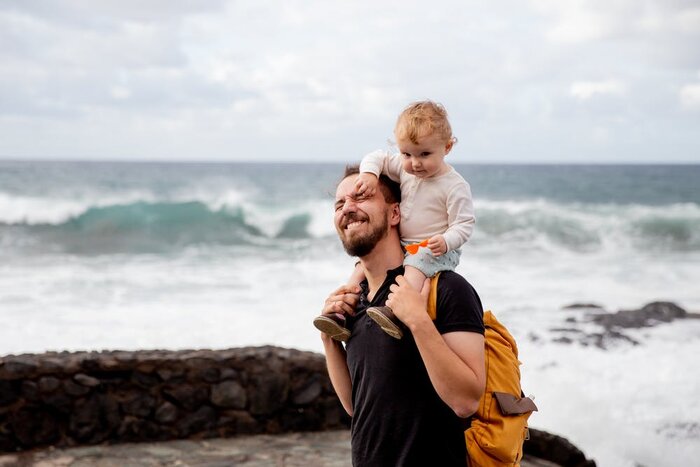 If the backpack is such a good fit for baby essentials, why not just buy a regular one? Well, you could but a backpack diaper bag has features that will specifically make ease of use better. One such feature is its closure system.
Here are some aspects you need to keep in mind with regards to appropriate closure systems:
Zippered everywhere. The more zippers, the better security you have. With all the bits and pieces your baby needs, you really need to secure them properly. What's more, curious little babies can easily open snap bags and start digging around the bags and making a mess. Zippers are harder to open.
Wide bag opening. If you want easy access on all your baby's things, a wide opening is necessary. Sometimes you'll have to get things that were shifted to the bottom or the far side, and it can be bothersome to keep unpacking and packing your bag just to do this.
Light-colored lining. Dark-colored linings are sophisticated and modern, sure. But they also give the illusion that your bag is deeper than it actually is. It's harder to search for things unless you have a light-colored lining.
Backpack Diaper Bags As Great Traveling Companions
Backpacks are perfect for traveling because you can carry them for longer and still leave your hands free to do other things. The double straps provide better weight distribution than a single, long shoulder-strap.
Aside from these, backpack diaper bags also have other features that are perfect when you're on the go:
Insulated bottle pockets
Removable changing pads
Wet bags
Wipe containers
And more
The Best Backpack Diaper Bag
SoHo Designs WideOpen Diaper Backpack, Ocean Blue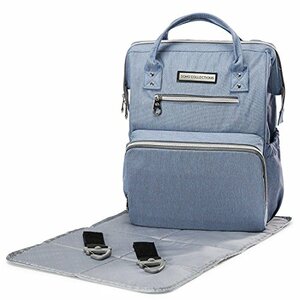 Our Rating: ★★★★
Review: One excellent reason to get a backpack diaper bag is that it looks like a typical travel bag. No more glossy plastic with tacky kiddie designs to advertise that it's for babies. And if you're looking for a casual-looking baby bag, then this one from SoHo Designs is definitely for you.
It comes in very wearable colors like denim blue, peach, red/white, and black.But what makes it amazing is its ability to organize your stuff effectively. Its main compartment can fit most breast pumps and it has over 10 pockets and sleeves all over. It can even fit a 14-inch laptop!
mommore Fully Opened Baby Diaper Bag, Light Blue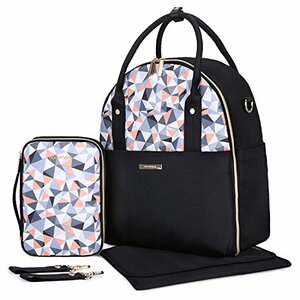 Our Rating: ★★★★★
Review: If you're looking for some more sophisticated for those days when you have to attend a formal gathering your baby, then this bag from mommore will serve your purpose well. It is made from easy-to-clean, wipeable Ripstop Oxford fabric and can be fully opened for easy access.
This diaper bag comes with an insulated bag to keep your baby bottles fresh, and even has stroller hooks for better support. You can even use it as a hand bag.
XHUNXU Large Capacity Diaper Backpack, Waterproof with Anti-Theft Pocket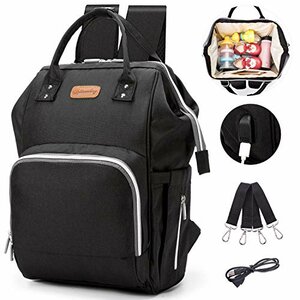 Our Rating: ★★★★
Review: Sometimes practicality really is the name of the game, and if you want a backpack diaper bag that you can bring anywhere, anytime then get this one from XHUNXU. It comes in a classic black color with very simple designs.
It has a large main compartment that can house all of your baby's essentials without looking bulky. The top opens fully to provide easy access as well. Made from high-quality Oxford material, this diaper bag is waterproof and easy to clean.
Hap Tim Diaper Backpack for Travel, Insulated Pockets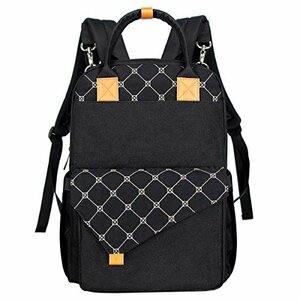 Our Rating: ★★★★★
Review: Another beautifully practical diaper bag for the modern parent on-the-go is this one from Hap Tim. It comes in a simple black color with white checker details and a few leather brown details.
It has a large capacity that can easily fit all of your baby's daily essentials like milk bottles, sippy cups, diapers, wipes, change of clothes, and more. Enjoy organizing all their things in the 2 large compartments and the 9 other pockets and sleeves in the bag. You can even hook it on your stroller!
Harmony Life Diaper Backpack Large Capacity, Nappy Tote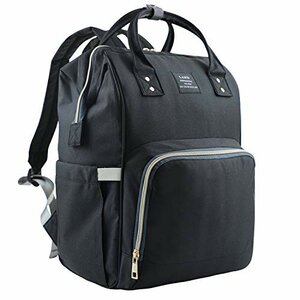 Our Rating: ★★★★★
Review: If you prefer the basic looking backpack but with more color options, then this one from Harmony Life is the answer to your problems. It comes in a very simple and practical design but you can choose from black, peach, blue, green, purple, and more.
This diaper bag is made from waterproof material and has 15 individual pockets that you can utilize to your hearts content. That includes 3 insulated pockets to keep your baby bottles warm. This bag also has 2 zippers on the back. The upper one can house mommy or daddy's personal things while the lower one provides easy access to the bottom of the bag.
Iduola Diaper Backpack Large Capacity, Land Green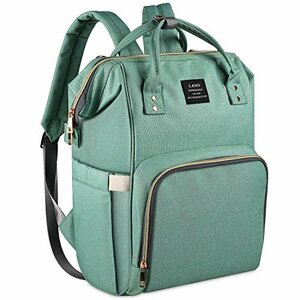 Our Rating: ★★★★★
Review: If you want a bag that is beautiful to look at but still features a unisex design, then this one from Iduola is perfect. It comes in black, mint green, and light grey which are colors that can be used by mommy and daddy.
It has an easy-access front pocket, and a huge compartment with a wide-open design for all your baby's go-to needs like diapers, clothes, bibs, and more. It also has insulated pockets that can keep your baby's bottles warm.
FANCYOUT Diaper Backpack with USB Charging Port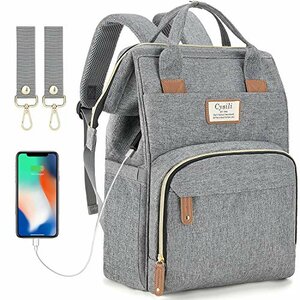 Our Rating: ★★★★★
Review: The modern mommy and daddy knows that gadgets are a part of our daily lives today. You always have your phone with you, and as your baby grows older, a tablet might be something you invest in for them as well. So you have to make sure that your bag can also provide for your tech needs.
This backpack diaper bag from FANCYOUT has a built-in charging port so that you can conveniently charge your phone or tablet while on-the-go. Like any other diaper bag, it also includes a large capacity compartment for all your baby's essentials as well as insulated bottle pockets.
BAMOMBY Diaper Backpack, Multi-Function Waterproof Travel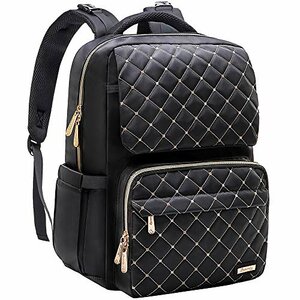 Our Rating: ★★★★★
Review: Fancy and functional, why choose one when you can have both when you get this backpack diaper bag from BAMOMBY? It is made from high-quality oxford fabric and polyester which makes it super sturdy yet lightweight. Its black shade with embossed details makes it look super luxe without sacrificing its functionality.
This diaper bag has large compartments and multiple pockets so that you can organize your baby's essentials to your heart's content. It can even strap on to your stroller.
Mancro Diaper Backpack, Changing Bag for Travel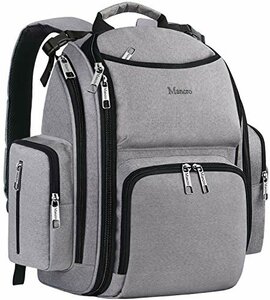 Our Rating: ★★★★★
Review: If you're looking for an extra sturdy backpack diaper bag that won't deform when squashed, then this one from Mancro is right for you. It has a huge main compartment with dual metal zippers with anti-theft capabilities as well as 2 insulated side pockets and a wipes pocket.
This diaper bag even comes with a changing pad and 2 stroller straps for easy on-the-go experience. It also fully opens so you can get easy access to all of your baby's things quickly.
miss fong Leather Diaper Backpack with Changing Pad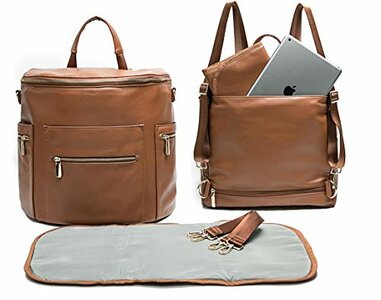 Our Rating: ★★★★
Review: Up the luxury of your backpack diaper bag and get one in brown leather like this one from miss fong. It is not only stylish but also durable and highly functional. Made from 100% soft Pu leather with a waterproof nylon lining, you know that you're getting high quality.
It has a huge main compartment with 7 outer pockets and 9 inner pockets for maximum organization. You can now fit all your baby's needs without the bag look too bulky. What's more, you can even bring along your tablet.
Frequently Asked Questions
How to Organize A Backpack Diaper Bag?
For first time parents, you might think that organizing a diaper bag is daunting. Of course, you'd never want your baby to go without. The rule of the game is it's better to overpack than have something missing when you need it. You should have a baby travel checklist to help you make sure that you'd bring everything you need.
To keep the tons of baby essentials organized, here are a few tips you can do:
Have designated places. Your backpack diaper bag will have tons of compartments and pockets. Assign things to each, and always keep them there. A designated pocket should be your stuff while others can be baby food, baby wipes, etc. Don't mix up pockets when reorganizing so you won't get confused.
Use exterior pockets for food/immediate necessities. Front and side pockets should be utilized for things that you'll need often or at once like baby wipes, baby bottles, utensils, etc.
Try to keep similar things beside each other. In the main compartment, try to keep things with similar stuff so that it's easy to remember where everything is. Clothes should be with other clothes, snacks with other snacks, diapers with wipes and changing pads, etc.
Can I Use A Regular Backpack As A Diaper Bag?
There's nothing wrong with using a regular backpack for your baby. If you're on a tight budget and you already have a backpack at home, that's alright to use. The main reason why most just prefer a diaper bag designed for backpack configuration is that these are specifically built to have more compartments than regular backpacks.
If you can organize your baby's essentials efficiently with the limited compartments in a regular backpack, then all's good.
How To Turn A Backpack Into A Diaper Bag?
Typical backpacks only have one huge compartment and another small exterior pocket. One thing you can do to keep your baby's essentials organized with the lack of compartments is to invest in bag organizers.
Bag organizers are small, flexible mini-bags that can add compartments inside your backpack. That way you can just bring out the mini-bag that you need instead of scouring all over your bag.
Conclusion
Backpacks are convenient, especially as your little one's diaper bag. Backpack diaper bags have roomy main compartments with lots of smaller pockets for better organization. But what really sells it is its ability to keep your hands free to do anything you want.
Now you don't need to worry about your bag slipping while chasing around your toddler or moving from place to place. So what are you waiting for? Keep your travels hassle-free and get yourself a backpack diaper bag today!