10 Best Toys & Gift Ideas for One-Year-Old Girls
When it comes to little girls, most people think that getting them a doll or two is enough. But let's face it. Having a dozen dolls can get boring pretty fast.
Little girls can also appreciate other types of toys that do not involve cooking and dolls (but you can still get those for them!).
Here are a few gift suggestions you can look into if you're looking for good birthday or Christmas gifts for your little girl:
Best Gifts for One-Year-Old Girls
Best Learning Mushroom Garden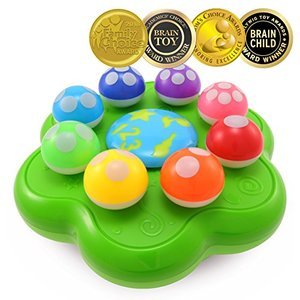 Rating: ★★★
Review: The Mushroom Garden doesn't look like much. Actually, it looks like simple decoration at first glance. But it has won many awards for its sheer innovative gameplay!
Let your little girl play lots of games with this set. She can learn new colors, discover her basic numbers, and even just roll them around. Whatever she wants to do, she can do it! You can even introduce her to the basics of memory games and patterns, since the mushrooms can light up in specific sequences. That's logic, dexterity, problem solving, and fine motor skills among others down to pat!
LEGO DUPLO Al-in-One Pink Box of Fun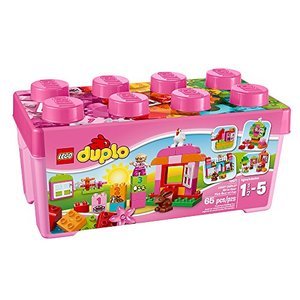 Rating: ★★★★
Review: The great thing about toy blocks is that they can be played by everyone, no matter the gender nor the age. You could be one or forty, and LEGO would still be a relevant past time to indulge in!
The LEGO DUPLO set is a great way to introduce your little girl to the world of toy blocks. This pink-theme collection is a sure way to make her little heart flutter, and build her dream princess' castle or tiny cottage. It even has blocks that teach her basic numbers and animals so she's even learning new skills along the way.
Leap Frog Shapes and Sharing Picnic Basket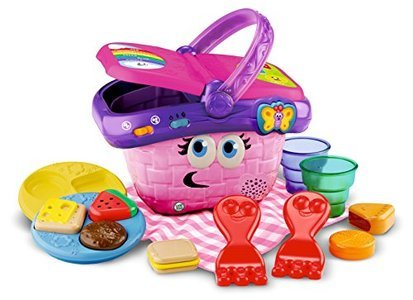 Rating: ★★★★
Review: Ahh, who doesn't love a picnic, right? Get your little girl this adorable picnic set, complete with pretend food and brightly colored utensils. You can even store all the toy pieces in a cute picnic basket!
Level up your child's fine motor skills by having her sort, match, stack, and fill pretend food to her heart's content. You can even play tea party with her to up her social skills. While you're at it, learn new songs every time she lifts the basket's lid. If I'm being honest, I would have been ecstatic if I got this when I was a little girl. She'll surely love playing with this set!
Playz 6-Piece Princess Castle Play Tent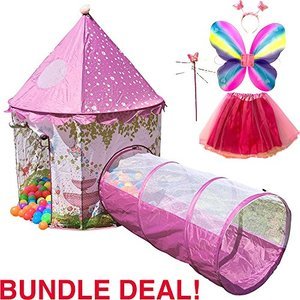 Rating: ★★★★
Review: Turn your little girl's princess dreams into a reality with this amazing play tent! It's pink, fairytale-themed, and even comes with its own costume set! I'm sure she'll be over the moon!
This is a great pretend castle when your precious baby girls just wants to pretend that she's a princess ruling over her kingdom. Having a small space she could call her own (even if she's only two) will make her feel super excited. But it also encourages her to exercise! She can play with pit balls and crawl in the tunnel. But what's all the more great is that this play tent is a great toy to have for parties or sleep overs. It's assured that any kids over at your house will have the time of their lives!
Fisher-Price Laugh & Learn Smart Stages Chair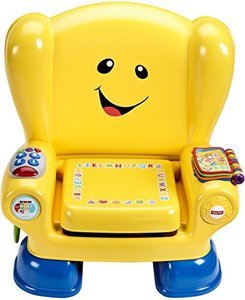 Rating: ★★★★
Review: While getting active is great for any child, you should also encourage your little girl to have a quite play time. This fantastic smart chair is the perfect solution!
It has over 50 sing-along songs that your baby can learn, and even phrases she can study. All she has to do is to sit on the seat to activate the toy. But that's not even the best part. This toy is a bargain, trust me. It has three different stages that changes as your baby grows up. Each stage plays different songs and sounds depending on what stage your baby wants to learn. Let me tell you, this chair is worth getting for that feature alone!
Fisher-Price Little People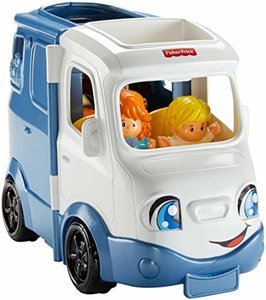 Rating: ★★★★
Review: It comes as no surprise that little girls love playing role play games. This is probably why dolls are such a big hit with them! Get your precious girl a nice doll set complete with a camp van!
While she's plays to her imagination, she can also learn up to 50 new songs, sounds, and phrases all about camping in the great outdoors! Teach her something about animals, camping, and fishing. You never know, it might become a new hobby for her in the future.The campfire that comes with the set even glows, which is great wonder for kids this age. The best part? You can easily store all the pieces in the van for when you're on-the-go.
FUNERICA Big Duck Bath Toy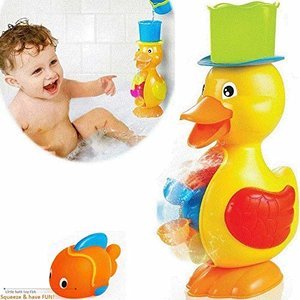 Rating: ★★★★
Review: Keep bath time entertaining! Your energetic toddler will definitely be delight with this new toy. It will keep her super busy playing and splashing around while you try to clean her up!
This interactive duck is a great way to develop your child's hand eye coordination in a fun and engaging activity. Pouring water inside a duck can be highly entertaining after all. Plus, she gets to hear the duck's surprised reply and watch the brightly-colored wheel spin round and round. To be honest, even I find it super fun to watch!
Fisher-Price Brilliant Basics Stroll-Along Walker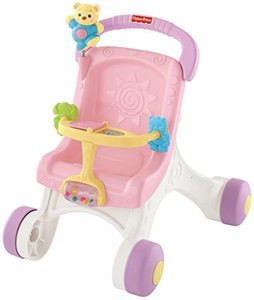 Rating: ★★★★
Review: This time in your little one's life is very important. Learning to walk is a vital skill she needs as she grows older. So a toy that doubles as a walker is a great choice!
This little pretend stroller can carry your child's doll as she takes her first wobbly steps. Talk about teaching her to be caring and nurturing! With the help of this sturdy toy, baby can consistently exercise walking while music plays along. It even has a few other trinkets that can keep her busy like spinners, a roller bar, and even a flipbook!
VTech Spin and Learn Color Flashlight
Rating: ★★★★
Review: Babies are naturally curious, and that makes flashlight so extraordinary in their eyes. But this flashlight isn't any ordinary flashlight. It can beam up to 5 different colors!
Each color is safe for your baby's eyes so you don't need to worry about visual impairment. It also comes with over 50 different songs, sounds, and phrases that your little child can sing along to. It doesn't just teach music! But it can also help your kid recall animal names, different colors, and the first few numbers. All she needs to do is press the buttons.
Organic Farm Buddies Plush Toy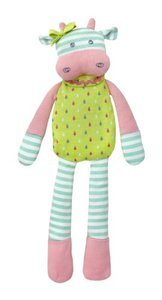 Rating: ★★★★
Review: Stuffed animals are great companions for your precious baby girl. Not only do they provide endless entertainment, but stuffed toys are also known to help with her psychological development.
Aside from that, Belle the Cow is also made of 100% certified organic cotton which not only safe for the environment but also safe for children. This stuffed toy is also filled with sustainable corn fiber which is also hypoallergenic, perfect for babies with sensitive skin! You can bring Belle along everywhere you go.
Conclusion
See, there are a lot of choices when it comes to toys for little girls! And the best part?
They can even learn new skills along the way. Remember that at one years old, your child is developing at a rapid pace so getting toys that help with her development is a great idea!
Toys can be used for more than just entertainment after all. So give her a gift that's both fun and useful!
Written By Barbara Jenkins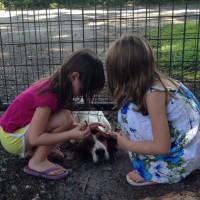 Proud Mother of Two Awesome Kids. When not looking after them, she likes to blog here.