10 Best Toys & Gift Ideas for Eleven-Year-Old Girls
Tween girls are mostly interested in a handful of things, which make it a bit easier to buy gifts for them. Either they are obsessed with looking their best or they just want to feel a little bit more independent. Acting all grown up is something tween girls around the world aspire to do.
Well, they can't drive yet nor can they be allowed to go to the mall alone, but there are activities that you can permit your daughter to do without you. Trust me, that will mean a lot to her.
But what exactly will you give her? Here are a few gift recommendations you can check out:
Best Gifts for Eleven-Year-Old Girls
Dawn DeVriesSokol Doodle Diary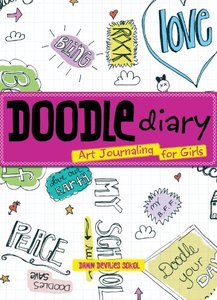 Rating: ★★★★
Review: Writing a journal is fun. You get to write out your thoughts, and have the chance to read them again after a few years. Journals are a great way to look back into memories that would've been lost if you didn't jot them down.
But not everybody loves writing. So the Doodle Diary is actually a great way for your daughter to record her memories without having to think too much about structure or content. She can just draw what she feels like drawing! It's super easy to do, and the journal is adorable. She can even make use of different kinds of mediums from colored pencils to watercolors. She can also paste pictures and other memorabilia in it. It's super casual and super fun, and I know your girl will love adding on to her journal every day.
Cool Maker Pottery Studio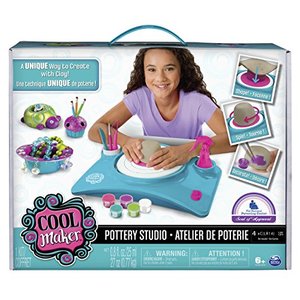 Rating: ★★★
Review: Pottery classes can be expensive, and not many kids would actually appreciate such an activity. But movies make them look so easy and fun to do, so your daughter may want to try it out. A cheap but effective option is to give her this cool Pottery Studio.
With this set, your kid can try sculpting her very first masterpieces. It's super easy to use so she can even do it all by herself. All she needs to do is place a clay disk on the turntable, be armed with a water spray and shape it while it spins. After that, all she needs to do is let her clay project dry. She can then design it any way she wants with metallic paint and many more.
ALEX TOYS Craft Paint and Sip Ceramic Mug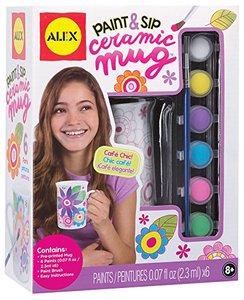 Rating: ★★★
Review: I get that not everyone is artistic enough to make arts and crafts projects from scratch. And, sadly, your daughter might be one of them. Don't fret! You can still keep her happy by giving her a ceramic mug that she can decorate on her own!
It's already pre-printed so all she needs to do is color inside the lines. Super easy but still satisfying. After decorating, your daughter can choose what she does with it. She can use it at home for drinking water, juice, or hot cocoa. She can use it as a soup bowl or an ice cream holder. But she can also decide to give it to someone special, like you or her best friend or whoever!
Craft-tastic Inspire Poster Kit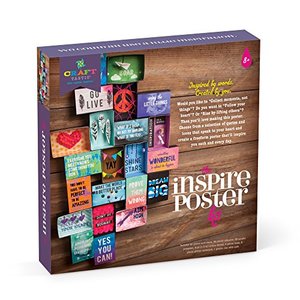 Rating: ★★★★
Review: At eleven, your kid may already have a space of her own. It doesn't need to be a room. Having a desk to call her own is super important to her already. Giving her the opportunity to design her space will have her happy for days!
A great and Instgrammable way to design her space is with posters that inspire. In this kit, she can choose from over 36 different quotes that will keep her chipper and ready to start her every day. It has lots of design accessories she can use to help jazz up her space like glittery cardstock and even acrylic pompoms. Plus, you will know that your daughter will get a daily dose of encouragement and empowerment daily.
Spontuneous The Song Game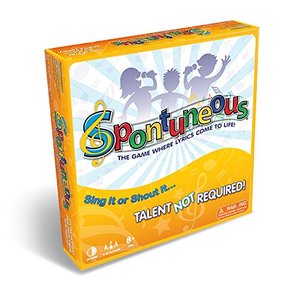 Rating: ★★★★
Review: No one is too old for board games! One such game that is both novel and not that well-known but is still fun to play is Spontuneous. If your kid loves music, she'll totally rock this game!
She could play it with her friends, her family, her schoolmates, whoever she wants! And no one even needs to be musically inclined (so no worries if you can't sing tune to save your life). All you have to do is be fast enough to name a song that has the chosen word in it. The game is super simple but it provides lot of fun to all players!
HanStamping Personalized Name Stamp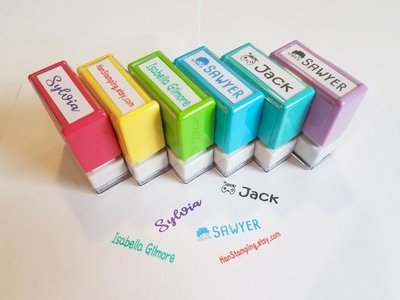 Rating: ★★★★★
Review: Now that your daughter is eleven-years-old, she would have acquired quite a number of belongings. Most especially if she's an avid reader. Make organizing her things easier for her by giving her a personalized name stamp.
Having an adorable name stamp can help her keep her bring together all of her books in one unified library. She can stamp her name inside. This is super helpful if she loves lending her books to her friends. Now, everyone knows whose book it belongs to. She can use her name stamp for anything she wants! She can label her notebooks, books, stationery, and so on.
4M Mosaic Butterfly Kit
Rating: ★★★★
Review: Mosaic art is beautiful, and there have been many wonderful mosaic art pieces throughout time. If your daughter is a budding artist, dabbing into this kind of art form might be a nice exercise for her.
When she finishes this mosaic butterfly, it will look grand! And the best thing about it? It's super easy to do! All she needs to do is peel and stick mosaic pieces into a pre-cut board. Then, it's just a matter of placing the picture in the mould, pouring cement, and waiting for it to dry. I'm sure she'll be super proud of her art piece, and would want to hang it somewhere everyone can see!
Melina Hammer Kid Chef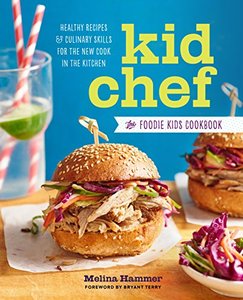 Rating: ★★★★
Review: Most kids' cookbooks just make easy-to-follow recipes, and there's nothing wrong with that. But why stop there when another book can provide so much more? Get the Kid Chef to know what I'm talking about.
Not only will your daughter learn over 75 new recipes to healthy and well-balanced meals, but she will also learn new cooking techniques and tips as well. She'll know how to properly create a grocery list, what the must-have foods are, how to stock the pantry, and many more. That's not to mention that the book also helps her learn how to use a stove, handle knives, and many more useful skills. It's a very thorough book that's still easy for an eleven-year-old to follow.
Klutz Nail Style Studio Book Kit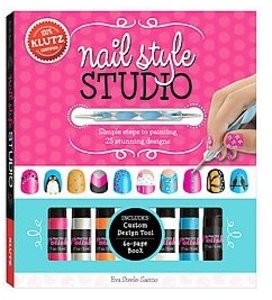 Rating: ★★★★★
Review: Your daughter is now at an age where looking her best is important to her. One such beauty habit she might want to practice is painting her nails. Well, the Nail Style Studio is perfect for that!
With this kit on hand, your budding fashionista can easily paint her nails and even make unique designs. She can make use of a custom two-sided dotting tool for better line and dot-making. Does she want crisp designs and geometric patterns? Well, the stick-on stencils included in this kit will come in super handy. She can also get lots of nail art inspo from the book that comes along in the set.
Fujifilm Instax Mini 9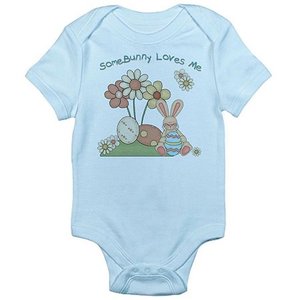 Rating: ★★★★
Review: One hobby that is making a huge noise nowadays is photography. But not just any kind! People everywhere are clamoring for a throwback to the times where you can instantly print pictures. So why not give your daughter an Instax Mini today?
This little camera looks super nice and will be an instant hit with her! Just make sure to provide her with enough film to start her out. She doesn't need to have a lot of photography skills since this is a point-and-shoot style of camera. That means it's super easy and fun to use. Plus, she can instantly get her pictures printed. It even feels so retro (which is perfect for hipster tweens).
Conclusion
There's not a lot happening at eleven-years-old, if I'm being honest. Your little girl is still in a transition stage where she's still too young for some things but not entirely young for others.
To describe it simply, being eleven means wanting to be a grown up but she knows she's not quite there yet. So give her space and allow her to do things on her own.
With the help of fun activities, you can make her independence both enjoyable and worthwhile for the both of you.