10 Best Toys & Gift Ideas for Eight-Year-Old Boys in 2020
Curiosity and independence can yield a lot of productivity if encouraged correctly. Right now, your eight-year-old is still brimming with unbridled curiosity and can exercise slightly more independence.
So why not give him things that will allow him to experiment and gain more experiences in the world. There are a bunch of activities that he can do to help him discover new things in fun and engaging ways.
Here are a bunch of recommendations to help you get started:
Best Gifts for Eight-Year-Old Boys
4M Potato Clock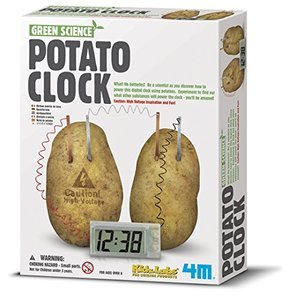 Rating: ★★★★
Review: Experiments are a really fun way to keep your kid engaged in learning. Hands-on activities allow them to feel more accomplished and it also helps them understand concepts better. Plus, who doesn't like feeling smart, right?
Start of your son with this awesome Potato Clock kit. It's super easy and interesting to do. Who knew that two potatoes can power up a digital clock, right? This kit includes a digital clock, wires, and prongs. You're the one who'll be providing the spuds. Let me just say that if your kid adores science, you can't go wrong with this kit! It's a good starting point for anyone who loves to experiment.
LEGO Chain Reactions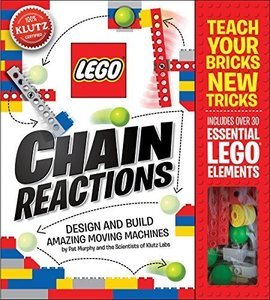 Rating: ★★★★★
Review: What I love about LEGO is that they offer endless ways to playing, and still find new directions to go to. Now, you can even create machines out of there LEGO blocks!
LEGO Reactions is a book that comes with 33 special LEGO bricks. Your kid can combine these special units with the regular LEGO bricks from his collection to create brand-new machines! I mean, think about it, LEGO sets that swing, pivot, lift, and even drop! And it's not all fun and games because your child can also learn the basics of physics aside from enhancing his building skills.
National Geographic Dino Fossil Dig Kit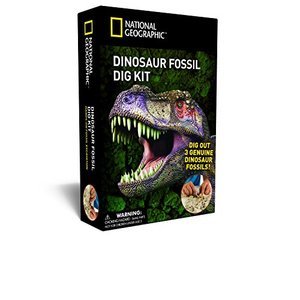 Rating: ★★★★
Review: Does your son want to be an archeologist or paleontologist in the future? Or someone who goes on adventures to hunt for old treasures and whatnot? Well, teach his the basics of this trade with this Dino Fossil Set!
With this awesome kit, your kid can dig for 3 different dinosaur fossils! I mean, they're not real but they sure look like they are. It's a great way to widen your son's imagination as well as each him valuable pre-historic lessons. Just the thrill of getting to dig up something all on his own is bound to make this set very much worth it.
Scientific Explorer Disgusting Science Kit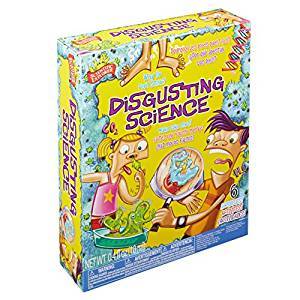 Rating: ★★★★
Review: It's not just in the movies. Little boys really do find yucky things fascinating. Trust me, I know from experience. They'll probably love this Disgusting Science Kit.
Think gross body parts and bodily byproducts. This set will tell you all about them. Your little man will just love making his own smelly intestine, gooey snot, droopy blood, and even yucky molds. The best part of it all? It'll all feel very realistic since he'll be using petri dishes and a magnifier. Although I'd want to suggest you stay clear away from his experiments, it might be best to supervise him while he does them.
Nature Bound Bug Catcher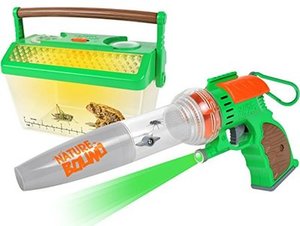 Rating: ★★★
Review: We've talked dinosaurs, but you can also teach him all about what's still existing! Get your son this awesome Bug Catcher for an exciting time outside!
It's not just the butterfly net we grew up with! This bug catcher is much more innovative and top of the line. It has a built-in magnifier, a habitat a vacuum, and even a LED laser light so you can use it day or night. Gameplay is super simple but still lots of fun. Plus, your child can learn a lot of new stuff about bugs and other insects he might catch.
Kids Personalized Dinosaur Watch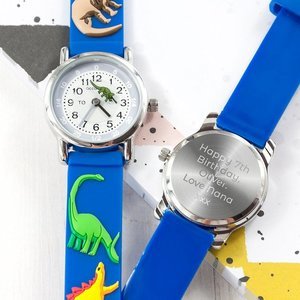 Rating: ★★★★★
Review: Watches are a very important accessory to have since it's also very functional. Teach your kid how to tell time with an adorable dinosaur analog watch.
Honestly, if you want him to get into the habit of wearing a watch, this is the time to do so now. I myself grew up not wearing a watch and now find it hard to have something around my wrist. It's uncomfortable. So give your son an incentive in wearing his watch by engraving a personal message at the back.
Educational Insights Sprout & Grow Window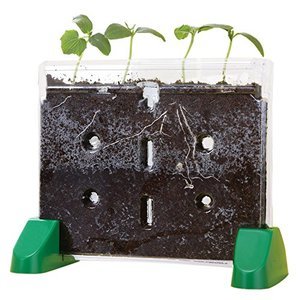 Rating: ★★★
Review: Does your little man seem to like gardening and watching plants grow? Well, why not give another perspective with this fantastic botany set!
In simplest terms, this is a transparent planter. And that's what makes it so incredible. With this planter, your son can watch his plant grow up top and down under the soil. He witness the roots weave and tangle around each other, while the leaves above sprout and grow. The cute and minimalistic look adds aesthetic points wherever he decides to put it, whether on a windowsill or on a tabletop.
Monopoly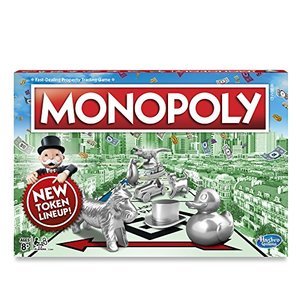 Rating: ★★★★
Review: It is time! Your kid is old enough to learn the classic of the classics, the best of the best, the ultimate board game to trump all board games … Monopoly!
It's basically a necessity to learn how to strategically play Monopoly. He'll be playing it with his family and friends until he's old and gray. Teach him how to buy, sell, and scheme his way to the top. In Monopoly, there is no friendship! Teach him how to corner people and bankrupt them… all in the name of fun, of course!
Mario Kart 8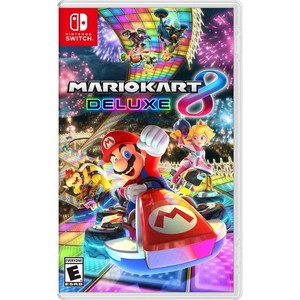 Rating: ★★★★★
Review: Come one, we live in a highly digitized world, and that means that some toys are adapting to that genre as well. So it's definitely alright to give your son a video game, especially if it's Mario Kart!
It's a multi-player game that every one of all ages can love and enjoy playing together. You can invite your son to a friendly competition, or watch him play with his friends. Mario Kart 8 is an awesome way to bond with everybody or play alone. He doesn't even need to be in the same room as the other players! Through online mode, your son can battle relatives who are away from home.
Razor Ripstik Casterboard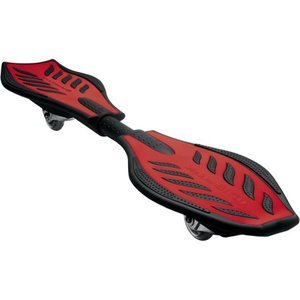 Rating: ★★★★
Review: Skateboards are fun, and they're still super in! However, why not upgrade your son with a more futuristic version: the Casterboard.
This one from Razor is shorter than the original rip-stick but can do so much more tricks because of its light weight. It's durable and is made from high-tech polymer as well as quality urethane wheels. Of course, like other toys of this nature, I cannot guarantee 100% safety. It still depends on how your kid plays with it. On that note, it might be best to get him safety gear as well like helmets, elbow pads, and knee pads.
Conclusion
Growing up is not always fun and games. Good thing for your son, it's not that time yet. He can still play to his heart's content with no worries at all.
But make sure to give him a little bit more challenge now that he's a little bit older! Give him activities that exercise his intellect and creativity. Allow him to explore the world while playing.
Written By Barbara Jenkins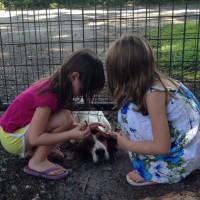 Proud Mother of Two Awesome Kids. When not looking after them, she likes to blog here.