Top Running Shoes for Kids in 2022
Once your kid knows how to move, it's a marathon from then on. Kids love running around the place, wherever that may be, so the best way to keep them safe is to offer protection. And what better protection for their feet than kids' running shoes!
Kids' running shoes come in many shapes and sizes. From the materials they are made to the actual design of the shoes, you'll have tons to choose from. So how will you know which are the best pair to get for your little runner? Discover how to buy great running shoes for kids by reading on below!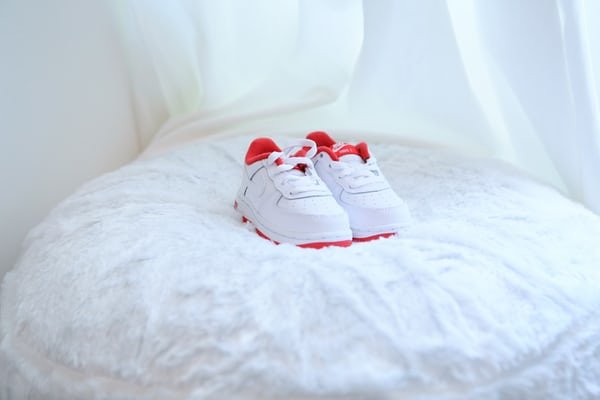 Our Top 10 Picks for Kids Running Shoes
Kids Running Shoes Buying Guide 2020
Shoes Fit Differently on Each Foot Type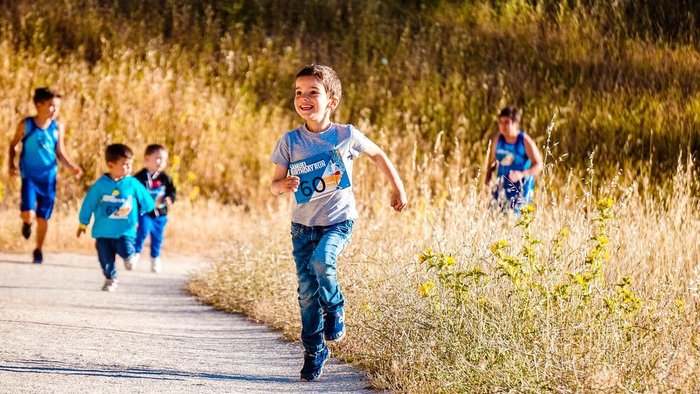 First things first, you need to know that not all pairs of feet come in the same shapes. Some people are more flat-footed while others have a more prominent arch. The same goes for little kids, and their foot type can make their shoes fit differently on their feet.
Flat feet are the ones with a low arch, or a minimal gap between the floor and the arch of the feet. This foot type requires better control in motion so you need to look for shoes with a rigid heel counter and a sturdy foam.
High-arched feet are the ones that have a high gap between the arch of the feet and the floor. This foot type needs better shock absorption because they are rigid in movement. You need to look for shoes that are flexible with a thick, cushioned midsole.
Neutral feet are the ones that have neither high nor low arch height with regards to the floor. Neutral feet are the luckiest and can wear most types of shoes.
How To Tell If The Shoe Fits Properly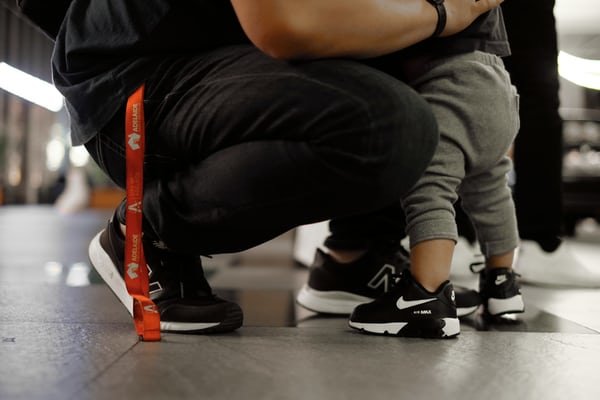 Make sure that the bend of the shoe is under the ball of your kid's foot. This offers the best support. If it bends farther or behind, the shoe might be too big or small on your kid. But if that's a bit to vague, here are a few other tips you can do to tell if your kid's shoes fit them properly: - Measure the longest toe to the end of the shoe. There should be an index finger width from point A to point B. - Let your kid walk. Their heels should be stable and not going in and out of the heel counter. - Ask your child if they are feeling any sliding while walking or running. If so, the shoe is too big.
Laces or Velcro: Which To Get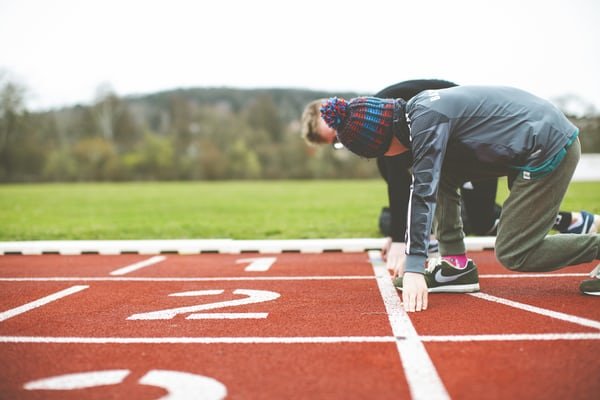 Either style works and it's more of a preference when choosing between the two. If your kid loves running and runs for sport, then laces are the better option. They have a more secure fit and offers better support during a run.
Velcro shoes are better for younger kids who want to be a more independent. They are easier to put on and take off.
The Best Running Shoes for Kids
New Balance Kids' 680 V5 Alternative Closure Running Shoes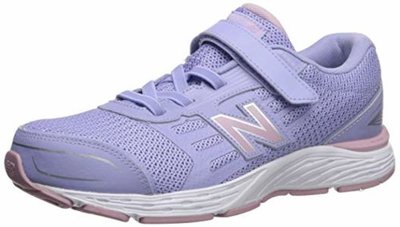 Our Rating: ★★★★★
Review: Sometimes the best way to guarantee great performance is to go with vetted brands. New Balance is one such brand, and the 680 V5 running shoes is a great model to get from them. It is made from textile and synthetic material with grippy rubber soles.
Your kid will also love the comfort you can get from their injection-molded EVA midsole and ABZORB heel. Support is no problem because its pad cushions for better shock absorption. What's more, you can get them in tons of different colors!
UOVO Girls Running Shoes, Lightweight Mesh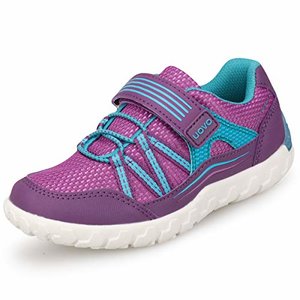 Our Rating: ★★★★★
Review: Your little girl will definitely love this trendy pair of running shoes. It's fashionably made from glitter mesh and shiny synthetic leather. It's also super comfortable because of its EVA insole which provides amazing cushioning as well as its bouncy EVA foam outsole.
Its elastic mesh fabric also makes this pair of shoes very breathable. These running shoes come in a Velcro, hoop and loop design so that your little runner can easily put it on and off without your assistance.
DADAWEN Breathable Mesh Lightweight Running Shoes
Our Rating: ★★★★
Review: For the ultra-breathable pair of playtime shoes, you should get this pair from DADAWEN. It is made from synthetic mesh fabric that is quick to absorb sweat and can be used for all seasons. Plus, it has a reinforced round toe cap to protect your little one from collisions.
These running shoes are lightweight and ultra-soft to keep your child comfortable throughout the day. It even has foam insoles as well as slip-resistant outsoles. But what makes these running shoes amazing is their versatility. You can even use them for other sports and going to the beach!
Abertina Lightweight Breathable Running Shoes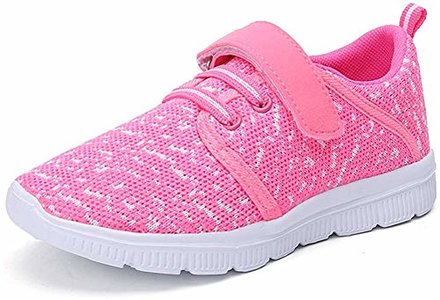 Our Rating: ★★★★
Review: Even running shoes are great footwear for kids in the everyday setup. Since little children are usually active, wearing running shoes like this pair from Abertina is beneficial in school or while playing.
This pair of shoes is made from light fabric and has a comfortable EVA soft memory foam insole. It is lightweight and easy to walk in. Plus, it has a solid toe cap anti-collision design to protect little feet from getting hurt.
ASICS Kids' Contend 5 PS Running Shoes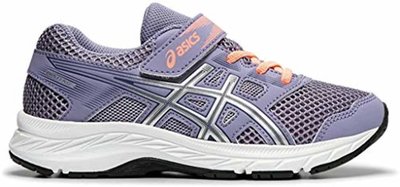 Our Rating: ★★★★
Review: Another well-known brand because of their outstanding performance in sporty footwear is ASICS. The Contend 5 running shoes from this brand is perfect for little ones who love moving all day. It has improved bounce back characteristics that keep your child comfortable and protected throughout the day.
Plus, it is made from breathable mesh fabric and has structured midfoot support for better structure. This pair is also lightweight and has moisture control.
Lingmu Breathable Non-Slip Running Shoes
Our Rating: ★★★★★
Review: Now if your kid likes to look cool in bright neon colors, these pair of shoes from Lingmu will definitely be a winner in their eyes. They are made from breathable mesh with a lightweight rubber outsole. Their soles are also shock-proof and non-slip so your child can run all they like while being secure.
What's more, this pair of running shoes is designed with great arch support to help decrease pressure during the day. Your kid can also easily put these shoes on and off without your help because of the Velcro, hook and loop fastening.
Littleplum Lightweight Breathable Unisex Shoes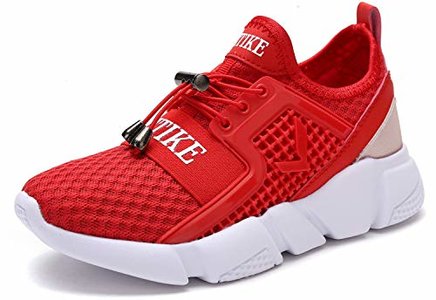 Our Rating: ★★★★
Review: Do your kids prefer to look hip and cool? Well, this pair of running shoes from Littleplum is designed to look like the trendy athletic sneakers that many adults are wearing today. They are made from stretch mesh which is known to be breathable, lightweight and sweat-absorbing.
This pair of running shoes feature vertical and horizontal grooves which provides better flexibility in all directions. It also has amazing cushions that keep your child safe and comfy even while running or jumping. Plus, the slip-on design of these shoes make them an easy wear for little ones!
Santiro Kids Shoes, Breathable Knit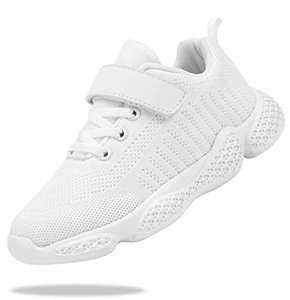 Our Rating: ★★★★
Review: Going for the 'simple is beautiful' idea? Well, you will definitely love the solid colors that these shoes from Santiro come in. They are made from knitted mesh fabric which has amazing air permeability. Say no more to smelly feet!
It also has a high-elastic MD outsole which is known to be soft, anti-slip, and very shock absorbing. This pair of shoes also an anti-collision toe caps that protect the little feet inside them. It's great for both indoor and outdoor activities that range from casual walks to hiking.
UOVO Boys Waterproof Slip Resistant Running Shoes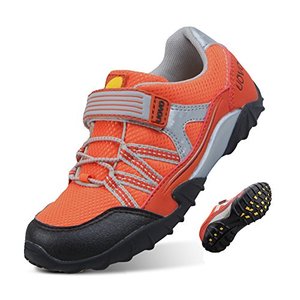 Our Rating: ★★★★
Review: Let your little boy run wild and free with this pair of running shoes to protect him. It is made from skin-friendly textile lining, breathable and waterproof vamp, and non-slip outsole. It also features deep flex grooves for better traction so your kid won't skid and fall while running.
This sturdy pair of shoes also has a reinforced heel paired with an anti-collision toe cap for maximum protection and support. The bungee lacing at the upper of the shoes also gives your little runner better stability and better fit.
MARSOVOVO Lightweight Breathable Casual Sneakers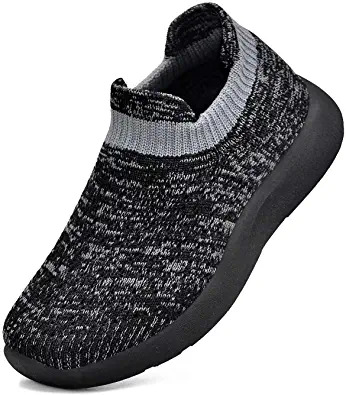 Our Rating: ★★★★
Review: For the ultimate independent little child, you'll definitely love this casual sneakers. It is made from lightweight, breathable mesh that keeps your child's feet dry and comfy throughout the day. It is also non-slip because of its synthetic outsole.
But what makes it a winner in many kids' eyes is its convenient slip-one design. It's just like socks! Your little one can easily put these shoes on and off without needing your help. It's also perfect for many activities, from school to travel!
Frequently Asked Questions
Are Kids Running Shoes The Same As Adults?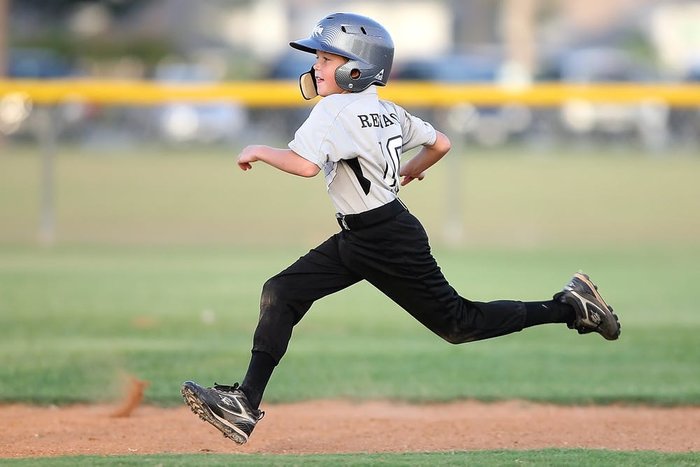 Most kids shoes are designed to look like adult running shoes, so it's not surprising that most people will think that the only difference between the two are size. That's not necessarily true. The structural components of both kids and adult shoes are different.
This is because child movement and adult movement are also not the same. Children are still learning and adjusting to their locomotor skills. They need better protection and support than adults. Even flexibility becomes an issue.
Keeping in mind the mechanical properties of the shoes, you should always endeavour to buy your kids shoes that are specifically made for children.
What Are the Lightest Kids Running Shoes?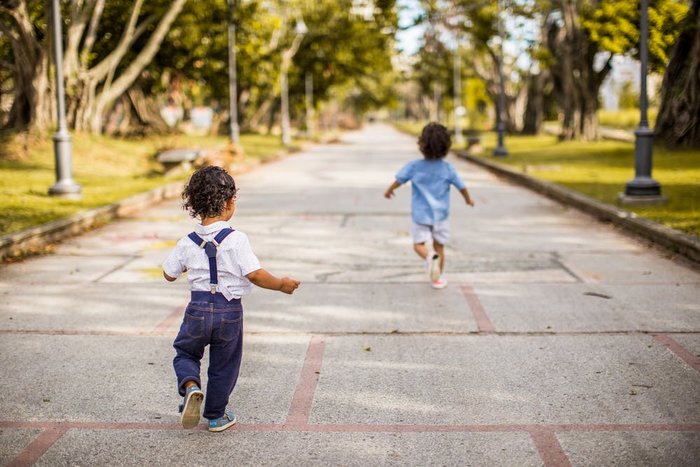 This question is geared towards children who are more serious about running. If you're looking for everyday running shoes your little one can use for typical play time activities, most running shoes will suffice.
The lightest running shoes for serious child runners are made from knit or mess uppers with thin outsoles made from rubber. If you tried looking for lightweight running shoes a few years back, the only consideration in design was the overall weight of the shoes.
But companies today know better. Overall design which includes the performance of midsoles and outsoles, foam pieces as well as the actual weight of the shoes are considered. All in all, lightweight shoes for running now offer better stability, flexibility, and durability without compromising on the weight.
What Are the Best Kids Running Shoes?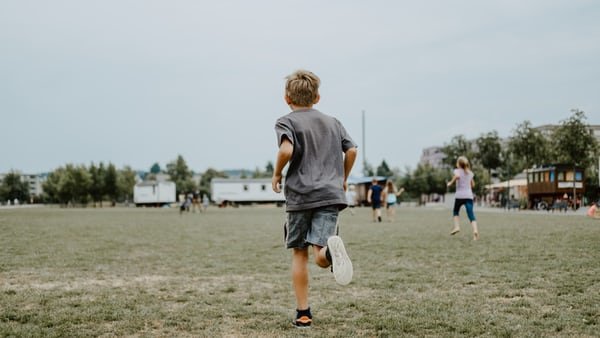 The best running shoes really are preferential at this point. Most kids are still developing their locomotor skills so the most important thing right now is support. Make sure that the shoes fit well and that they stay on no matter what. Ask your child if they feel comfortable while running and that's it.
But if your kid is already showing signs of being serious as a runner, more thought will be required when buying running shoes. It's a good idea to consult different brands and shoe models. Compare how each design is made differently from each other and deduce which pair of shoes fits your kid's needs the best.
Conclusion
Running is an activity that most kids love doing once they get started on moving. But that doesn't mean they're good at it. Make sure that your little one's feet are properly protected by buying running shoes. It should fit correctly so that accidents like falling down will occur less.
Plus, there are different kinds to choose from. Your kid can pick from hundreds of colors and patterns. Not to mention, running shoes are made from different materials as well like mesh and suede. So there's really a ton of options open to you! What are you waiting for? Let your kid loose and get them running shoes today!