Best Night Lights for Kids in 2021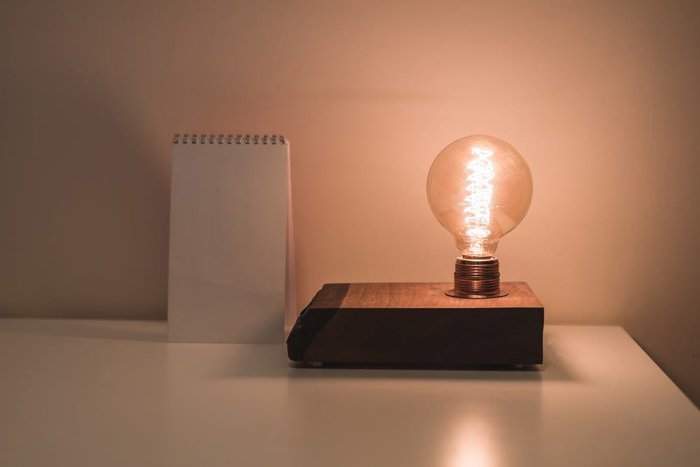 One reason why night time is so scary for most kids is because they can't see a thing. Being blind in a room can be a disorienting experience in itself. Being blind and alone can be terrifying. Don't let your child wake up scared and install a night light in the room.
A night light can gently illuminate the area by casting a soft glow around the room. It is dark enough to allow your kids to sleep comfortably, but well-lit enough to help them see the room clearly. Discover which night lights to get for your little ones with the recommended list below.
Our Top 10 Picks for Night Lights for Kids
Night Lights for Kids Buying Guide 2020
Traditional vs. Smart Night Lights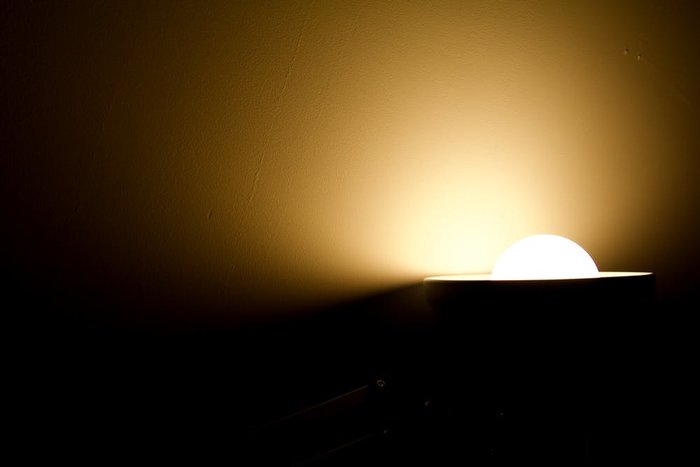 With advancements in technology continuing to make our lives easier, it's no surprise that even night lights now come with different features. Sure, not everybody might need extra features so a traditional night light might be sufficient enough for you.
But for others who just need to have the latest in technology, indulge your inner technophile with smart night lights. There are those that can be voice activated, have auto-dimming functions, and many more features to enjoy.
Get a Child-Friendly Night Light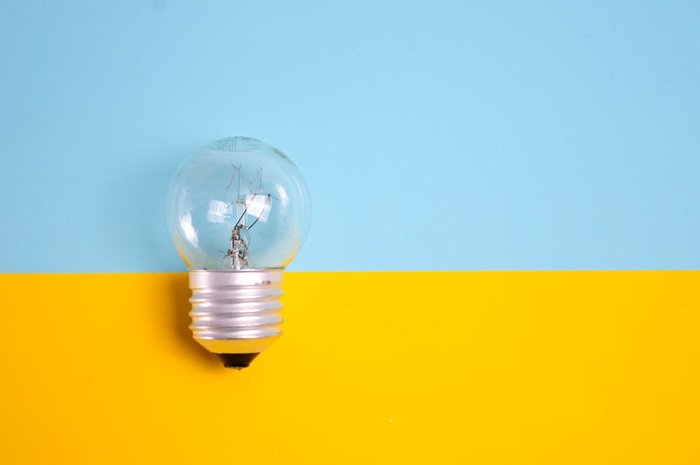 Even the design of your night light is important to consider when buying one. You should make sure that the design is child-friendly. So a night light that gets too hot is out of the question at it poses a burn risk. LED is a great alternative for this since it stays cool while in use.
Your night light's frame should also be sturdy and not prone to shattering as kids can be clumsy when curious. You should also inspect that the night light does not have any small parts that your kids might accidentally swallow.
Get a Night Light That Matches Your Decor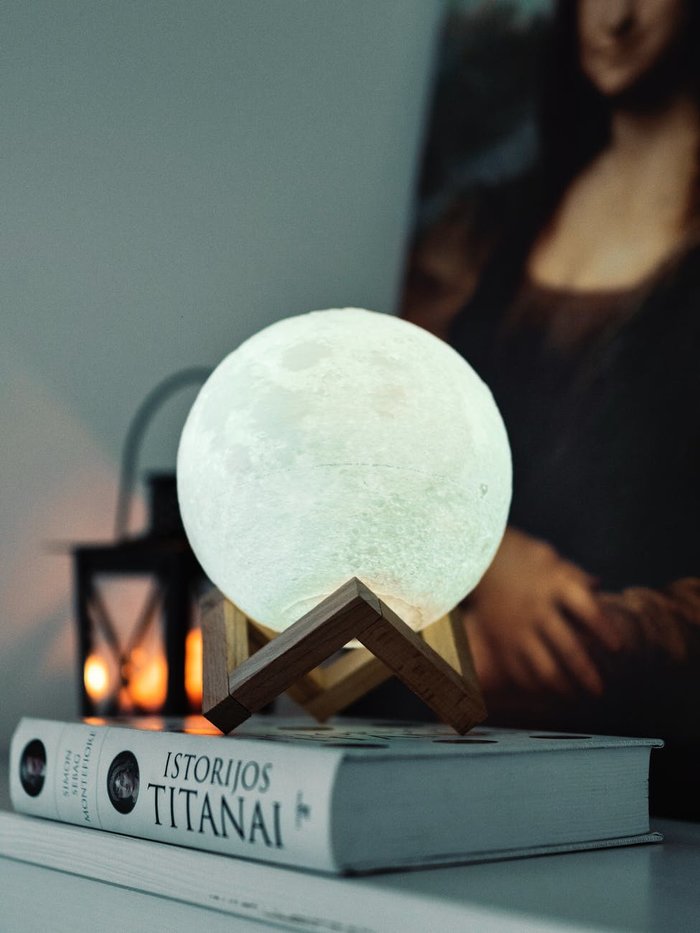 While aesthetic isn't a big deal for some people, it's also a good idea to keep your décor in mind. Get a night light that matches how your room looks like so that it doesn't look like clutter.
Of course, you can also get night lights that have fun designs if you want it to stand out. Whatever you choose, matching your night light with the décor can be advantageous.
The Best Night Light for Kids
GE Color-Changing LED Night Light, 2 Pack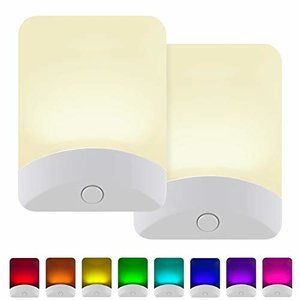 Our Rating: ★★★★★
Review: Plug-in night lights are not a new design, and their one of the most convenient out there. But plug-in, color-changing night lights? That's a whole new level entirely! You can choose from red, green, blue, pink, orange, purple, and teal. This is a perfect way to set a mood to any room in your house, or let your kid choose his favorite color from the bunch!
This night light also has three lighting modes to choose from: Solid Color, Color-Changing, and Soft-White. It can even turn on and off automatically which helps reduce energy consumption and save you more money!
Vont LED Night Light, Smart Dusk to Dawn Sensor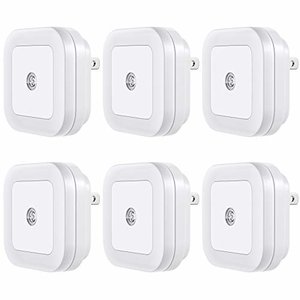 Our Rating: ★★★★★
Review: While this night light from Vont only has one color, its other features make up for it. it is also plug-in which is very convenient for you. It also has a Smart Illumination feature that allows the light to turn on automatically when the room is too dim.
Plus, this night light is energy efficient and really compact. You can fit it in small spaces and it doesn't obstruct other outlets. If you prefer minimalist aesthetics, this is the night light for you!
AUSAYE Mushroom LED Night Light, 2 Pack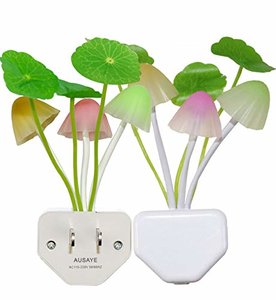 Our Rating: ★★★★★
Review: If your kid has a whimsical nursery, think Alice in Wonderland or tropical rainforest, you might like to consider this night light from AUSAYE. The light comes from LED mushrooms that sprout from the outlet, and are surrounded by tall leaves. It'll look right at home in your kid's themed room!
The light itself isn't too bright nor too dim which is nice since it wouldn't hurt your eyes. This night light also has a built-in sensor so that it automatically turns on or off when needed!
Mind-glowing 3D LED Moon Lamp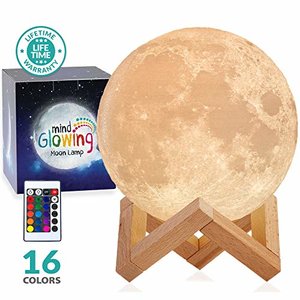 Our Rating: ★★★★★
Review: If your kids love the night gazing, give them their very own moon in their room. This night light is shaped like a moon and even has shading to mimic the moon's craters. It also comes in its own beautiful wooden stand.
What's more, this night light is easy to operate. You can choose between touch or remote control operation to pick between 16 different colors, 5 light modes, and even how bright you want your light to be. It's a really pretty night light to have in your room!
VAVA Home VA-CL006 Night Light
Our Rating: ★★★★★
Review: Are you looking for a simple desk night light? Well this one from VAVA Home has a minimalist design and is even baby sage. It is made from toy-grade ABS and PC materials and features anti-blue light LED to help protect your child's eye.
Controls are even easier! Just touch the top to turn on or tap twice for timer mode. You can also conveniently recharge it by connecting it to a micro-USB cable. And since its battery-operated, you can even bring this night light with you when you and the kids travel away!
myCozyLite Red Night Light, 2 Pack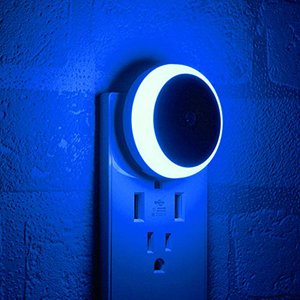 Our Rating: ★★★★★
Review: Tired of the usual soft white hue that traditional night lights provide? Well, why not get one that gives off a warmer tone like red or orange? This one from myCozyLite is plug in and has a minimal design which makes it convenient to use.
Plus, it emits a soft red light that is both comfortable and reassuring. You don't need to worry about hurting your kid's eyes or disturbing their sleep because studies have shown that warm light doesn't have any negative side effects on sleep patterns!
Lumipets LED Nursery Night Light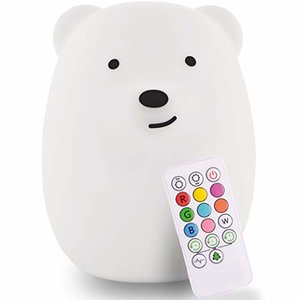 Our Rating: ★★★★
Review: Night lights come in many shapes and sizes, so you could also ask your kids for their input when choosing. An adorable night light choice is this bear-shaped one from Lumipets. It has a cute smiling face and irresistible bear ears that will endear it to your kids immediately.
Plus, it emits soft colors that your baby will definitely love. It's also child-friendly and safe for your kids to operate since it is soft and is never warm. But its best feature? It's portable! Your kids can bring this night light to the hallway and bathroom during the night so that they'll always feel safe!
MRCOOL Night Light Bluetooth Speaker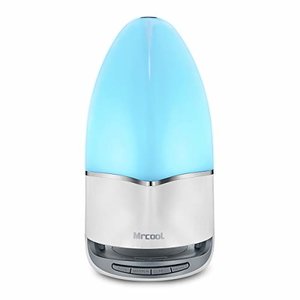 Our Rating: ★★★★★
Review: Night lights are primarily to brighten up rooms and make your kids feel safe. But that's not the only thing some of them can do. Take this night light from MRCOOL. It also acts as a Bluetooth speaker so that you can play your kids soothing music or audio books throughout the night.
It's easy to use with is touch activation. Just long press to turn the lamp on or off! Its metal ring sensor also allows you to choose between colors and light modes including Warm White Light (traditional), Hypnotic Light (sleep assistance), and Dynamic Light (up to 16 Million RGB colors).
Litake LED Night Light, Mini Celebrity Cat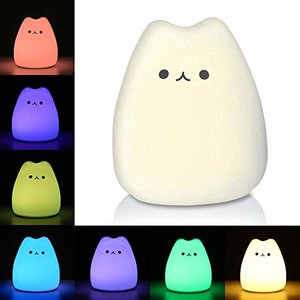 Our Rating: ★★★★
Review: If your kid is a huge fan of their feline friends, you may want to get a night light that looks like an adorable cat. This one from Litake looks like cuddly kitty with a pretty smiling face that will keep your kids happy.
They can even operate this night light on their own since they are made from BPA-free materials. It is also easy to use. Just give it a gentle tap to change between modes. Choose between 7 amazing colors and bring this cutie along during travel because it's portable.
Syntus HM065 Himalayan Lamp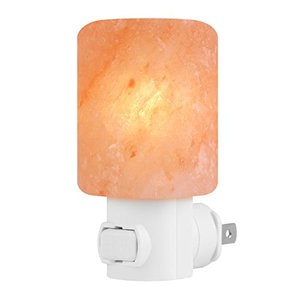 Our Rating: ★★★★★
Review: If you're going for a relaxing ambience, go for a Himalayan lamp. It is made from crystal salts from the Himalayan mountains which helps absorbs dust. But the great thing about this lamp is that it's small and features a plug-in design. You don't need tons of space for this night light!
What's more, this Himalayan lamp emits a soft, warm-toned light which makes it perfect during sleeping time. Just remember that salt lamps may dissolve if not used for a long time or if you live in a humid environment.
Frequently Asked Questions
What Color Night Light is Best for Babies?
With all the technology available today, different colored lights can be bought. But some lights may be harsher than others. Bright, harsh lights are alarming and disorienting and can distress your baby. It can also affect their sleep health.
Experts have shown that a warm light geared more towards red or orange can keep your baby comfortable during the night without disrupting their sleeping patterns. It also does not have any negative effects on melatonin production.
It is best to get one that is dimmable so that you can control how bright it gets.
Why Do Babies Need Night Lights?
Strictly speaking, babies don't necessarily need night lights while they are very young. That's because they don't have concept of darkness yet. Night lights are more for you during middle-of-the-night feedings and nappy changes.
Warm, dimmable night lights just help you keep your baby comfortable rather than wake them up disoriented.
When Do Babies Need a Night Light?
You can put a night light in the nursery as early as your baby's first day back from the hospital. But as the question above has answered, they don't actually need it. It's just for you.
However, night lights can be a source of comfort for older children whose active imagination might conjure up things that go bump in the night. Night lights allow them to see their room clearly and comfort them in knowing that there's nothing in there to hurt them.
As a general guideline, most kids experience nightmares and fear of the dark as early as two-years-old. A night light might come in handy by then.
Conclusion
Night lights are great sources of comfort for both you and your kids. You can easily navigate your way in the nursery without disturbing your sleeping kids. They can wake up in the middle of the night and be sure that no monsters are in the room with them.
It's really quite interesting how a simple dimmable light can make a difference between your children fearing the night and not. So install a night light in the room today and illuminate the night for your little ones.