The Best Baby Bouncers in 2020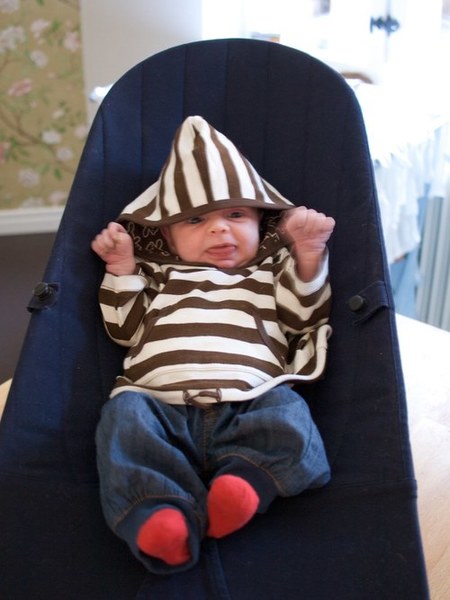 Babies are notoriously curious. When they don't get what they want, they tend to really loud. Well, you can't carry them 24/7! Good thing, baby bouncers have been invented. With baby bouncers, you can just strap your baby and keep them preoccupied while you do what you need to get done!
If you don't want to go stir crazy with all the crying, make sure that your baby feels like they're a part of his environment. Keep them somewhere where they can see lots of things, and make sure they're strapped in their bouncers.
Bouncers can help get rid of all those extra energy and calm your baby down; all while you're doing your necessary chores. That's why you should check out one of these baby bouncers below!
Our Top 7 Picks for Baby Bouncer
The Best Baby Bouncers & Brands
Bright Stars Bouncer, Playful Pinwheel, Vibrating Seat
Our Rating: ★★★★
Review: If you're going for vibrant and fun, this lion-designed bouncer is the one for you. It's bright and fun to look at, and even has its own toys that spin. Your baby would definitely be entertained.
What's more, this bouncer has a vibrating seat that can calm baby in no time. It is also conveniently machine washable!
Disney Baby Winnie the Pooh Bouncer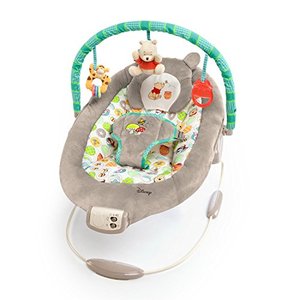 Our Rating: ★★★★
Review: For lovers of Disney, this Winnie the Pooh bouncer is the perfect choice. It also features muted shades so it will look great in most rooms.
Aside from the adorable toy bay, this bouncer also plays 7 different melodies, and has vibration control to keep baby relaxed. You won't even need any tools to assemble it; talk about easy!
Fisher-Price Infant-to-Toddler Rocker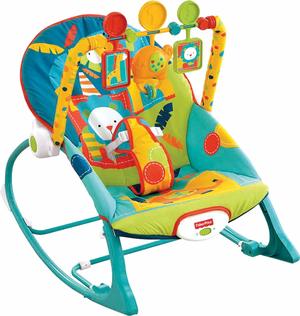 Our Rating: ★★★★★
Review: The problem most parents have with baby products is that you can't use them when your baby grows too big. Well, this bouncer from Fisher-Price has no problem with that! It can be used by toddlers who weigh up to 40 pounds!
Aside from the cool toy bar, your baby can also enjoy two reclining positions as well as relaxing vibrations when it's time to keep calm. And who doesn't love the ultra-funky and vibrant look of this bouncer as well? Babies will definitely love it!
Fisher-Price Sit-Me-Up Floor Seat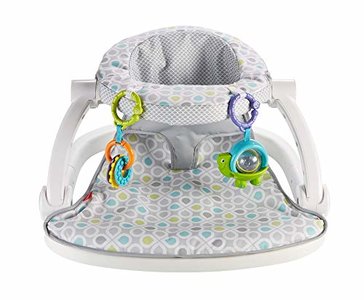 Our Rating: ★★★★★
Review: Unlike other bouncers, this one from Fisher-Price helps your baby get ready for sitting up. Aside from its soft, cushy seat, it has all the necessary supports to help your baby stay in an upright position.
Your baby can now maximize looking around his surroundings! They can swivel their head to look around the room, without any problems. As for entertainment, well, your baby can still play with two toys attached to the bouncer!
Sassy Cuddle Bug Bouncer
Our Rating: ★★★★
Review: Just by looking at this bouncer, you know that it's wider than most bouncers. That because its shape and blanket recreates the feeling of being inside the womb. That'll definitely help keep your baby calm!
It also has a toy bar, vibration control, and relaxing lullabies! That's definitely a lot of great benefits right there!
You might think that this bouncer's stand looks thin and flimsy, but it's not. This frame is really sturdy while remaining lightweight so you can bring it with your anywhere! Plus, it has non-slip feet. It's also machine washable and can be tumble-dried. So hurray for easy cleaning!
Tiny Love Bouncer, Nature's Way Bounce & Sway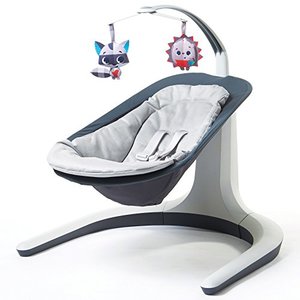 Our Rating: ★★★★
Review: If you want to keep all your baby's things on-theme, this bouncer form Tiny Love would be a good choice if you're going for the sleek and modern look. The entire shape and design of this bouncer screams futuristic!
Plus, the swaying motions of this bouncer is made naturally. Just a gentle touch and it'll move! But don't worry. If you want to calm your baby down, just go to vibration mode or use the stopper.
Baby BJORN Bouncer Balance Soft, Rust Orange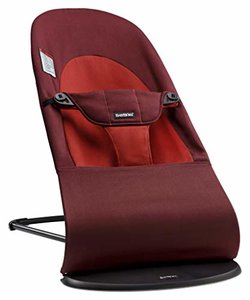 Our Rating: ★★★★★
Review: Another minimalist and modern-looking baby bouncer is this one from Baby Bjorn. Like other products from this brand, this bouncer is ergonomically made, meaning it was designed to provide the correct head and back support for your baby!
You can change its height into three positions, and even use a transport mode from when you're on the go! Cool, right?
Baby Bouncer Buying Guide
Just like any baby product, you need to do your research prior to buying a baby bouncer. You can never be too vigilant when it comes to things that your baby will be using. Here are a few common questions asked about baby bouncers:
Consider the Safety Features of Your Baby Bouncer
The biggest concern you should think about when buying a baby bouncer is how safe and secure it is for your baby. You need a bouncer that features a seat that is designed to give the necessary support your little one's body needs. You wouldn't want them to accidentally roll off on the floor and get hurt!
But that's not the only worry you have to keep in mind. Here are some considerations you need to think about when getting a baby bouncer: - Are the base and the legs of the bouncer durable? Will it topple over? - Are there comfortable straps that can prevent your baby from falling? Will the straps keep your baby secure but not suffocated? - Was the baby bouncer made with safe and gentle fabric, or will it cause rashes?
How to Pick the Right Baby Bouncer
Here's the thing about baby bouncers (and other baby products, in general), there are lots of options to choose from. With that in mind, how will you know that you're getting the bouncer that fits your needs and is a great value for your money?
Ask yourself these questions when out buying: - Is this a short-term solution (only the first few months after birth) or a long-term one (until your baby turns into a toddler)? - Will you need something portable or are you buying a separate one for travel? - Do you prefer a specific look to fit your home's aesthetic? - Are you willing to spend more money on extras like toy bars?
Your Baby Bouncer Needs to Have a View
A view is something not a lot of parents consider when buying a baby bouncer. But it's a feature that would probably be important for your baby. Remember that babies are curious, and would love to interact with what's going around them.
Getting a baby bouncer with a good view will help keep your baby entertained for longer. They wouldn't feel isolated because they'll be able to see all the comings and goings around.
When Can Babies Use a Bouncer?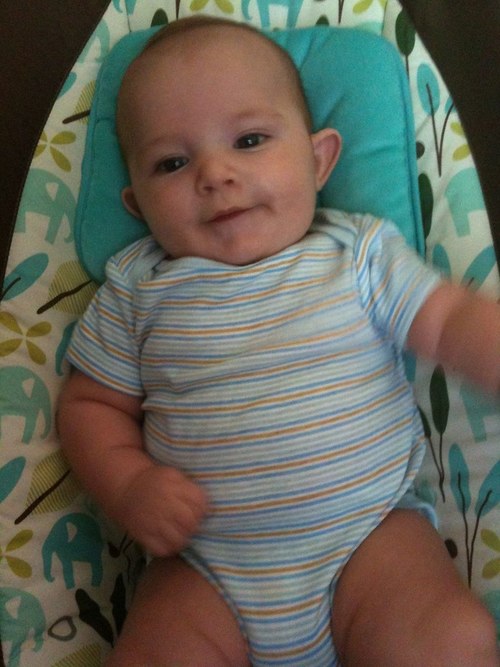 Baby bouncers were made for babies who have more control with their bodies. Sure, you can probably put your newborn in a bouncer for short periods, but they probably won't enjoy it to the fullest.
While the vibration control of bouncers can help calm younger babies, it's not the only thing it can do. Bouncers can also help stimulate your child's development through toys and movement. Simply being able to see their surroundings can also aid in your baby's growth as well.
The best time to put your little one in a bouncer is between 3 months to 6 months. At that age, your baby is already developing and will be able to control their action better.
However, make sure the bouncer is on a flat surface on the ground when you put your baby in one. Don't place your bouncer in any elevated surface like a table. Most parents have underestimated how bouncy their babies can be. Spoiler, some babies have been known to bounce right off the edge of tables!
Can Babies Sleep in a Bouncer?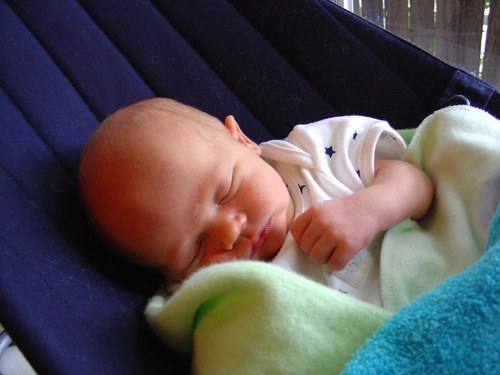 Bouncers are great at tiring out your baby. You can also use them to lull your baby into a nap. But never leave them there when they're already asleep.
While bouncers look harmless, they also a pose a threat to your baby. Without meaning to, a bouncer might restrict your baby's airways and suffocate them. It might also lead to injuries when they accidentally fall or flip over.
Once your baby falls asleep in the bouncer, it's best to transfer them into a baby bed, like a bassinet or a crib.
Are Baby Bouncers Safe?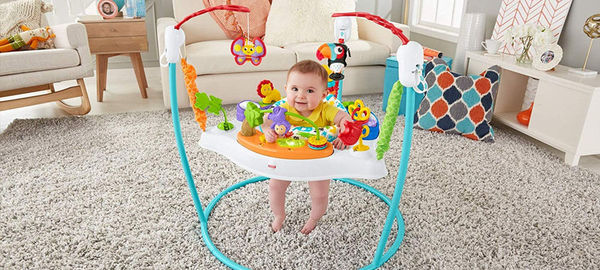 Don't be discouraged with the answer above. While baby bouncers can be dangerous in some aspects, it is still perfectly safe for babies if you use it accordingly.
Make sure to follow instructions, from assemble to the way you strap in your little one. But most importantly, never leave your babies unsupervised while on the bouncer.
Sure, you can do your chores while they're strapped in. But make sure that they're in the same room as you so that you can quickly reach them in case of an emergency.
Conclusion
Baby bouncers are not just a luxury item. It helps your baby relaxed and keeps you sane as well. Instead of having to carry your baby most of the day, you can just leave them in the bouncer. They can entertain themselves, and you can do what needs to be done!
Of course, like all other baby things, this comes with a few safety concerns. It's best not to leave your baby unsupervised, even when they're strapped on a bouncer. You never know what can happen so be vigilant. Bouncers are easy to move from room-to-room. Make sure to be near your baby at all times.
What's more, some bouncers come with built-in toy bars and melodies which not only keep your baby entertained. These also stimulate your little ones and help with their development. So, really. Bouncers are not just toys. They're really useful as well!