Top Baby Carrier Brands for Hiking in 2021
A lot of parents, especially the younger generation, are more active than ever before. Hobbies like traveling and hiking are really popular. With the invention of baby carriers, it's super easy to turn your personal hobby into a bonding experience with the whole family.
Bringing a baby along to any travel or hike is a hassle because they need so many things; things that you yourself would rather leave at home. Good thing that baby carriers made especially for hiking can carry both your baby and their things.
That's why you should think about buying an excellent baby carrier today! Check out the recommendations below: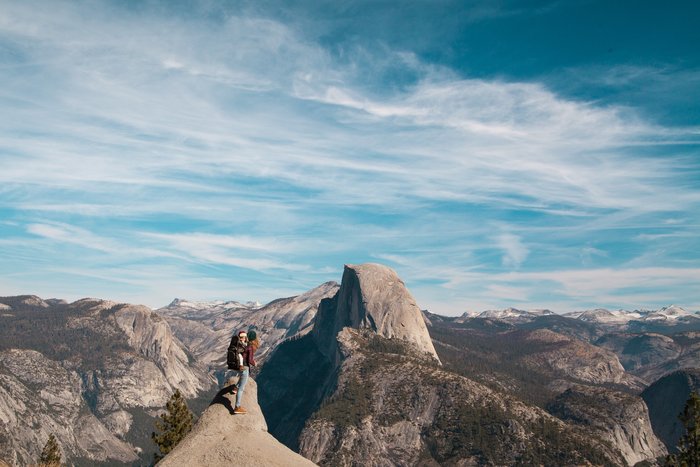 Our Top 7 Picks for Baby Carrier for Hiking
Baby Carrier for Hiking Buying Guide 2020
Besides the actual brand of carrier you're going to buy, there are some features that you need to consider when purchasing a baby carrier for hiking. There are different types of carriers to choose from, and each has their own pros.
To help you out, here are some of the common features you need to look into:
Types of Hiking Carriers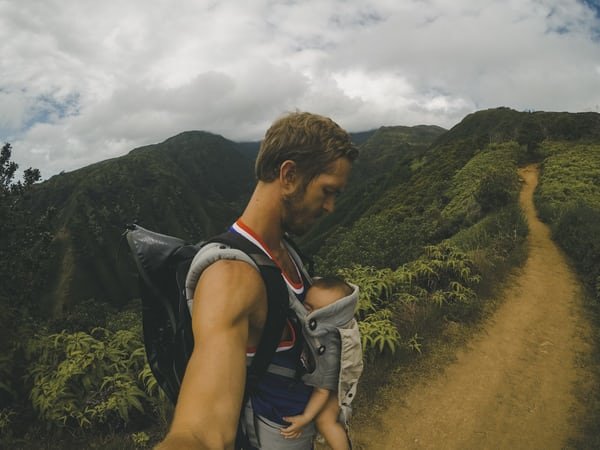 The two main types of hiking carriers you're going to choose from are Comfort Packs and Lightweight packs.
Comfort packs are bulkier and made to really keep your child comfortable during the duration of your hike. Aside from that, it also has other useful features like numerous pockets for your baby's essentials, and even a sturdy metal stand.
The downside? Comfort packs are big and heavy. They take up a lot of your closet and trunk space. But if you're going to do a lot of hiking and traveling with your toddler, this is the kind of pack to get.
Lightweight packs, on the other hand, are relatively smaller and weigh lighter than comfort packs. They are easier to transport and store. If you're going on short trips around town or quick, day hikes, a lightweight pack is a great option.
Unfortunately, for lightweight packs to weigh significantly lighter, you will have to sacrifice storage capacity and carrying comfort.
Sun and Rain Protection Features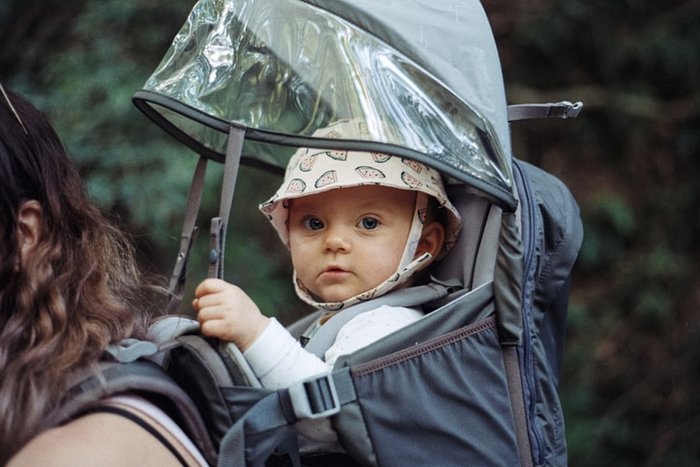 When you're doing outdoor activities, it's hard to avoid getting a lot of sun exposure which isn't really advisable for a baby. That's why you need to check if the carrier you're getting has features like a sunshade to protect your baby's sensitive skin.
Another thing to think about is rain covers. Most baby carriers don't come with this accessory. For light showers, some sunshades are water-resistant and helpful. But if you want to be extra prepared for the eventuality of getting caught in the rain, it's better to get an extra rain cover for your pack.
Carrying Comfort, Safety Harness, & Storage Capacity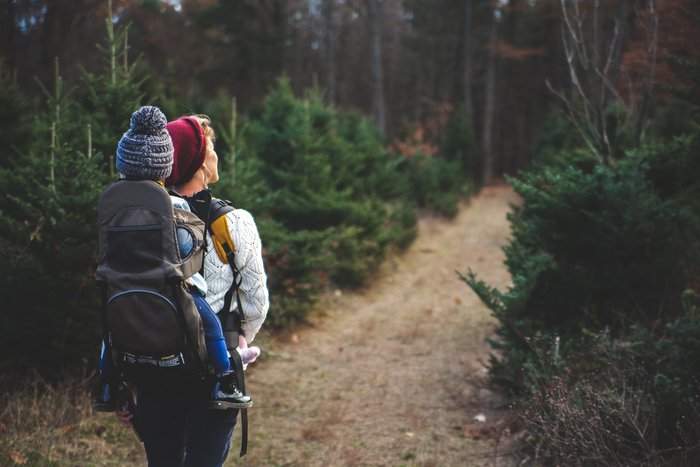 Carrying comfort is one feature you absolutely need to check. After all, your pack would be useless if you wouldn't want to wear it. Make sure to get a carrier that's ergonomically designed and will not cause strain on your back and shoulders. Having padded straps can also increase your comfort.
Safety harnesses, on the other hand, are also important to secure your baby. It's not enough that your child fits the carrier cockpit. You need to make sure that they won't fall from it as well. You should also check that your baby's body is properly supported and that they can breathe without any problems.
Lastly, you should check the storage capacity of your baby carrier. Some carriers come with multiple pockets where you can store your baby's essentials like bottles, diapers, and extra clothes. Sure, it's still a smart idea to bring a separate baby bag; but it never hurts to have a few back-ups on your person.
The Best Baby Carrier Brands for Hiking
ClevrPlus Deluxe Baby Backpack, Green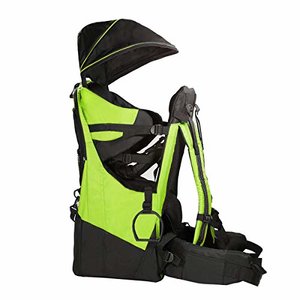 Our Rating: ★★★★
Review: If you're on a tight budget but still want the best of both worlds when it comes to comfort and storage, then this carrier from ClevrPlus is the real deal.
This carrier weighs only 5.5 pounds (without your baby) and is comfortably padded for both your and your baby. Its padding is even made from energy-saving lumbar to keep you cool during your hike. But that's not all! This carrier also has a large storage compartment to house you and your baby's essentials for the day.
It even has its own sunshade and rain cover! Plus, the seat is adjustable so you can use it while your baby grows.
phil&teds Parade Child Carrier, Orange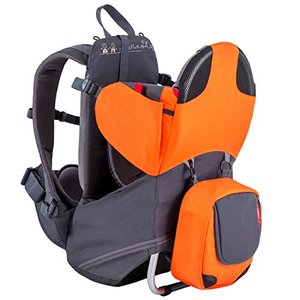 Our Rating: ★★★★
Review: Don't let the metal frames deceive you. This carrier from phil&ted's is actually light and compact at 4.4 pounds. It has an Active-ergo fit harness system which makes it easier and more comfortable to wear, even on hot days.
Plus, this carrier is also adjustable to help secure you and your baby. You can even keep this carrier standing on its own with its internal aluminium frame and stand!
OE Child Shoulder Carrier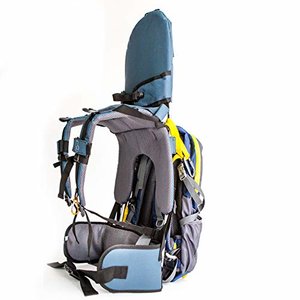 Our Rating: ★★★★★
Review: Now this carrier is for bigger toddlers, the ones who can support themselves easily. This shoulder carrier not only allows you to carry your child, but it also has a huge storage area for you and your child's essentials for the hike.
What's more, your toddler can enjoy a freer and more panoramic view of his surroundings because of the innovative design of this carrier. It's even foldable when you need to store it away.
Again, please be advised that this is for older toddlers, ages 1 to 5.
Luvdbaby Premium Baby Backpack Carrier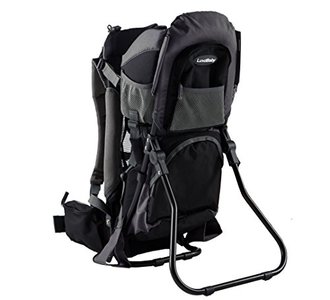 Our Rating: ★★★★★
Review: Do you find the bright colors of most baby carriers unattractive? Don't worry! This carrier from Luvdbaby has a Black/Grey option that looks sleek and modern. Not only that, it's also made from lightweight aluminium and made from waterproof material!
Aside from carrying your toddler comfortably, you can also make the most of its multiple pockets, it foldable diaper pad, and its insulated pocket for the bottle. Talk about functional and fashionable, right?
Osprey Packs Poco AG Child Carrier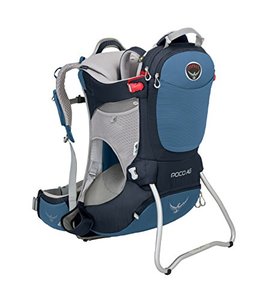 Our Rating: ★★★★★
Review: Sometimes it's easier to get well-known brands because their reputation already guarantees you a great experience. Osprey is one such brand, and this carrier from them is an excellent carrier to get.
It's made from lightweight aluminium which helps support the load put in it. It even has a stable platform so that the carrier stays upright even when you set it down. Not only that but this carrier also has an adjustable double halo harness and fully framed cockpit to keep your toddler super safe.
You can even enjoy extra features like its built-in sunshade, mesh wraps, and adjustable hip belt!
Kelty Journey PerfectFIT Child Carrier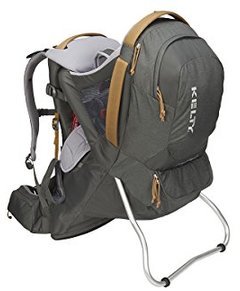 Our Rating: ★★★★★
Review: Sometimes you'd need a carrier that can do more than carry your baby, especially when you're going on overnight hikes. Well, aside from how beautiful this carrier is from Kelty Journey, it also has a lot of room for all your baby's needs. It can even fit some of your things, too.
But aside from that, the hip belt is also functional because it has zippered pockets to keep water and snacks (and your phone) handy! As for safety? No worries. This carrier has a 5-point safety harness and aluminium roll cage so you don't need to be worried about your toddler falling.
Deuter Kid Comfort Pro-Child Carrier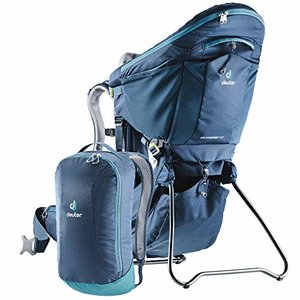 Our Rating: ★★★★★
Review: Another well-known brand that you know will give you only the best experience is Deuter, and this carrier does not disappoint. While the carrier itself looks bulky, it makes up for its great safety harness system (color-coded buckles!), lockable kickstand, and wait for it… a step-in side entry so your bigger toddlers can get into the carrier on their own!
It doesn't stop there. You get to enjoy the comforts of this carrier as well because of its ergonomic load distribution and load adjustment straps. Not to mention, this is such a dream carrier because of its integrated headrest, fold-out sun roof, adjustable foot rest, and mesh net (for better ventilation)! It even comes with a large day pack! Life doesn't get any better than this.
Frequently Asked Questions
When Did They Invent Hiking Carriers for Babies?
Humans have been carrying their babies in different ways since the beginning. You can see the most basic forms in most countries in South America, Asia, and Africa. Carrying your baby with a sling around your baby is probably the simplest form of a carrier today.
In the US, the design of the modern baby carrier came about in the 1960s and was made from a fabric pouch with adjustable shoulder and waist supports. Overtime, sturdier designs were created with the emergence of the child safety seat for cars.
From these durable plastic designs is where the idea of a hiking carrier emerged. Backpack-type carriers are a huge thing today because of how convenient and innovative they are.
What is the Best Baby Carrier for Hiking?
This is a tricky question to answer. That's because you're the only one who can really say which carrier is the best for your personal needs.
As a rule of thumb, here are a few things that any 'best' carrier should have: - A comfortable cockpit for your toddler - Safety harnesses that are secure and durable but not a choking hazard - Has padded shoulder straps and an ergonomic design for comfortable carrying - Is not too heavy - Has a few pockets, at least - Can be equipped with sunshades and rain covers
Where to Try On Baby Hiking Carrier?
The easiest way to check if the baby hiking carrier you bought is effective is to bring it out into the open. Make sure to have it with you the next time you go on a day hike and try it out then.
If it's your baby's first time in the carrier (or any carrier), don't be discouraged if they're uncomfortable and fidgety at the beginning. Just let them get used to it, and they might find the whole ordeal enjoyable in the future.
Conclusion
Baby carriers, especially ones made for hiking, are useful accessories to have for any active parent. With a carrier, you can easily bring your toddler to hiking and traveling trips that you would have otherwise needed to postpone.
The convenience of the carrier not only allows you to enjoy your hobby, but it can also be a way to share the experience of the outdoors with your kids and the whole family (if they decide to join).