Top Humidifiers for Babies in 2021
Babies, especially newborns, are just beginning to adapt to their new surroundings. As such, they are more sensitive to different components such as allergens and the like. That is why it's a good idea to take precautions in your home, like installing a baby humidifier.
Humidifiers for babies are heaven-sent especially when your baby is sick. It doesn't matter whether you're talking about a runny nose or a cough. A sick baby is usually cranky baby. But if you have the best humidifier for your baby, it can create a soothing environment that they'll appreciate.
Humidifiers introduce moist, cool air in the room which can soothe sore throats, clear sinuses, and even alleviate dry, itchy skin. That's why more and more parents are deeming them essentials for the nursery.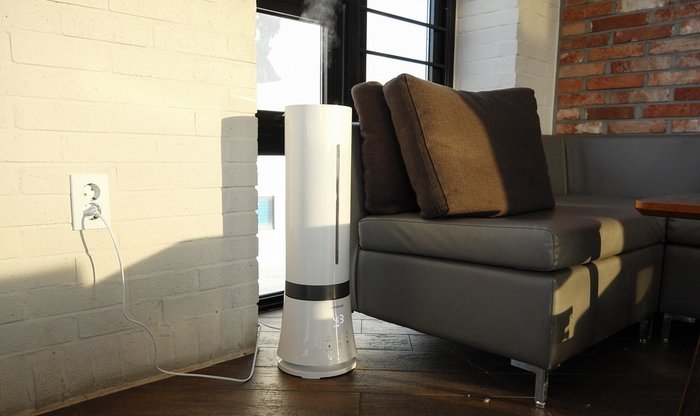 Get your baby the best humidifier! Check out the recommendations below:
Our Top 7 Picks for Baby Humidifiers
Baby Humidifier Buying Guide
Are Baby Humidifiers Safe?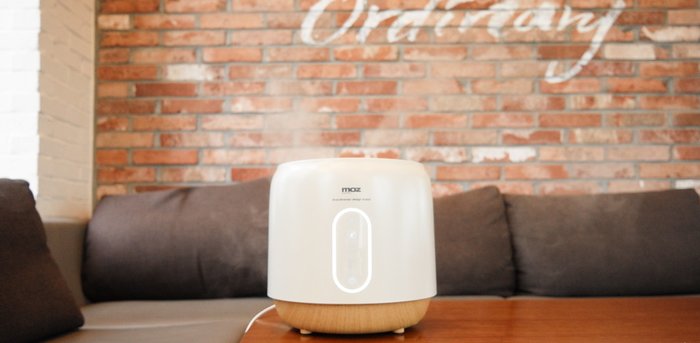 In general, baby humidifiers are as safe as they can be. After all, the real reason why you'll be getting a humidifier is to increase your baby's optimal health by easing cold symptoms the natural way. Humidifiers can help thin mucus for easier removal, soothe a dry throat to minimize coughing tendencies, and even moistening nasal passages and sinuses.
But like other products, even a baby humidifier can pose some risks if you're not careful. Some of these risks are: • Burns. Hot-water vaporizers have a few advantages that cool mist humidifiers don't have. For one, they can be better at killing bacteria. However, these products can also run the risk of burns for small, curious children. Make sure to place your hot-water vaporizers in a place where children or pets can't reach it. • Filters. Like the above, filters can also be beneficial. But if you don't clean them often enough, they can be places for bacteria and mold to grow. To avoid potential health problems, make sure to clean your filters thoroughly and regularly. • Over-Moisturizing. Humidifiers can also run the risk of introducing too much moisture into the air of your room. When this happens, mold and other allergenc can grow inside your home. A way to combat this is to monitor your house's moisture level through a hygrometer.
Hot or Cool Water Humidifier, Which One to Get?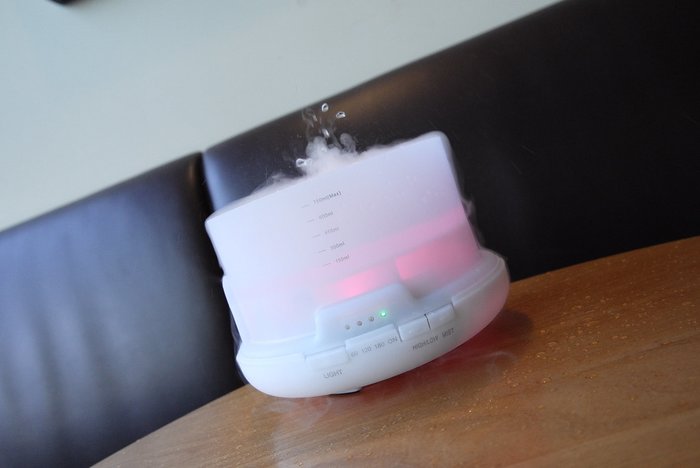 When it comes to the actual products, humidifiers are usually interchanged with vaporizers. Sure, both products do a similar job. But they use entirely different processes to get these jobs done.
A vaporizer uses hot stem while a humidifier uses cool mist. Both do their jobs effectively. Most paediatricians would recommend cool mist humidifiers because they don't pose any burn risk to small children.
But if your baby suffers from severe allergies, you may want to reconsider getting a vaporizer. The high heat that a vaporizer emits can better kill bacteria and allergens before they get back into the air.
With both products differentiated, the lasting you want to do is to check your labels. Like what was said above, humidifiers and vaporizers are terms that are used interchangeably. So read the labels on the product to make sure you're getting the one you actually want.
Should You Get a Humidifier With a Filter?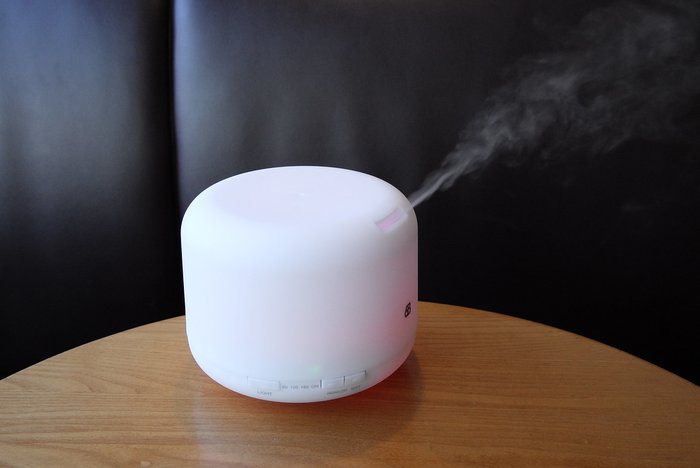 The best way to determine whether you should get a humidifier with a filter is whether or not you're willing to clean the product often.
Filters are great with their job. They can effectively clean out potential irritants from the air. Unfortunately, that alone makes them dirty quite fast. If you don't thoroughly clean your filters, at least on a weekly basis, they can be potential sources for bacteria to grow. Leaving dirty filters for too long can cause negative health effects.
That is why you should be vigilant when it comes to cleaning your humidifiers. They can offer a lot of protection from bacteria but only if you clean them frequently.
The Best Baby Humidifiers
TaoTronics Cool Mist Humidifier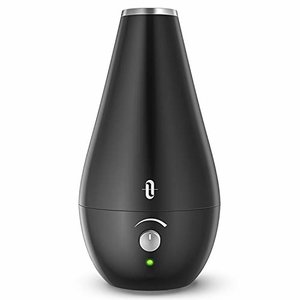 Our Rating: ★★★★★
Review: Let's start the list with the Most Affordable and that's this one from TaoTronics. Sleek and modern, this matte black humidifier will look pretty wherever you put it, be it in the great room or the nursery. It has a nice space-saving design so you can keep it on your baby's side table.
Plus, this BPA-Free humidifier also has a Quiet Operation Intelligent air inlet so that it wouldn't disturb your baby while sleeping. You can even control how much mist it will emit! All these for a really good price. So even if you're on a tight budget, you can still get this humidifier!
Honeywell HCM350B Germ Free Humidifier, Black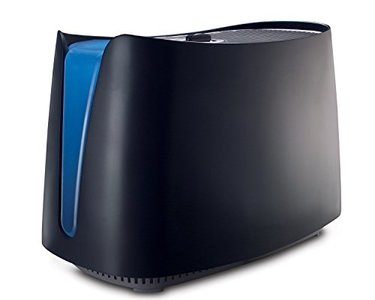 Our Rating: ★★★★
Review: When it comes to our baby, of course, we want the best for their health. Good news, then, since this humidifier from Honeywell is Germ-Free. It has a whopping 1-gallon tank that can run for 24 hours on a low setting. What's more, its UV technology system can kill 99.9% of bacteria that is in the water so your baby will be breathing in clean mist.
This humidifier also has a filtered cool moisture system that helps keep moisture balanced so that you don't go the risk of running an over-humidified room. It even features QuietCare Technology with is 30% quieter than most evaporative humidifiers!
HiAir Cool Mist Humidifier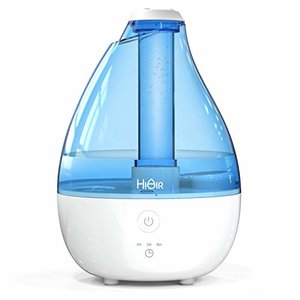 Our Rating: ★★★★
Review: Yes, cool mist humidifiers will produce sound; some louder than others. If this is a big turn-off for you, then don't worry because this humidifier from HiAir is my top vote for the Quietest Humidifier out of all that's on this list. It uses Ultrasonic Technology to lower the noise level to about 32 decibels, so really don't need to worry about waking your baby up.
Plus, it has other awesome features! This humidifier is also portable, and you can even fill the water reservoir using just one hand. It's that easy to use! And if you want to leave your baby with a night light? This humidifier also lights up in a dim blue shade!
Crane Baby Nursery Humidifier, Lady Bug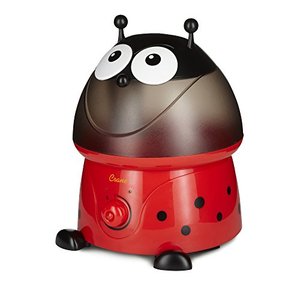 Our Rating: ★★★★
Review: Design might not seem like a huge deal but these are baby things! It's understandable if you want your humidifier to look adorable as well. Well, this Ladybug humidifier from Crane does aesthetic marvellously! The water tank reservoir is found in the head of the ladybug, and the body is a bright red with black polka dots. It even has antennae and feet!
But that's not all! This humidifier has a Whisper Quiet feature that helps soothe baby while cleaning the air of bacteria and mold. Its reservoir can carry about a gallon of water and can run up to 24 hours.
However, Crane humidifiers does not have any filters so remember to clean them often.
Vicks Mini Cool Mist Humidifier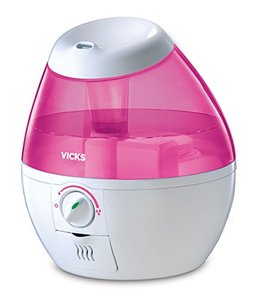 Our Rating: ★★★★
Review: When it comes to coughs and colds, a soothing remedy that a lot of parents swear by is Vicks. I know it helps me and my kiddos when we feel ill. That's why Vicks also incorporated their product into their humidifiers.
This mini-version of their humidifier isn't bad at half a gallon, and it's very easy to clean and operate. But the best part about is its Integrated Scent Pad Heater. You can moisturize your room at the same time as inhaling the cool and soothing scent of Vicks Vapopads. When you're baby feels sick, this is the Menthol-Scented option you'll be grateful for!
MOVTIP Portable Mini Humidifier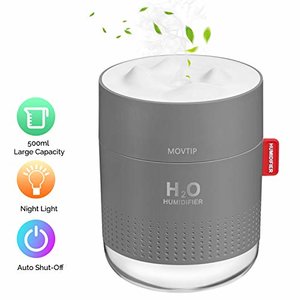 Our Rating: ★★★★
Review: Moving around doesn't stop when you have a baby. The same goes for when your baby gets stick at the most inopportune of times, like in a middle of traveling or during a big family sleep-over/reunion.
That's why this mini humidifier from MOVTIP is such a convenient thing to have in your baby's travel bag. It might be small but it can last up to 12 to 18 hours, depending on the mist mode you pick. It even has an easy one-button control feature to keep things simple! You can even use it in your car because it can be USB operated.
Babymoov Hygro Plus Cool Mist Humidifier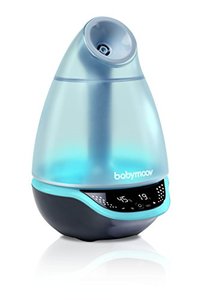 Our Rating: ★★★
Review: Okay, this humidifier might be a little pricey. But it does have a few cool features up its sleeve that make it good buy, nonetheless. This humidifier from Babymoov is filterless but easy to clean. It's whisper quiet and can relieve symptoms of colds, coughs, and flu to name a few. It can also run for about 22 hours!
But that's not all. This humidifier has automated control. You just need to program your settings to your desired humidity level, and this humidifier will shut off on its own. It even has 7 different colors when it comes to its night light. So if you're forgetful, this humidifier might be a good choice for you!
Frequently Asked Questions
What Kind of Humidifier is Best for Baby?
The best kind of humidifier depends on your baby's health and the location where you want to set it up. Let's talk location first. Smaller humidifiers can only do their jobs effectively in smaller spaces. That means, a bigger humidifier might be needed if the room your baby's in is slightly larger.
In general, cool mists humidifiers will do a great job at providing moisture into the air. That alone can effectively soother your baby's uncomfortable feelings. However, you might need a hot-water vaporizer if your baby suffers from severe allergies.
Why Do Babies Need Humidifiers?
Are humidifiers actually good for your baby? Yes, they are. This is most especially true if your baby is already feeling sick. Humidifiers can help babies feel more comfortable and calm when they already have symptoms of a cold.
Dry air can be a reason for many ailments such as dry skin, sinus irritation, sore throat, snoring, cough, and even respiratory infections. Humidifiers can get rid of dry air so that your baby does not need to suffer from these discomforts.
When to Use a Humidifier for Baby?
You don't need to use a humidifier every single day if you don't want to. Humidifiers can be turned on during days that feel very dry to combat dry, itchy skin.
They can also be used when your baby is already feeling the symptoms of a cold. For babies suffering from asthma or allergies, it might be better to use a humidifier more regularly to alleviate symptoms.
Conclusion
Baby humidifiers are considered an essential in nurseries today. That's because they provide comfort and relief to baby's who are suffering from the symptoms of common colds, allergies, and dry, itchy skin.
To keep your baby feeling happy and soothed, it's a good idea to install a baby humidifier in the room. At the very least, they'll be able to get better rest and a calming good night's sleep.