Best Play Doh Sets for Kids in 2021
Pretend play is a lovely activity that can help develop your child's skills, from creative to social. But toys are fundamental to that development as well. They are tools that can make pretend play easier and more understandable for both you and your kid. A play doh set is no different!
Playing with modeling clays like play doh gives your kid a two-pronged approach to learning. He can really hone his creativity through making different shapes with the clay, and use the various set accessories to create stories and scenarios to expand his imagination.
That's why play doh sets and moulding clay are educational and fun toys that can be perfect additions to your kid's collection! Discover which best sets you should get by reading on below.
Our Top 10 Picks for Play Doh Sets
Play Doh Sets Buying Guide
Play Doh Offers Developmental Opportunities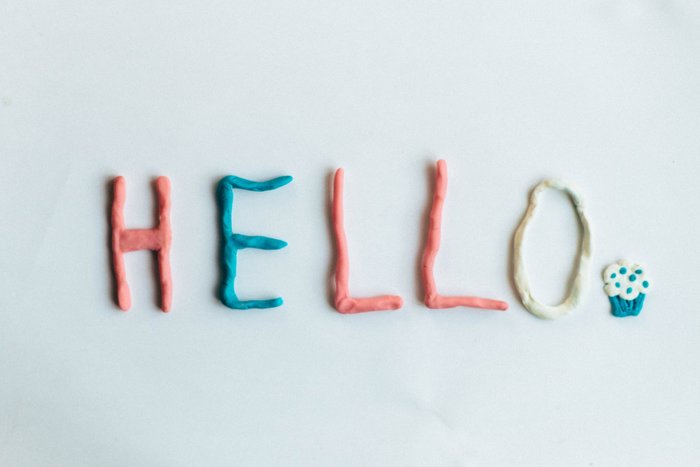 Like most toys, play doh sets can also aid in your child's development. It sparks learning and growth through creative exercises. They can makes different shapes and things for the modelling clay which can help with their imaginative skills and motor skills.
The limitless things they can do with play doh can strengthen different parts of their brain and can develop problem solving skills. It can lengthen their attention span and even progress their social skills if they play with other kids as well.
The Right Age to Play with Play Doh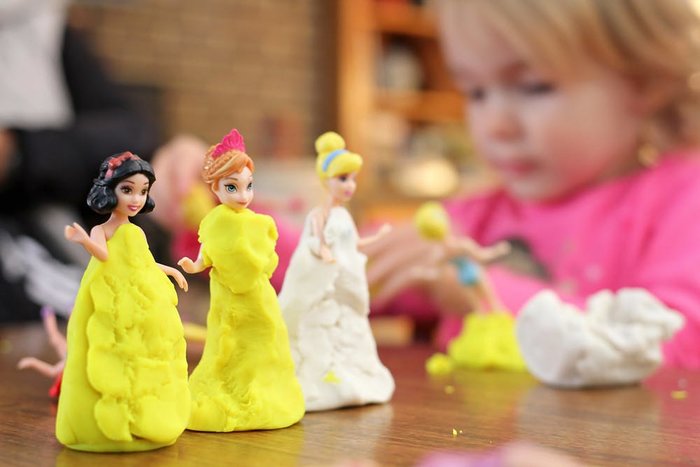 Play doh is labelled as non-toxic so if your kid accidentally eats a few, it's fine. However, it isn't edible and prolonged exposure to consuming play doh might be harmful to your child's health. As such, it's better to wait until they are done with their oral stage (meaning, they've stopped putting everything they get in their mouth).
A general age that's appropriate might be at least two years old, as long as they understand that they shouldn't eat play doh.
Another thing you need to supervise is the using of play do accessories. Some of these tools may cause minor cuts from fingers getting pinched and whatnot. Make sure you're there to help tiny fingers navigate through the various creative tools that come with the sets.
Is Play Doh Easy to Clean?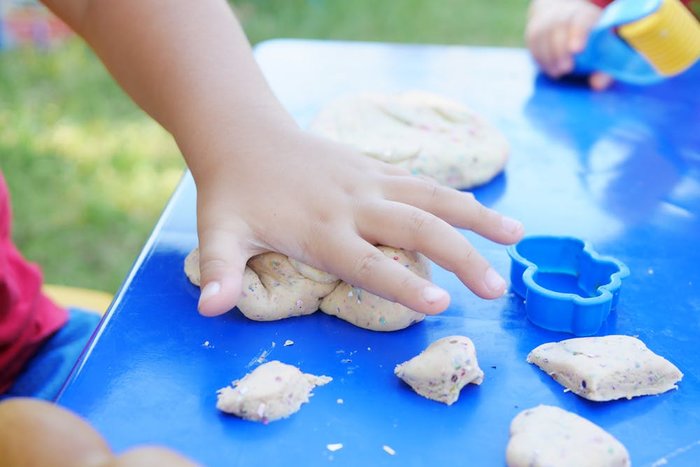 It's true that sometimes play doh can be difficult to clean, especially when it sticks into crevices. That's why it's important to teach your kids to play in a certain area of the room only. Make sure that this place is easy to clean.
This is also a great opportunity for you to teach your kids about household skills and responsibility. If they play with their modelling clay, have them store them away by themselves. You should also ask for their help in picking up pieces of clay and throwing them away properly.
The Best Play Doh Sets
Play Doh Modeling Compound, 10 Pack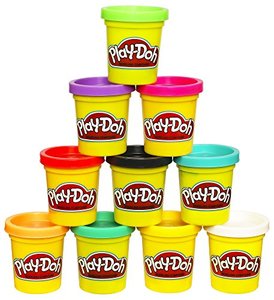 Our Rating: ★★★★★
Review: If you're just starting out your kid with play doh, go for simple but with a slight bang. This 10-Color pack is the perfect start out kit! You get to play with 10 different shades of dough which can really spark the creative juices.
You can mix them, squish them, and shape them to whatever thing you want to make. Having many different colors from the start can really help your kid envision the things they want to create, from animals shapes to pretend food.
Play Doh Kitchen Creations, Magical Oven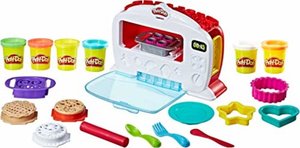 Our Rating: ★★★★★
Review: I've always loved making food out of play doh, and if your kid is showing signs that they like doing that as well, then they'd adore the Magical Oven set.
Your kid gets 6 different play doh colors that they can shape and roll with the cookie cutters and moulds that come with the pack. But that's not all! They can also pretend bake the play doh inside the oven that even has light and sound effects.
Play Doh Sparkle Compound Collection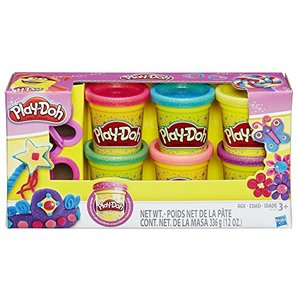 Our Rating: ★★★★★
Review: Play doh has been around for quite some time so it really isn't surprising that they've tried branching out to different things. Who would ever guess that they'd make play doh compounds that sparkle? Well, they did and you can get them in this set!
This play doh set contains 6 different shades of play doh compound that has glitter in them to make them more sparkly and magical. It even contains 2 cutters to help make creation a little bit easier for your kid!
Play Doh Preschool FUNdamentals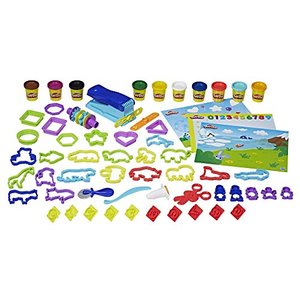 Our Rating: ★★★★★
Review: Play doh can be a nice toy to use for educational purposes because it's so versatile. This set hinges on that theme, and can help your pre-schoolers learn more using the various cutters, tools, and activities you can do.
This set contains 10 different shades of play doh compounds, 3 play mats, stampers and cutters featuring animal shapes and numbers, as well as plastic scissors, a rolling cutter, a plastic knfe, and a signature play doh decorating tool.
Play Doh Compound Corner, 6 Pack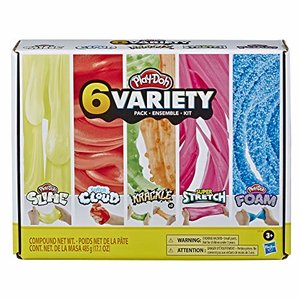 Our Rating: ★★★★
Review: Have you ever wondered why kids today love those slime videos in Youtube? Well, now you can indulge their interests and go beyond that with this variety set.
Unlike other play doh sets, this doesn't just have different colors. Each compound has its own color AND texture. You can play with slime, hear crackles, stretch, and feel foam. Your kid can broaden his sensory experience through playing with each compound. Differentiating between the compounds definitely seems like fun!
Play Doh Burger Barbecue Set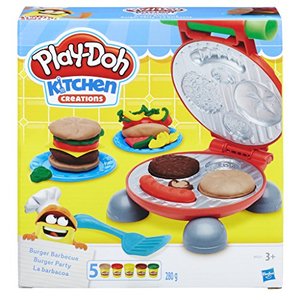 Our Rating: ★★★★★
Review: When you think about cooking, some kids love to the baking. But that's not the only thing you can do with play doh! Sure, sugary sweets like cake and ice cream seem nice. But you can also make burgers, hotdogs, and tacos with modelling clay!
Just look at this awesome burger barbecue set and you'll get what I mean. Teach your kids to 'grill' by letting them shape their clays inside this barbecue-shaped moulder. They can even pretend to cook with a plastic spatula and place their creations on top of plastic plates!
Play Doh Construction Trucks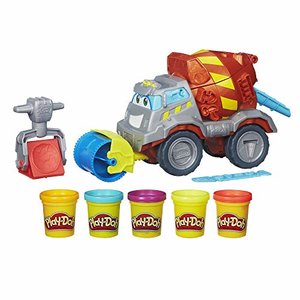 Our Rating: ★★★★★
Review: Does your child love building things? Probably have a set of blocks he loves to create for his pretend city? Well, add to that by giving him this set. It has 5 different shades of play doh compound that they can make into roads and other city utilities.
Your child will definitely love the cement mixer slash decorating tool! It has various shapes around its body for moulding. Its roller functions to flatten play doh to create roads, and you can make 'cement' by pressing down to squeeze out play doh from its cement spout!
Play Doh Play Date Party Crate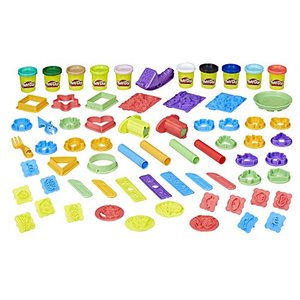 Our Rating: ★★★★★
Review: Playing with modelling clay is a nice and peaceful way to keep multiple kids engaged and entertained all at once. But you'll probably need tons of accessories so that they won't argue over every silly piece.
This play date set has 10 shades of play doh compound that they can share. But the best about this set is that that it comes with tons of accessories, each type having multiples so that your kid and their friends won't need to take turns. There's always enough tools to keep everyone occupied!
Play Doh Confetti Compound
Our Rating: ★★★★★
Review: If there are the usual bright colors of play doh, the interestingly sparkly version, and even the one with different textures, it comes as no surprise that they also have a set with pastel shades. And who doesn't love baby blues and light pinks, right?
Your kid can create tons more stuff with these additional shades in their collection. It even includes 1 butterfly-shaped butter and 1 star-shaped cutter for maximum fun!
Play Doh Numbers, Letters, N Fun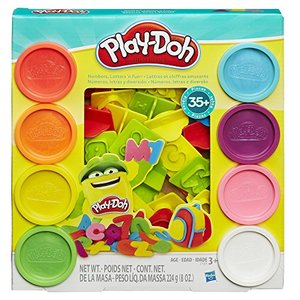 Our Rating: ★★★★★
Review: If you really want to focus on making learning fun, then you can go witht his amazing set. It has 8 different shades of play doh compounds, nine number moulds, and a complete set of letter moulds (all 26 of them!).
This is a great way to make teaching your kids fun since you can use play doh to sound out letters and learn numbers. You can even progress to spelling and mathematical operations like adding and subtracting! Really, play doh can be used even when your kids are way into grade school already!
Frequently Asked Questions
How Much is a Play Doh Set?
The great thing about play doh sets is that they come in different shapes and sizes, therefore they are also available in varying price points.
If you're just looking to expand the range of modelling clay your kid has, play doh compound sets are less than $10. You can also DIY accessories if you're on a tight budget.
Sets that include other accessories like an oven or ice cream maker are more expensive. While there are some sets that can cost less than $15, more of them will likely be on the $20 or more range.
How to Make Play Doh Set?
Making your own play doh is quite easy. You can even choose between cooked and uncooked. But cooked play doh has better textures so you may prefer that.
You will need flour, warm water, salt, vegetable oil, cream of tartar, food coloring, and scented oils. Mix all these ingredients together and stir them over low heat. The mixture will thicken, and when it resembles dough, it's done.
As for the accessories that usually come with play doh sets, you can substitute other toys for this. You can use a kitchen set or construction set that your kid already has. You can also leave your kids to how they want to play with it on their own.
What is the Best Play Doh Set?
That is entirely up to you and your kid. The best thing about play doh is that you can play with it any way you want to. It can be pretend food, pretend buildings, and more.
So the best play doh set you can get for your kid will depend on their own preferences. Are they budding chefs? Get a kitchen-themed set. Do they like architecture and building stuff? Get a construction set. And so on.
Conclusion
Play doh has been around for a long time and countless children had amazing childhoods because of this toy gem. Your kid will definitely love this as well.
Play doh is a great tool for pretend play as you can do countless creative things with it. Your child can mold food, animals, buildings, humans, and pretty much anything with play doh. So it really exercises their creativity and imagination.
They'll definitely have tons of fun with a play doh set! So get on and make shapes with your kids!