5 Wooden & Electric Model Train Sets for Kids You Don't Want to Miss Out On in 2021
Train sets for kids can bring hours and hours of excitement to kids of all ages.
Young toddlers will enjoy holding the trains and train set pieces. They will also marvel at their colors and shapes. Older toddlers will get a thrill out of pushing the trains around the track. They will watch them move and experience the delight of avoiding obstacles.
Older kids will build their tracks and courses, providing a challenge. They may even race the trains against other people, to try and beat their time.
This guide looks at the benefit of train sets for kids, and our top choices for different ages. Read on to help you decide which is the best train set for your kids.
But first, do you need a train set for kids?
Many kids already have interest in trains. Having their very own train set will bring enjoyment. And at the same time, will help them to develop essential life skills.
Building the track so the train moves without obstacles will help problem-solving. Kids can use their imagination to make different train tracks and create scenarios.
Train sets for kids can also help them to develop their excellent motor skills. By picking up small parts while building the track, kids will get used to gripping movements. Plus, handling the toy trains and placing them on the track will also help.
Wooden vs. Electric train sets for kids
There are many different train sets for kids available. The two main types are wooden train sets and electric train sets. But what are the differences, and which is best?
Wooden train sets for kids are more traditional. Chances are, someone in previous generations also had a wooden train set they were proud of! Wooden train sets are durable while being hypoallergenic. These qualities are great for younger kids.
Electric train sets are better for older kids. This is because they will need to understand how to control the trains, as well as to build the track. Electric train sets are usually powered by battery or a power pack. Some kids may need supervision with this. Especially if it's their first time they are operating an electric train set.
All aboard! Five awesome train sets for kids that they'll love
1. VTech Go! Go! Smart Wheels Train Station Playset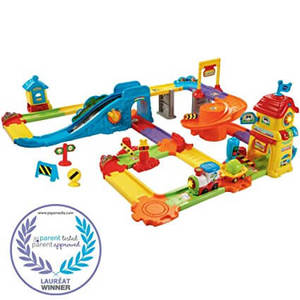 The VTech Go! Go! Smart Wheels Train Station Playset is an ideal first train set for kids ages 1-5. This train set is a great educational toy. It will enhance your kids' creativity as they build their own track. It includes an electronic train station, bridge, and tunnel, as well as a conveyor belt. With 32 interchangeable pieces, your kids will use their imagination to create different tracks.
The VTech SmartPoint technology provides interactive features to encourage different concepts. For example, three piano buttons teach colors and speak foreign language phrases. The SmartPoint vehicles also interact with 10 SmartPoint locations on the track. This will trigger music and sound effects to add to the fun.
The set includes one motorized SmartPoint Train and an educational cargo car toy. The car toy teaches the letter "T". Included with the set are 3 AAA batteries, so you have everything you need to play.
Younger children may need help with putting together the track. But they will love pushing the trains around it!
2. Melissa & Doug Deluxe Wooden Railway Train Set (130+ pcs)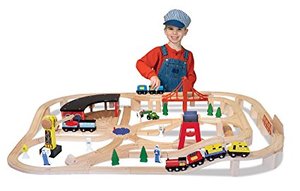 The Melissa & Doug set contains 100 wooden track sections and over 30 accessories. Kids can create four different track configurations by following the simple instructions. This set includes a freight train, passenger train, and flatbed truck. It also provides train engineers who can help to direct traffic in and out of the station.
Kids can load Cargo on and off the trains using the flatbed truck. Plus, two working magnetized crane assemblies with a lever will raise and lower the cargo.
Other features include a suspension bridge, five-way switch, and a roundhouse engine shed. When trains aren't in use, they can shelter in the shed.
The Melissa & Doug Wooden Railway Train Set is ideal for kids aged 3 and over. It allows them to become the conductor to maneuver the passenger train around the track.
If you are looking for a realistic, durable wooden train set to provide hours of fun, this is the one for you!
3. Best Choice Products Kids Classic Battery Operated Train Set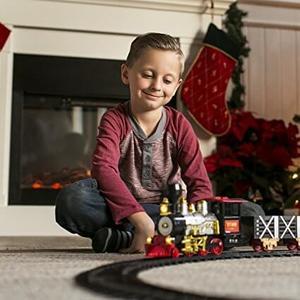 The Best Choice Products Battery Operated Train Set is the perfect starter set for train enthusiasts. It features an electric train (locomotive and three cabs) with real-life sounds, lights and even smoke!
The track is easy to set up by snapping the individual pieces into place. You can change the track by leaving some of the tracks out. The set uses non-toxic, durable ABS plastic.
This battery-operated train set is for kids aged five years and over. It requires 4 AA batteries, which are not included.
4. KidKraft Metropolis Train Table & Set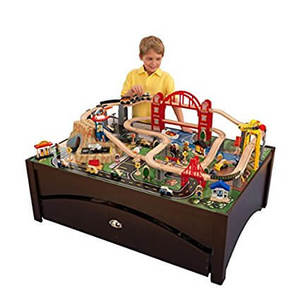 The KidKraft Metropolis Train Table & Set provides not only a fun train set, but also a wooden table. This helps to keep all the pieces together and makes it easier to play as it is higher up.
The train set comes with around 100 colorful pieces. Pieces include a two-tier bridge and three-car magnetic train. Kids can create their very own urban town scene to drive the train around. Artwork such as roads, rivers, and forests will encourage imaginative play. The set is big enough for kids to play together. This will enhance their communication and sharing skills.
The train table is made from a solid wood frame with espresso finish. It consists of a large storage drawer making tidy up easy. And fun, so even your kids will want to help!
5. Bachmann Trains Santa Fe Flyer Ready-to-Run HO Scale Train Set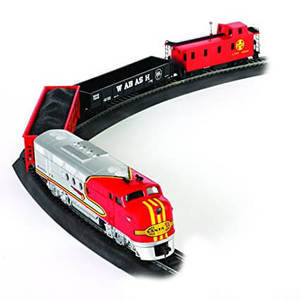 This HO Scale Train set is an electric powered train set for kids aged 14 years old and up. It is ideal for creating different tracks using the snap-fit E-Z track, up to a circle of 36 inches. It comes with an EMD FT diesel locomotive with operating headlight. It also includes 2 freight cars and off-center caboose. A power pack and a speed controller makes operating the train easy.
It's possible to buy extra track pieces, such as straight pieces, for more combinations. Plus, you can buy other HO Scale trains to work with this train set.
Conclusion
Train sets for kids will provide hours of fun and entertainment. They can use their imagination to create stories and scenarios.
Train sets are even suitable for older kids. They will enjoy building the track and being able to manage the train's movement. A train set starter kit may even be the start of a model train hobby.
Plus, adults can also get a thrill out of a train set. By joining your kids with play, train sets can provide excitement for the whole family. And most importantly, enhance precious bonding moments.
Written By Barbara Jenkins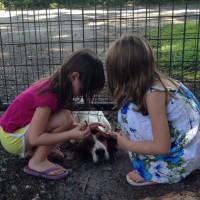 Proud Mother of Two Awesome Kids. When not looking after them, she likes to blog here.