The Top 10 Worst Toys Ever Made in 2021
Toys.
It's honestly what most kids wait for during birthdays and Christmases. Well, it's what a lot of kids at heart look forward to as well. And because toys make everyone so happy, we love indulging ourselves with them.
Some of the classics like race cars and dolls never go away, and you couldn't go wrong gifting them to children. But there are other toys across the years that would just make you stop and say 'WHUT?!'
Some of these toys are so questionable, you would really ask yourself: 'What the f*** were they thinking?!' From clearly dangerous to downright hilarious, these toys have shaped different generations of kids. And we're not sure if they did a good job at it.
The Top 10 Worst Toys Ever Made
To give you an example of the worst toys ever made, here's a list (some may surprise you):
The Breast Milk Baby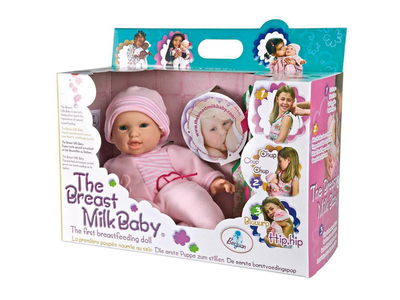 It's all good and innocent to want your kids to learn a few nurturing tips while they're still young. That's why Barbie, dolls, and cooking sets are timeless toys that every generation benefits from and enjoys. But some things just look a little bit too troubling. Like learning to breastfeed when you just finished being breastfed yourself.
That's right! There's a toy for that, too. This little doll gets so hungry that it wants to drink milk… from the bib your little girl would be wearing. If that doesn't sound wrong to you, then flower nipples definitely should.
Currently, this set isn't available to teach your kid the nitty-gritty of parenting. but you can always,
Snacktime Cabbage Patch Dolls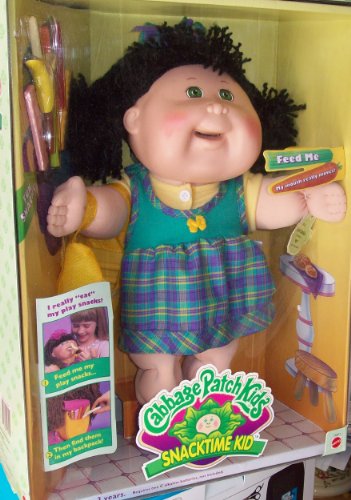 Cabbage Patch dolls were a favorite back in the early 1980s. With business booming, there were a lot of different sets sold. The Snacktime Kid from 1996 was a set that a lot of parents, kids, (and probably Mattel) want to forget.
This doll was a horror movie in the making! It features a Cabbage Patch kid that can actually 'chew' its plastic food. The problem is: it's powerful, mechanic jaws can also chew on little children's fingers and hair (and it won't stop until it's done).
And it did just that on Christmas 1996! Amidst many complaints, Mattel decided to recall it and even reimburse customers. Yikes! This is definitely on the naughty 'Worst Toys for Christmas' list.
If you want to get your fingers eaten, you can still find some online.
The Gilbert U-238 Atomic Energy Laboratory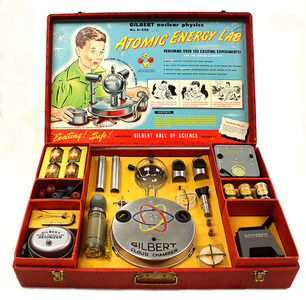 The toys made before the '70s are really good when it comes to authenticity. A classically interesting (and unsettling) one was the U-238 Atomic Energy Lab.
Nuclear engineering was at its all-time popularity because the USA just won the Second World War. Kids wanted to know how atomic energy worked and this super expensive set taught them accurately. In fact, it was so accurate that they even let children handle REAL uranium ores!
If you want your kids to experience genuine radioactive poisoning at home, this set is the one to get. We can safely say that this might be one of the worst toys ever recalled.
Unfortunately, this 1950s gem is a hard-to-find collector's item today. So you're nuclear engineering dreams will just have to wait!
Fidget Spinners
These little spinning toys became super popular in 2017. They marketed it as a good psychological de-stressor (but there's no scientific evidence that it can!). So, what does it actually do?
Well, spin. That's it. Most toys have some educational value to them. Whether it be taking care of others, fighting, simulating life skills, and etcetera, most of them can impart some kind of learning to kids.
Spinners do nothing but allegedly 'calm' your kids. There's no physical exertion or mental growth happening. Why would you buy nicely decorated spinning plastic for $10?
But still, Fidget Spinners can be bought almost everywhere.
Aqua Dots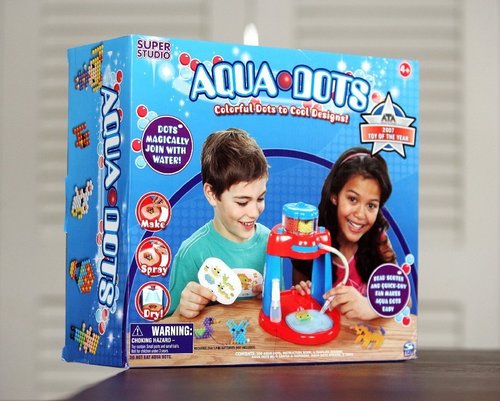 Aqua Dots is an innovative little artsy set that a lot of kids coveted when it came out. In fact, it was so popular that lots of toy stores around the world carried it. Colorful little orbs that you can draw with using water? It sounds like fun…. until you swallow one that is.
While it's not in the gameplay to swallow the tiny little spheres, who would be able to dissuade children if they really want to try it out, right? The first problem with this set: it's a choking hazard. The orbs are the size of a big bubble tapioca so children can easily swallow it.
But that's not the worst that could happen. Apparently, ingesting this little orb is equivalent to swallowing a date rape drug. Who would even put something like that on a kid's toy?
This little drug gem is now hard to find but if you looked for it a few years back, most toy shelves would've been full of it.
Moon Shoes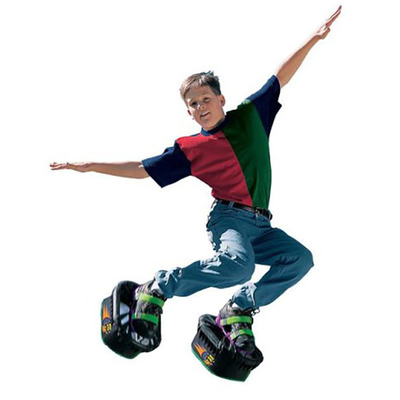 Ahh, the iconic toy from the '90s! If you're looking for a personal trampoline, this is definitely it. Moon shoes have been ingrained in today's pop culture as one of the greatest toys back in the 1990's. It's also one of the most hazardous!
This toy's objective is to simulate what it's like to walk on the moon with anti-gravity effects. However, it does so quite effectively that it has resulted in many a broken ankle! What do you expect when you're out walking on huge buckets with bungee springs strapped to your feet?
Wanna try moonwalking for real? You're in luck!.
Sky Dancers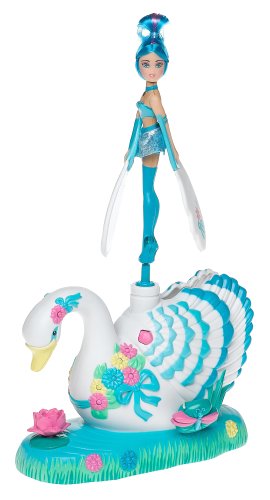 The '90s are on a roll! Have you noticed that the best and worst toys of the 90s seem to coincide too often? Because we definitely have! Another great but questionable toy is the Sky Dancers series.
This beautiful toy has foam wings that spin around when propelled so that you can watch your Sky Dancer dance in the air. Unfortunately, its wings can also poke you in the eye and for many children back in the day, it has!
Boys aren't even exempt from these accidents because the toy company who made Sky Dancers also released a line for boys, the Dragon Flyz.
So what if they're slightly dangerous? The sight of them dancing on air is kinda worth it!
Foam Dart Gun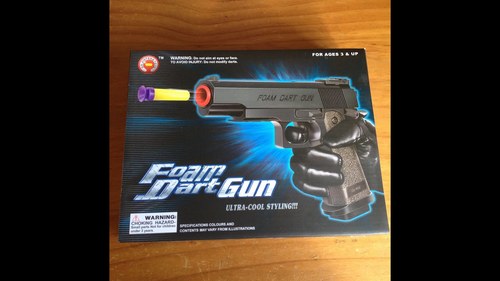 Toy guns are a classic when it comes to buying for a boy. Their dreams of being a good policeman just seems within reach when they hold a weapon against the bad guys. BUT! There's a big reason why most toy guns look bright and unrealistic.
The people who made Foam Dart Gun didn't get the memo. This toy looks hyper-realistic from afar with its gunmetal color and design. Sure, kids who aren't careful would probably hurt each other with the foam darts, but that's not the worst that could happen!
People might think your kid is actually holding a real-life gun and panic! And that's what exactly happened when a 12-year-old boy was fatally injured by cops. That just screams one of the worst toys in the world!
It's currently unavailable in a lot of stores but wait listing for it might get you somewhere in the future.
Power Mite Working Power Tools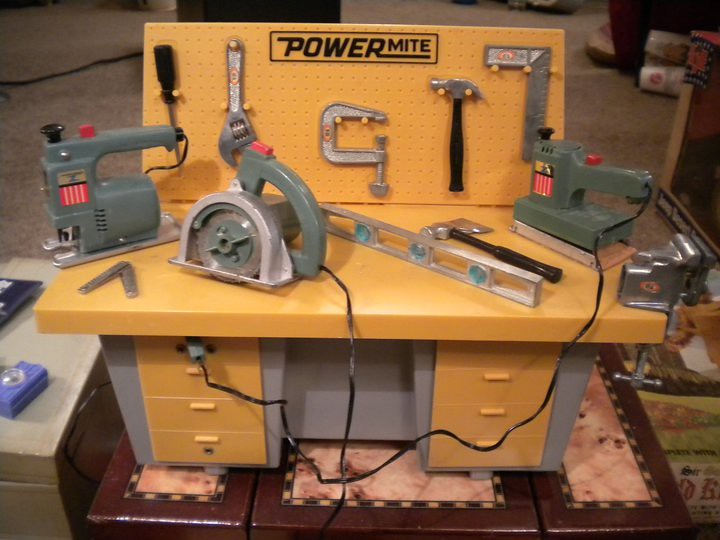 When it comes to the 1960s, the toy industry just loves putting out very useful and authentic sets. That's why when Daddy wants to use his own power tools, why can't baby do so as well, right?
You may think that these power tools are plastic because, you know, safety reasons. But no! They're actual working power tools you can plug in and start using. The only difference, they're kid-size! Why, just why?
Why would you trust your little kids to use very sharp and highly dangerous objects? Guess we'll never know.
Want to train your little boy early in shop?
Baby's First Baby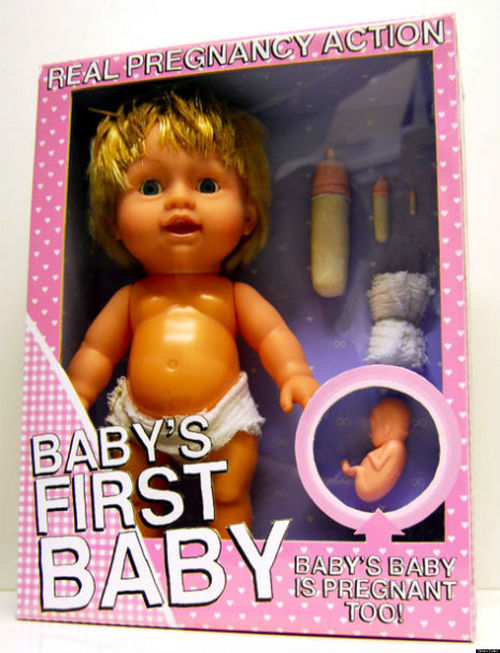 Last but not the least (and definitely the most unsettling!), is this doll by artist Darren Cullen. While it's not a real toy, this doll looks like a genuine doll and has features that will definitely raise some eyebrows and probably a lot of parents' voices, too.
You know those baby dolls that you can feed or change diapers with? Well, this doll is something like that… except it gives birth to a smaller fetus doll.
Yup, you read that right: a baby that has a baby. If that doesn't gross you out and set alarm bells ringing in your head, something's wrong.
Unfortunately, this awesome baby doll is just a one-time thing and has already been sold for more than $1000. Better luck buying it next time!
Conclusion
Toys are good tools to help in your child's development, that's for sure. They can impart very useful and practical life lessons as well as enhance your kid's creativity and imagination. But sometimes, being too enthusiastic about creating a toy that everyone will love can backfire.
There's a reason why they shouldn't be too realistic. Kids just don't have enough skills to maneuver real-life tasks at their age. At the same time, they shouldn't be too daring as well. That could lead to a lot of injuries when hyped-up kids are not careful (which they often aren't).
It's all good to have some fun but as evidenced by the toys above, too much fun can have its consequences as well. So choose your toys wisely (or you might lose a finger or two!).
Written By Barbara Jenkins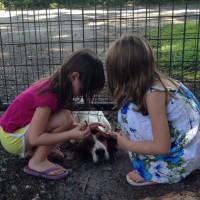 Proud Mother of Two Awesome Kids. When not looking after them, she likes to blog here.